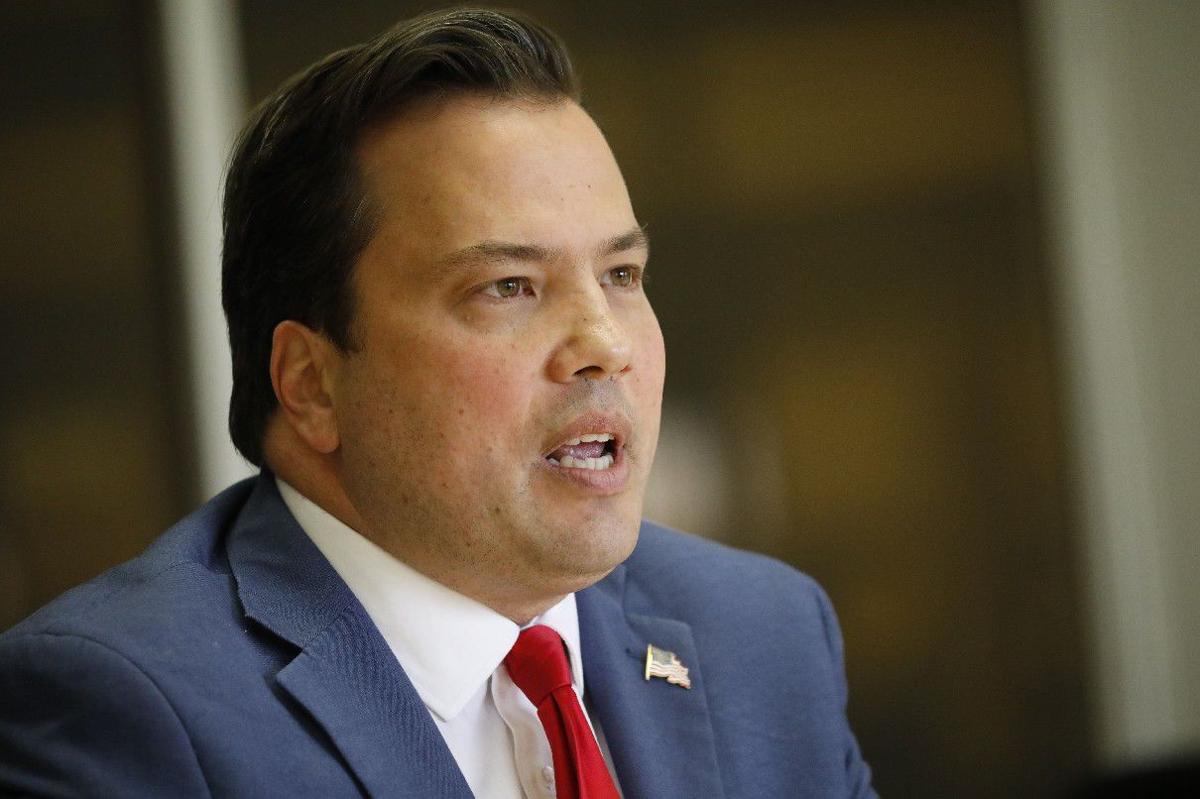 Erie County security officers at the downtown Rath Building noticed an employee repeatedly refusing to wear a mask when she entered the building, in violation of county policy. She turned out to be an accountant working for County Comptroller Stefan Mychajliw.
The employee was ultimately suspended for a week this month by the county personnel commissioner.
Now, Mychajliw is threatening legal action, saying County Executive Mark Poloncarz's administration has no right to discipline employees who work for independently elected county leaders.
"He doesn't have the right to do it, and I'm willing to go to court over it," he said.
He also speculated that his office was being targeted since he and Poloncarz are political enemies. Mychajliw has repeatedly and publicly objected to government mask-wearing mandates. 
"Is it retribution against me? I think so," he said.
Personnel Commissioner Timothy Hogues said there's nothing political about Mychajliw's accountant being suspended. He said he was simply responding to concerns raised by the county's own security staff and sheriff's deputies. They were the ones who informed him that an employee was repeatedly entering the building and refusing to comply with the county's mask-wearing policy.
"We didn't know what department this employee was from," Hogues said.
The security team subsequently pulled surveillance footage and sent it to the Personnel Department, he said. After the woman was identified, Hogues said he spoke with Mychajliw to alert him to the issue and remind him of the employee mask-wearing policy. He said Mychajliw told him he would speak with his employee about the matter. 
Mychajliw said he did speak with her but told her that whether she wore a mask was up to her and that he wasn't requiring her to do it. He also said he has repeatedly told his staff they can make up their own minds about what they want to do.
About a week later, Hogues said the Personnel Department sent an email requesting that Mychajliw discipline his employee for insubordination and violating safety policies. Mychajliw refused.
So on July 16, the next day, the administration suspended her for a week, costing the employee $1,512 in lost wages. 
Mychajliw objected, saying the Poloncarz administration has no right to discipline any employee who works in the office of an independently elected official.
"What's to stop the county executive from suspending the undersheriff, or one of the district attorney's top prosecutors?" he said.
Hogues told The Buffalo News that the county has the right to enforce safety policies that apply to all county employees, regardless of whether they happen to work for an independently elected county official. Similarly, he said, the county has the right to enforce payroll, dress code and civil service policies, regardless of which specific department or office employs a county worker.
He also said the Personnel Department is a nonpolitical department and that the decision to suspend the woman in the Comptroller's Office did not involve any conversation with the County Executive's Office.
"I did not consult with the county executive or his team to determine what we should do," Hogues said.
The disciplined Comptroller's Office employee is not the only county employee to have been suspended for refusing to comply with the county's mask-wearing mandate. That mandate has since been relaxed for employees who show proof of vaccination.
Mychajliw said his employee tried to go through the proper channels and seek a religious exemption from the Personnel Department but was denied. He also said his intent to sue the county is not to defend the employee as much as it is to defend his rights as an independently elected leader.
Hogues said that the employees of elected county leaders have been disciplined in the past by the Personnel Department, but such disciplinary matters are typically done in cooperation with independently elected leaders the employees work for. But this is the first time, in Hogues' experience, that an employee is being disciplined over a supervising elected official's objection.
Mychajliw has asked the Erie County Attorney's Office to hire an outside lawyer to represent the Comptroller's Office in his potential legal dispute with the county, but his request was denied by County Attorney Michael Siragusa. While Mychajliw could appeal to the county Legislature for the right to obtain legal council, the Democratic-controlled governing body would be unlikely to approve such a thing.