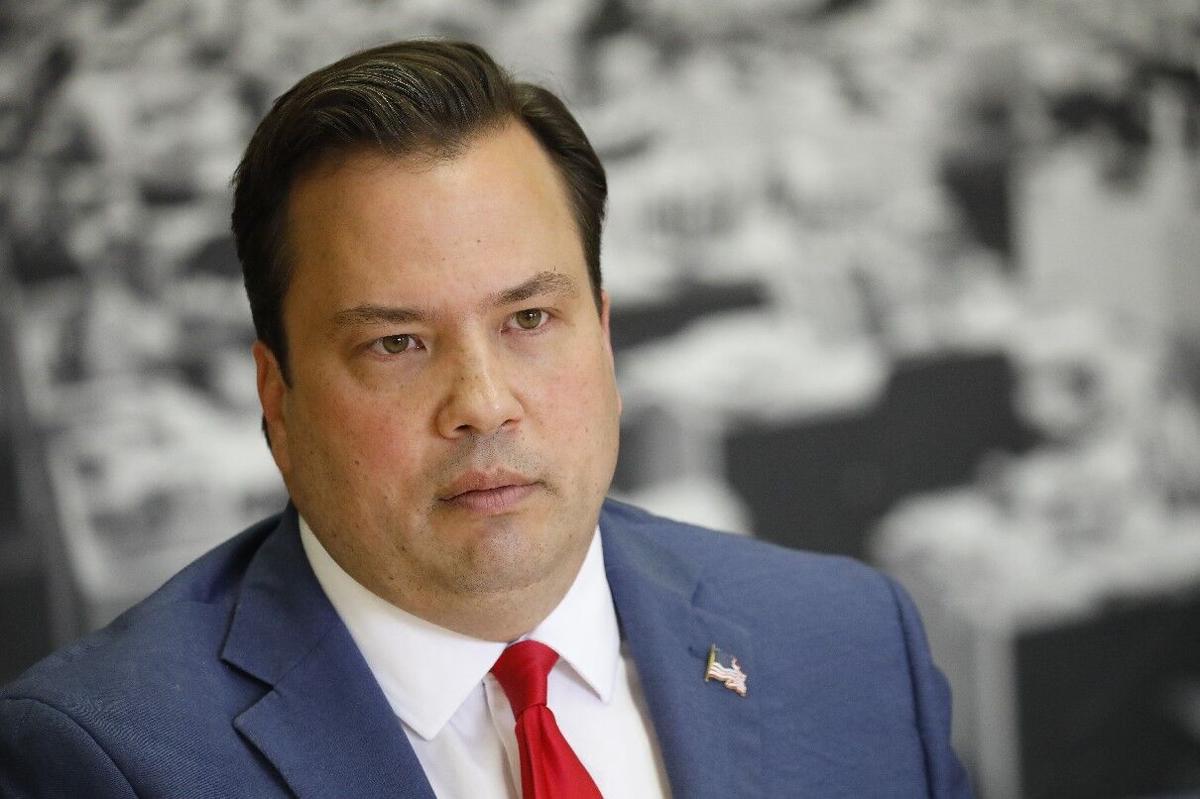 Republican Stefan I. Mychajliw Jr. said Monday he will forgo another term as county comptroller and will instead run for Hamburg supervisor in November.
Mychajliw, who insiders say has been exploring the move for months, at the moment faces no Democratic opposition in Hamburg. Had he remained in his county position, however, he was scheduled to face Kevin R. Hardwick, the county legislator from the City of Tonawanda who has already announced his Democratic candidacy for comptroller.
Though the comptroller has engaged in his share of battles with Democratic County Executive Mark C. Poloncarz and others in recent months, Mychajliw said Monday he simply was looking for a change.
"There was not that much more for me to professionally accomplish as comptroller, and I am not a career politician," he said. "It's time to move on."
Most political observers now say the GOP will turn once again to Lynne M. Dixon, another former television reporter (like Mychajliw) who unsuccessfully challenged Poloncarz for county executive in 2019. A former county legislator from Hamburg who is officially registered with the Independence Party (no longer on the state's permanent ballot), she now works as a top staffer to Mychajliw in the Comptroller's Office.
Indeed, Mychajliw signaled what may be the emerging plan when he pronounced his endorsement of Dixon on Monday.
"I hope Lynne Dixon runs," he said. "I think she'll be the next comptroller if she decides to run."
Erie County's Republican and Conservative leaders were not immediately available, but it is expected they will be amenable to a Dixon candidacy as well. No other Republican names have surfaced for the post.
Mychajliw has always fared well in his comptroller elections, even as a Republican in a Democratic county. He beat Democrats David J. Shenk in a special election in 2012, then Kevin M. Gaughan in 2013 and Vanessa Glushefski in 2017. But he stumbled in 2020 when he jumped into the June special election to replace Republican Chris Collins in Congress (a former close ally who resigned in disgrace after pleading guilty to insider trading charges).
Counting on financial support from a conservative political action committee in Washington that never materialized, he finished third in a three-way GOP primary, behind eventual winner Chris Jacobs and attorney Beth A. Parlato.
Though he lambasted party leaders a year ago, claiming "the fix was in" for the party endorsement of Jacobs, he said Monday his differences with the GOP hierarchy had nothing to do with his decision. 
"I don't think so at all," he said Monday when asked if his relationship with party headquarters was strained. "I have been able to maintain a strong relationship after the primary."
Erie County Republican Chairman Karl J. Simmeth Jr. said late last year that Mychajliw remained in good personal and professional standing with headquarters, though others in the party have expressed disapproval of the way the comptroller conducted himself during the primary.
Mychajliw took issue on Monday with any suggestion that his move from a countywide to a town position equaled a step down in political status.
"I would never consider public service in any capacity a step down at all," he said. "And I think I can get more done for the taxpayers as supervisor than comptroller."
Mychajliw said his campaign will stress lower taxes, smaller government and enhanced town services, and he took extra care to emphasize his support of former President Donald J. Trump in the November election.
"And Donald Trump won the Town of Hamburg," he said.