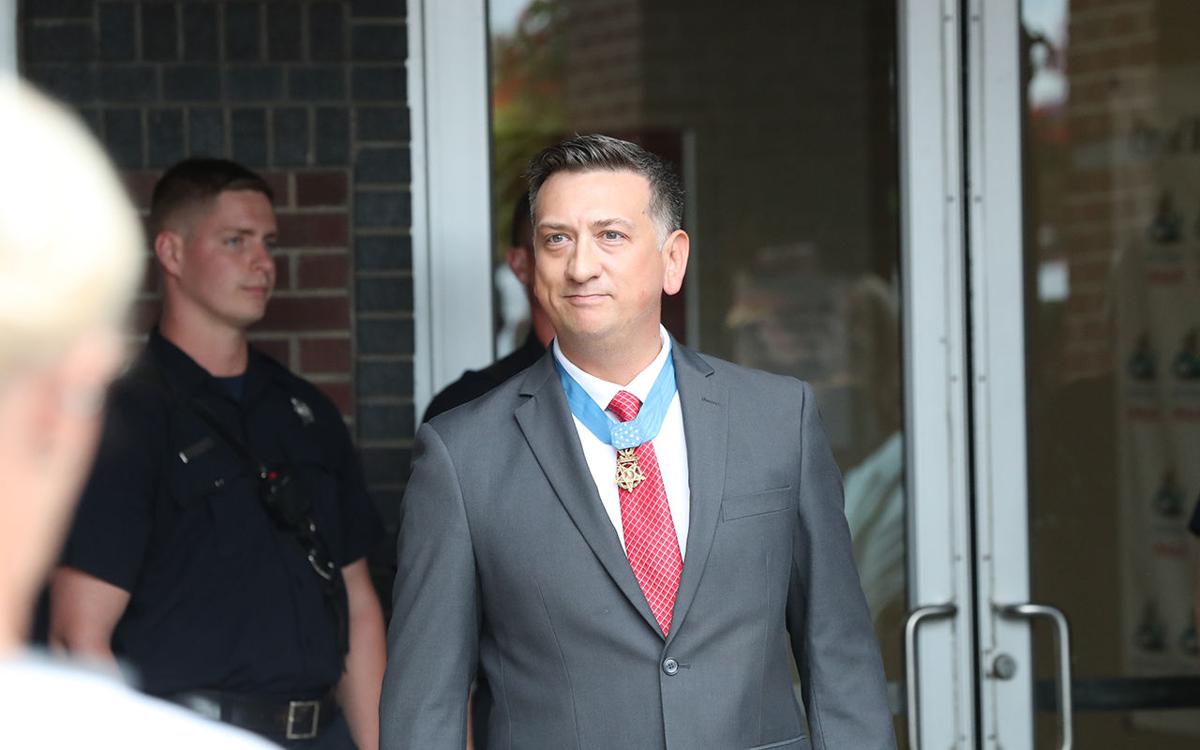 Erie County Conservative Chairman Ralph C. Lorigo is coordinating a statewide effort to promote Medal of Honor winner David Bellavia as the Republican candidate for lieutenant governor next year.
Lorigo says the former Army sergeant's war hero reputation, his experience as a congressional candidate in 2012, his upstate roots and his "values" make him an ideal running mate with Rep. Lee Zeldin of Long Island, who is emerging as the front-runner for the GOP gubernatorial nomination.
Then-President Trump presented Bellavia with the Medal of Honor last summer, crediting him with saving the lives of the squad he led during intense fighting in Fallujah, Iraq, on Nov. 10, 2004.
Lorigo notes that in 2010, GOP gubernatorial candidate Carl P. Paladino of Buffalo carried the state's nine western counties, and that a prominent local name on the ticket might duplicate past success. Democrat Andrew M. Cuomo trounced Paladino in statewide voting, 61% to 33%.
"We need Western New York, and David will balance the ticket," Lorigo said. "And he's not just a war hero. He's a down to earth, God-fearing individual with values. It's your values that count, and Western New York has traditionally been traditionally conservative voters."
Lorigo discussed the idea with Gerard Kassar, the state Conservative Party chairman.
"I'm very favorably disposed to him entering into the process. Frankly speaking, this is an outstanding name," Kassar said of Bellavia Saturday. But he acknowledged others may be interested, and the Conservatives will want to consult with the state GOP and its final candidate for the governor's office.
"We've got a while to go here," he said.
Lorigo said he has not yet received a commitment from Bellavia, who hosts a daily talk show on WBEN Radio.
"He hasn't told me yes, but he hasn't told me no," Lorigo said.
The Buffalo News was unable to reach Bellavia by phone Saturday. A spokeswoman for the state Republican Party chairman, Nicholas Langworthy, said the party leaves it to the nominee to pick the lieutenant governor candidate they want to run with.
Still, the GOP organization has good things to say about Bellavia.
"As a decorated United States veteran and hero, his character and integrity are respected by all," spokeswoman Jessica Proud said. "He's the embodiment of public service, so it's not surprising he would be mentioned as a potential candidate."
Lorigo said he has slated a $1,500 per person fundraiser on July 7 for a committee he will dedicate for a possible Bellavia candidacy. He said he is also arranging for Bellavia to meet with a "select group" to include Zeldin, Kassar and Paladino.