When local officials of a service industry union endorsed India B. Walton Friday, it marked a milestone in the coveted world of labor support for the once little-known mayoral challenger.
"The 2,000 Buffalo-based members of Workers United Upstate know that she'll be a champion for working Buffalonians in City Hall," said Gary Bonadonna, leader of Workers United Upstate New York. "Buffalo is a union town, and India Walton will be a union mayor."
But the often key support of labor – in a region officials say boasts twice the national average of unionization – is skewing toward incumbent Mayor Byron W. Brown. The 150,000-member Western New York Area Labor Federation/AFL-CIO on Friday reaffirmed the support it granted in his unsuccessful primary contest against Walton, even if some insiders remain unhappy about the mayor's lackluster primary effort.
Now Brown heads toward the Nov. 2 general election buoyed by the vast resources of the labor federation and individual unions pledging their members to donate to the campaign, make phone calls, send emails and knock on doors. Though federation President Peter DeJesus Jr. said some members asked to reassess the situation following Walton's primary victory, the group decided to continue with Brown.
"Any affiliate can do what they want," he said. "But as a body, we are sticking with the mayor and will do whatever we can to help get him re-elected.
"I'm sure some had some reservations about continuing our endorsement," he added. "But we are a consensus organization and consensus continues our endorsement."
DeJesus also said many of his members remain unsure about Walton's democratic socialist politics.
"The base is not that far left; center left if anything," he said.
Walton, however, is not without significant support. She appealed to the service workers attempting to organize several local Starbucks outlets through the populist message that permeates all her speeches. Indeed, Brian Murray, one of the organizers of the Starbucks effort who spoke at the Friday endorsement event, said the union and Walton "share a vision for justice" that helped gain its support.
That move, if granted, would likely delay the voting process and make it more difficult for organizers to win a majority in favor of a union, said the organizing workers and a labor expert.
Significantly, Walton has received support from the Buffalo Teachers Federation during the primary, with no indication of a change coming when it re-evaluates its position in October. BTF President Philip Rumore earlier said stagnant city funding for schools and the candidates' positions on charter schools were two key reasons behind the primary endorsement.
Rumore says differences over school funding continue. In addition, he continues to take umbrage at Brown's June 24 eruption against James Heaney, publisher of the Investigative Post website, whom the mayor accused of "systemic racism" in the publication's coverage of Brown's administration.
"The one thing that disturbed many teachers was when Byron Brown had a press conference and went after members of the media," he said. "I and many teachers find that a serious character flaw."
Should his organization stick with Walton next month, Rumore said, it will mean support from 3,800 Buffalo teachers along with 1,000 retirees.
"The most important thing is people on the ground," Rumore said. "It's people who get out the vote, and we know that teachers vote."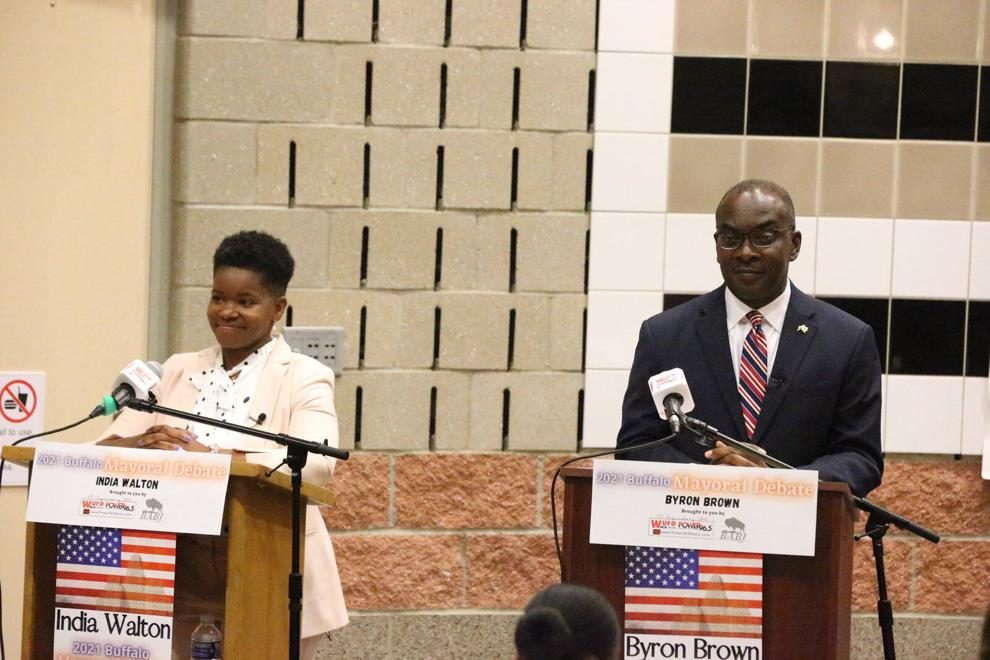 Walton insiders say they expect more union support in coming weeks.
Still, other public employee unions are not sharing the same enthusiasm as Buffalo teachers, especially the Buffalo Police Benevolent Association, which represents most of the 724-member Buffalo Police Department. Walton has proposed slashing the department's budget by $7.5 million, which Brown says would result in a reduction of 100 officers.
PBA President John Evans acknowledged the union has not backed Brown in three previous elections but finds no support for her proposals among his members.
"I feel pretty strongly she would be a disaster," he said, adding the union will consider a more active role in supporting the mayor this year than simply granting its endorsement.
"I'm certainly open to it for this one," Evans said.
Other unions supporting Brown, according to his campaign, include: AFSCME Council 35, Local 264, Local 650, Local 2651; Amalgamated Transit Union, Local 1342; Buffalo Professional Firefighters, Local 282; CSEA Local 1000, AFSCME, AFL-CIO; 10th District IATSE (International Alliance of Theatrical Stage Employees, Moving Picture Technicians, Artists and Allied Craft); IATSE, Local 52, Motion Picture Studio Mechanics; NYS Troopers Police Benevolent Association; and United Auto Workers, Region 9.