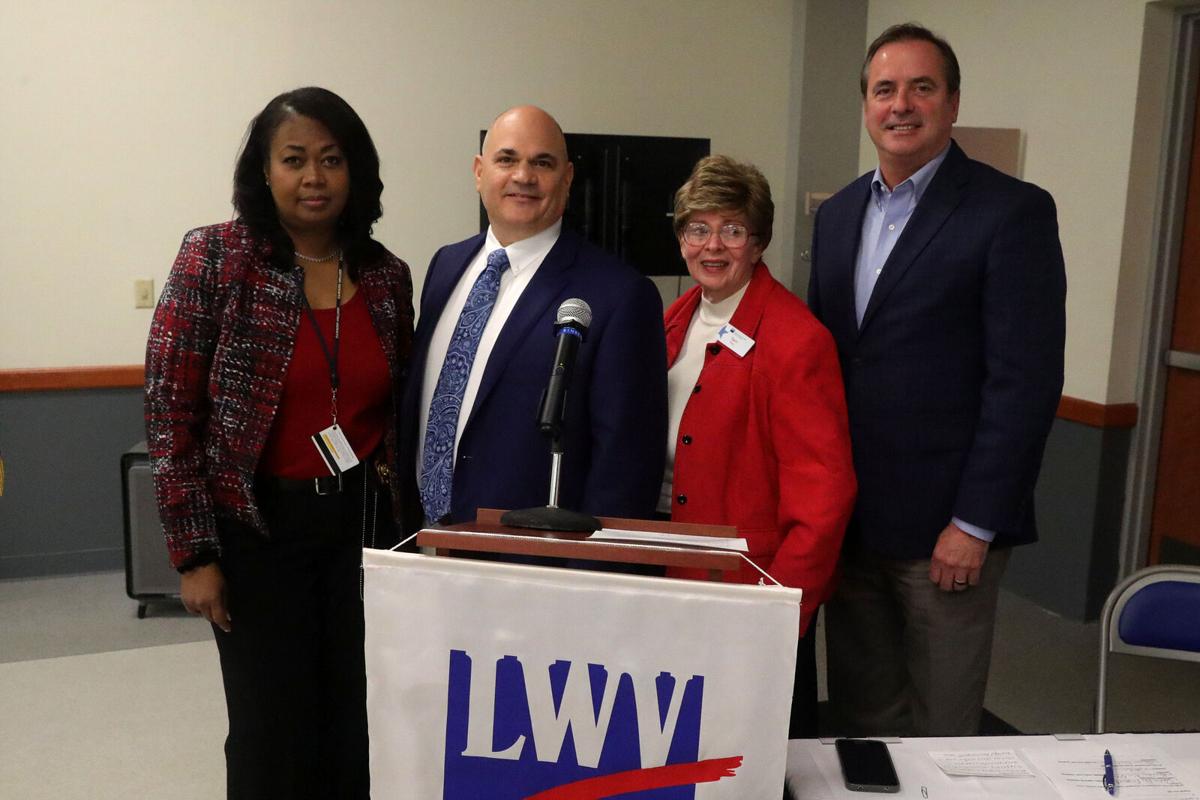 The candidates for Erie County sheriff threw no elbows during a forum Friday in Amherst, though Democrat Kimberly Beaty opened new ground by alleging that departing Sheriff Timothy B. Howard derives a personal benefit from a service contract for inmates.
"I have sources," Beaty told The Buffalo News when asked why she suspects Howard benefits from a contract that provides commissary and telephone services for inmates at the Holding Center in downtown Buffalo and the Correctional Facility in Alden.
The Sheriff's Office contracts with the Keefe Group, which does business with Erie County through its Keefe Commissary Network of St. Louis, Mo., and IC (Inmate Calling) Solutions of San Antonio, Texas. Keefe charges a premium for phone calls and convenience items for inmates, but returns a portion of the proceeds to jails to help with operating costs and inmate betterment programs.
Howard's team denied Beaty's accusation. Though Howard is leaving office at the end of this year, his aides last month approached the County Legislature to extend the soon-to-expire Keefe Commissary Network deal through September 2026 and the IC Solutions agreement through September 2027.
The Sheriff's Office did not seek a new round of proposals from other companies, but the Legislature went along. The new deals lowered the rate inmates will pay for in-state calls and will provide inmates with tablets for "learning and entertainment," the Sheriff's Office told the Legislature in a memorandum.
A new campaign ad seeks to frighten voters into choosing Republican John Garcia over Kimberly Beaty for sheriff.
County government vendors often contribute to the political funds of the elected officials they deal with, and Keefe is no exception. The Keefe Commissary Network has given Howard's fund more than $6,000 over the years.
However, Beaty said her suspicions go beyond campaign contributions and said the matter would be investigated if she becomes sheriff. Her accusation, she said, was based on reports from people inside the Sheriff's Office concerned about the management of the contracts.
But she did not want to say more right now.
"I don't want to out a source," Beaty said. 
In response, the Howard team told The News that the telephone and commissary contracts go through multiple layers of approval, by the Legislature, the County Attorney's Office and the county executive, who needs to sign the agreements. Further, the agreements are subject to an audit by the county comptroller.
"These multiple approval procedures followed by regular audits ensure the public's money cannot be used for personal use or gain," said the Howard team's statement. "Anyone accusing the sheriff or the sheriff's office of personal gain must accuse the county executive, members of the Legislature, and the county comptroller, too, because all parties would have to be complicit for anyone to receive a 'gain.' "
"How outraged is the Republican Party and John Garcia about what happened on Jan. 6?" candidate Ted DiNoto said in a statement. "That is the question many ask, myself included."
Beaty raised the matter during a League of Women Voters forum attended by about 70 people at the Amherst Center for Senior Services. Each of the three candidates still campaigning actively talked up their experience and qualifications on the eve of Saturday's start to early voting.
Beaty, 58, lives in Lancaster and has spent more than 30 years in law enforcement, working her way up through the Buffalo Police Department. She was chief of two city police districts and became deputy commissioner of operations. She is a master instructor at the county police academy and now serves as public safety director at Canisius College, her alma mater. Her overriding message was that she has more leadership experience than any other candidate.
Ted DiNoto, 54, of Clarence, has spent his law enforcement career with the Amherst Police Department, which he called "the greatest police department in Erie County." He is a detective lieutenant who has taken on a number of supervisory roles and now supervises the narcotics squad. He also serves as an academy instructor. He's a Republican, but is running for sheriff on an independent line. He emphasized that as an independent, he won't be compromised by party bosses or big donors.
John C. Garcia, 59, of Grand Island, is the Republican nominee and the candidate endorsed by Howard and the sheriff who preceded him, current State Sen. Patrick Gallivan. Garcia served as a homicide detective and a narcotics detective with the Buffalo Police Department and led its dignitary protection unit. As a crisis negotiator, Garcia was hit in the face by pellets from a shotgun blast, but recovered and worked 10 more years. He now owns a stake a in private security firm. He stressed that he's been endorsed by the major police unions in Erie County.
A fourth candidate, Conservative nominee Karen L. Healy-Case, did not attend and has suspended her campaign, tossing her support to Beaty.
While the two might benefit from differentiating themselves, they took similar stands on the mostly jail-related questions they faced.
The candidates showed only a few differences in response to four questions, three of which focused on how they would manage the Correctional Facility and the Holding Center, which consume the majority of the Sheriff's Office budget.
Only Beaty vowed to put a firm end to the use of solitary confinement. DiNoto said any need for solitary will be greatly diminished if he becomes sheriff because he will better identify problem inmates at intake and those inmates in the throes of addiction or psychiatric issues will be first sent to a "stabilization center" that he would like to establish with state help. Further, he said inmates will be kept busy with occupation training that he hopes will prevent a return to the jail.
Garcia said he will not end solitary for violent inmates: "If they do assault a correctional officer, if they do assault another person, they will be in solitary confinement." He said he would like to give inmates tablets, for educational programming, that could be taken away, depending on the offense.
The three said they would enforce all laws and made no exceptions for the SAFE Act, which regulates military-style assault rifles and which Howard said he would not enforce.