In just over a month, New York State Democrats will convene to endorse a candidate for governor and set a tone for the campaign and election of 2022. 
Now questions surround state Democrats' future in the new era after former Gov. Andrew M. Cuomo, who dominated the party for more than a decade before his August resignation. 
• Will it veer leftward as in last June's Democratic primary for mayor of Buffalo, when party members chose democratic socialist India B. Walton over four-term incumbent Byron W. Brown?
• Will left-leaning gubernatorial candidates like former New York Mayor Bill de Blasio, and Jumaane D. Williams, the city's public advocate, carry the day?
• Or are New York Democrats more inclined toward "moderates" like incumbent Gov. Kathy Hochul or Rep. Thomas R. Suozzi of Nassau County?
In recent interviews, some of the party's leading figures – and one Republican – weighed in.
Senate Majority Leader Charles E. Schumer
Though he rarely exercises influence in the state party, U.S. Senate Majority Leader Charles E. Schumer remains a powerful figure by virtue of his national post and more than two decades on the statewide scene.
Schumers travels have become part of the state's political ritual. It allows Schumer to tend to his own back yard, from Chautauqua to Clinton, Niagara to Suffolk, and everywhere in between.
During a recent visit to Wyoming County, the senator discussed New York's Democratic Party and the course it should chart this election year. He faces his own challenge in defending the fragile Senate majority, but believes his success as well as that of the state party hinges on looking out for average Americans.
"I follow Joe Biden's agenda, which is what America needs and New York needs," he said.
That translates into what he calls basics like affordable child care, lower prescription costs and good jobs.
"We have the worst child care of the top 10 developed countries," he said. "That's one of the main reasons we don't have workers. Taking care of kids who are preschool is a huge burden for middle class and working class families."
While President Biden's stalled Build Back Better program would make pre-K programs available to all, he said the nation fails to address a widespread problem.
"That's the kind of thing average New Yorkers believe in," he said. "What I try to do and what the Democratic Party tries to do is help average people. Then we have to let them know we did it."
Schumer last summer endorsed socialist Walton over Brown, a longtime Democratic ally and immediate past chairman of the Democratic State Committee. The senator said he felt obliged to make the controversial move because Walton won the party primary, noting he previously endorsed Brown.
"She had some good ideas," he said, adding he has spoken with Brown, looks to resume their relationship and seeks to avoid intraparty squabbles.
"Our job is to help average working people," Schumer said. "We've got to be a big tent or we will certainly lose."
Former New York Mayor Bill de Blasio
Just before completing two terms as leader of the nation's biggest city, de Blasio sat down with The Buffalo News at his official Gracie Mansion residence. He still avoids any official declarations of candidacy, but is widely believed to be preparing for a gubernatorial run in 2022. He has established a political committee and plans a statewide tour early in the new year to advance ideas for vastly expanded educational opportunities, financed by taxing the super wealthy.
While avoiding anything near declaring for another office, New York Mayor Bill de Blasio has much to say about state government.
The former mayor now envisions a more progressive party that seeks "bolder solutions."
"I think there will be a very healthy discussion in the Democratic Party about where we need to go," he said, seeing a progressive party "with a history of getting things done." The party's far left and the Democratic Socialists of America gain his respect, he said, but that's all.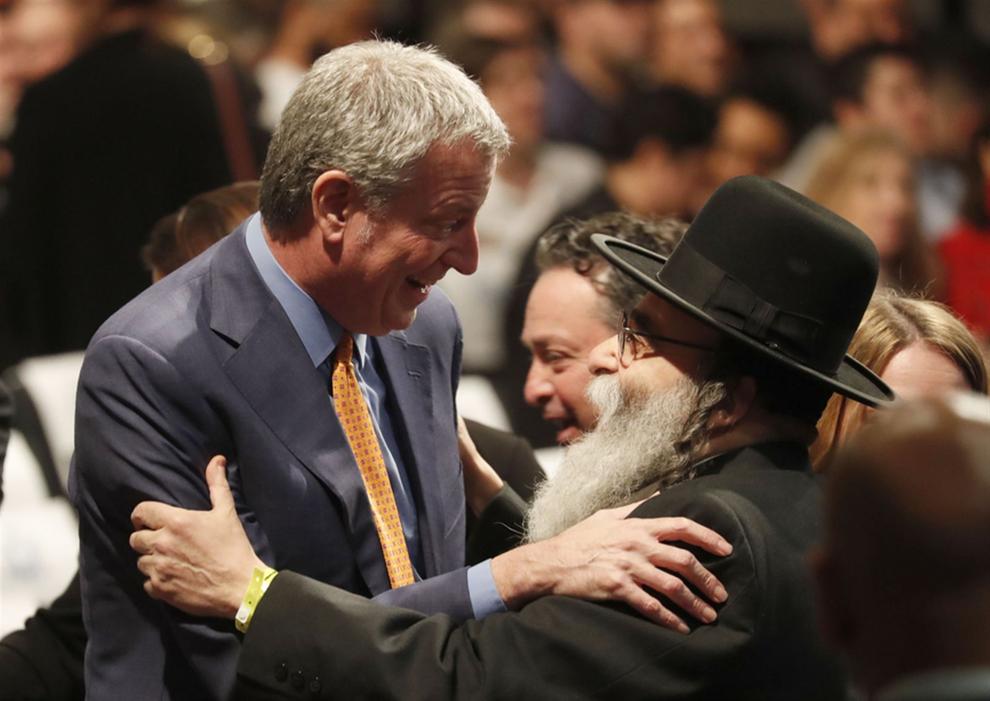 "And people are looking for that," he said, labeling himself a "practical progressive" and not a "dreamy progressive."
De Blasio will soon advocate for universal pre-K, free after-school programs, expanded child care programs and more affordable housing – much of which he established in New York City.
"I do think the people who constitute our party today – not yesterday's party – is a more progressive constituency than they have been," he said. "The party of today looks for more profound changes."
De Blasio points to two factors as "supercharging" the party base toward his more progressive approach – Covid-19 and the Donald Trump presidency. Both pushed voters into demanding a different kind of government, he said, noting the success of liberal Sen. Bernie Sanders of Vermont in two Democratic presidential primaries.
And even if "moderate" Biden eventually triumphed in 2020, the mayor recognizes a left-leaning influence in his platform.
"If it were as simple as a moderate won, end of story," he said of the 2020 presidential race. "But why is this so-called moderate governing in a very progressive fashion? He understands where his party is."
The former Nassau County executive and mayor of Glen Cove has declared for governor in 2022 and warns about a Democratic Party veering toward the extreme. He has no problem embracing a "progressive" label, he says, pointing to strong pro-labor credentials.
"I don't pander to the far right or the far left," he added. "I pander to Democratic values but am commonsensical about it."
Seeking to carve out a niche in the Democratic field following last week's withdrawal by Attorney General Letitia James, Suozzi also hopes to counter the candidacy of incumbent Gov. Kathy Hochul, a Buffalo resident staking her own claim to the upstate vote.
Suozzi came to Buffalo in October to support Brown, warning against electing a socialist mayor of New York's second largest city. He also opposes "defund the police" philosophies in the face of rising crime while "still holding cops accountable."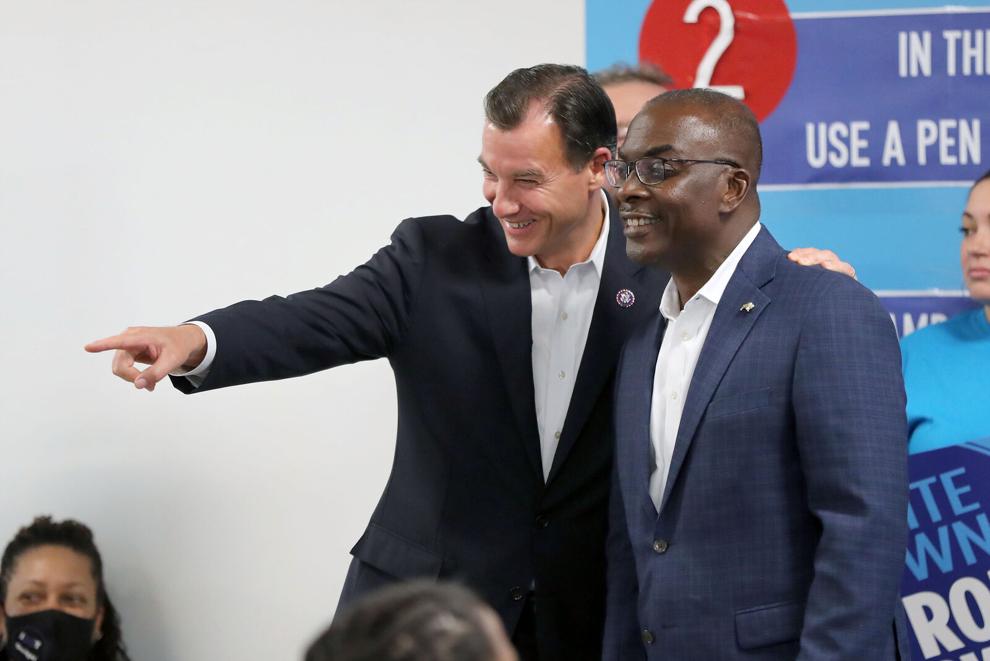 Most of all,  he rejects any proposals for new taxes in a state he believes is already overtaxed.
Too many business have left New York for states like North Carolina or Florida, he said, because of heavy taxes on businesses and their executives.
"To make New York more attractive you have to address tax and regulatory issues," the congressman said in an interview. "That's what an executive who is a leader and has values has to do.
"The socialists and far left have organized effectively," he added. "The rest of us Democrats have to organize as well."
State Democratic Chairman Jay S. Jacobs
Though top Democrats like Schumer and Sen. Kirsten E. Gillibrand embraced Walton over Brown after the Buffalo mayoral primary, Jacobs remained neutral. Now he fears that a far-left Democratic Party would only hand campaign fodder to Republicans.
"The Republicans have spent a lot of time trying to cast Democrats as socialistic, and that's a frightening term for a lot of people," said Jacobs, who as chairman is viewed as reflecting Hochul's thinking. "Look at the New York City primary – 70% of Democratic voters rejected the far-left candidates for mayor. And socialists targeted six of 51 Council seats. They won two."
It is also not lost on Jacobs that in Buffalo, Brown handily beat a socialist opponent despite the handicaps of a write-in campaign.
"I see the Democratic Party as a mainstream party believing in equal opportunity and fair taxes for everyone," he said, rejecting GOP "socialist" characterizations. "And I would argue that with trying to undermine free and fair elections, we might paint them as fascist, frankly."
Jacobs believes 80% of New York Democrats favor centrist positions, even if high-profile figures like Rep. Alexandria Ocasio-Cortez of the Bronx gain constant media attention.
"AOC and her supporters have every right to make noise," he said. "But I don't want the impression that she speaks for the Democratic Party. She speaks for a small fringe of the Democratic Party.
"You can't go quicker than the public is willing to accept," he added.
State Republican Chairman Nicholas A. Langworthy
Outnumbered by more than 3 million New York voters, Langworthy's Republicans are more and more painting Democrats as outside the mainstream. The chairman emphasizes that top leaders like Schumer and Gillibrand had no problem endorsing socialist Walton after the primary, claiming Schumer fears a future left-leaning challenge from a Democrat like Ocasio-Cortez.
"She lives in his head rent free. He's always looking over his shoulder," he said, adding Schumer could have simply remained neutral like Jacobs and Hochul. He is similarly critical of de Blasio and his expected bid for governor.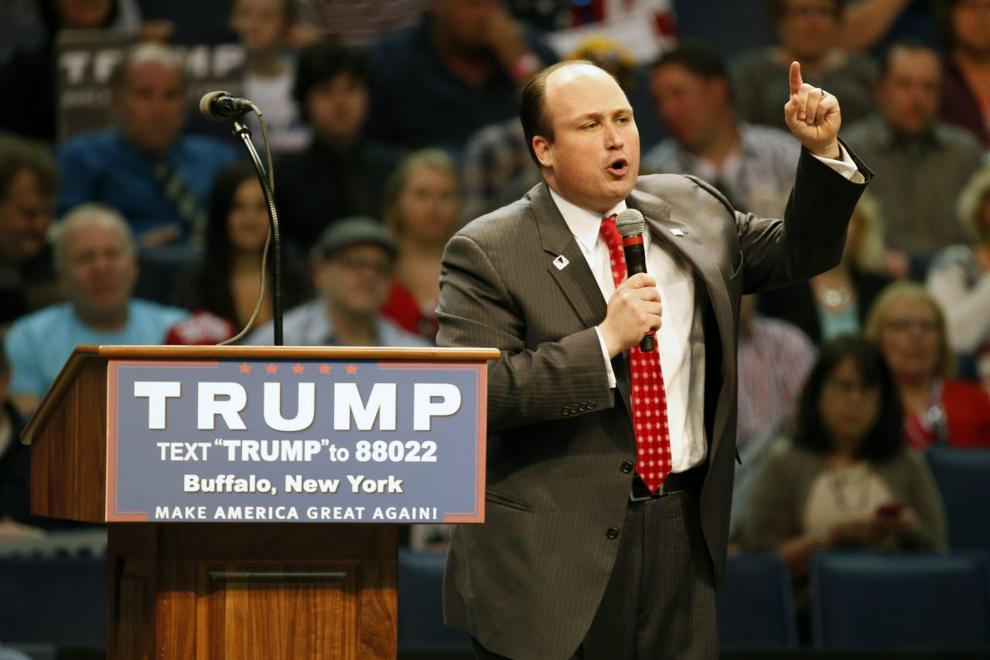 "He's someone who has changed the Democratic Party from generations ago when JFK asked not what your country can do for you, but what you can do for your country," Langworthy said. "Free stuff – that's really the message of a strong wing of the Democratic Party."