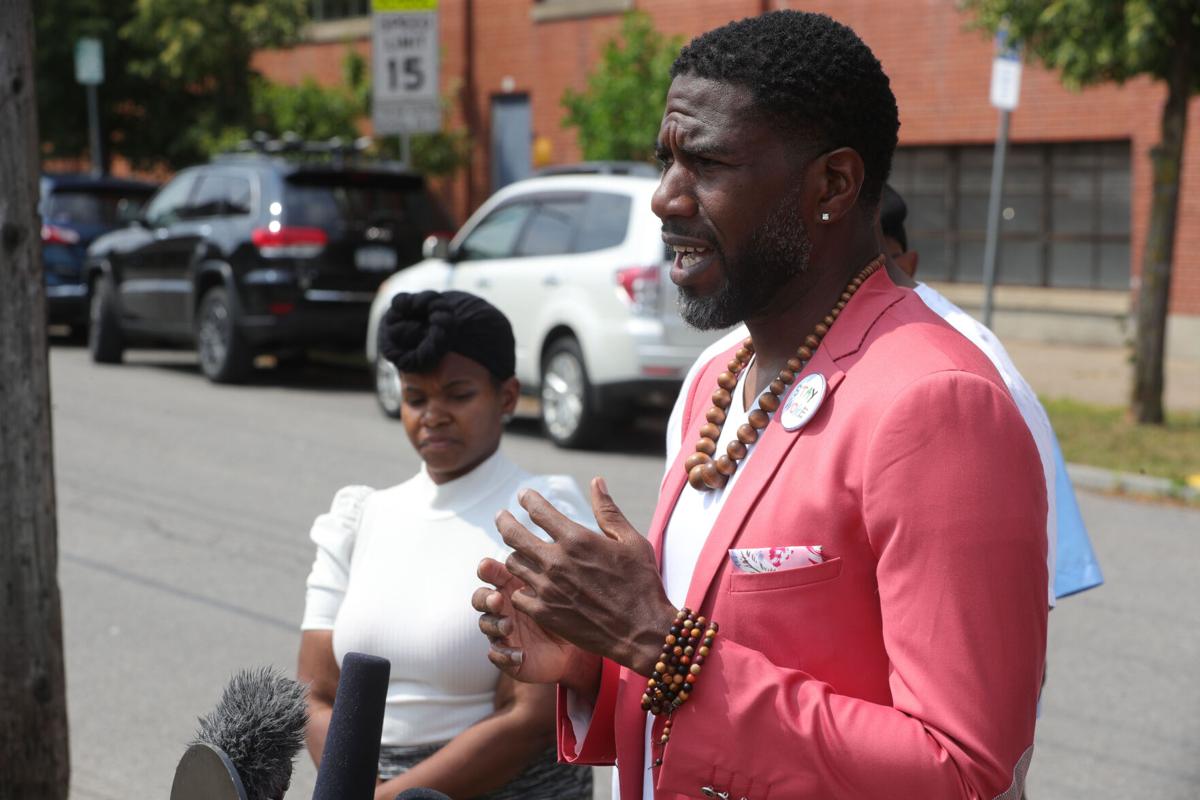 Signaling no drift from the leftward tack of her victorious primary campaign, India B. Walton Wednesday seized on what she called the Buffalo Police Department's "hypermilitarized" response to the latest rash of shootings and homicides as a primary target for change if she is elected mayor in the Nov. 2 general election.
Walton, who faces incumbent Byron W. Brown in a write-in contest, was joined by New York City Public Advocate Jumaane D. Williams at the Tri-Main complex on Halbert Street to emphasize mental health counseling and combating root causes of poverty as key to her "reallocation of police resources" plan. Williams is the first of many major names in the progressive movement expected to support Walton on the campaign trail over the next four months.
Though winners of Democratic primaries often veer toward the center in general elections, Walton's Wednesday event signaled no indication she will back away from progressive approaches to city functions like policing.
Walton cruised to victory last month by emphasizing new ways to solve old problems, especially in policing. She reiterated on Wednesday her plan to reallocate $7.5 million of the Police Department budget to programs that link usual subjects of police attention to mental health services. Her Wednesday event also marked the first of many in which she is expected to highlight her proposals, backed by high-profile figures like Williams. Others with similar socialist philosophies – such as Rep. Alexandria Ocasio-Cortez of the Bronx and Sen. Bernie Sanders of Vermont – are mentioned as other potential campaign allies.
The Democratic nominee is also set to tap into financial resources available from left-leaning groups supporting campaigns such as hers, which is expected to rank as one of the nation's most high-profile mayoral elections. 
Williams focuses on police in upstate tour
Williams, the No. 2 official in New York City government, also visited Syracuse and Rochester over the past few days as cities around the country experience a sharp spike in gun violence. He is supporting Gov. Andrew M. Cuomo's Tuesday declaration of a "disaster emergency" to combat the situation through job creation and other opportunities aimed at at-risk youth.
Williams emphasized his support for law enforcement efforts that should be part of an overall approach to addressing health care and mental health instead of "mistakes made 30 years ago," adding that "New York can lead the way" in policing innovations.
Changes are needed "so as not to go down the same road that led to where we are now," Williams said. "The Police Department – to ask them to do all of it is problematic."
Williams and Walton also appeared in Buffalo with other community leaders who are supporting Walton's suggestions for change and her mayoral bid. Many, like Dorian Gaskins and K Bain, have been involved for years in anti-violence programs. They also call for different approaches to policing in Buffalo, while Williams pointed to programs in cities like Newark, N.J., that have diverted city funding for job training and mental health in order to prevent crime in the first place.
Walton criticizes police response to shooting
Walton's condemnation of Buffalo's recent police practices coincides with 21 injuries stemming from gunshots over the holiday weekend, including a 3-year-old boy who remained in critical condition Wednesday afternoon. Buffalo police said Wednesday they have a suspect in custody that they believe is responsible for the quadruple shooting that injured the boy and expect to file charges.
Walton criticized what she called a "heavy-handed" police response to the Monday shooting at the Ferry-Grider Homes apartments on Donovan Drive, which she said "retraumatized" a neighborhood already shocked by the child's injuries along with 38 shots fired.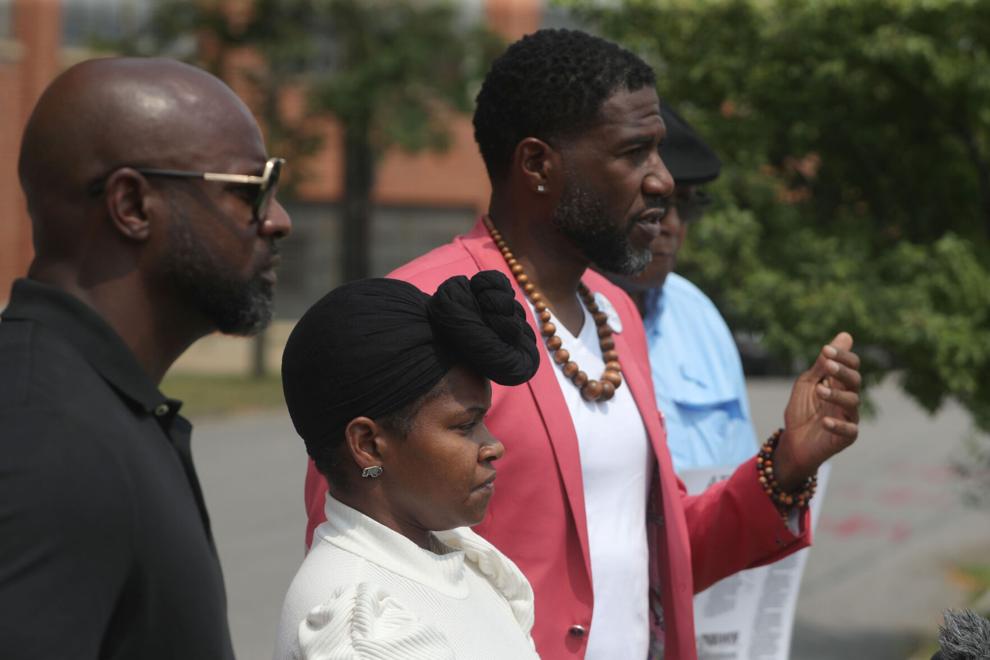 "To have that heavy of a police presence without taking into account what other support could have been utilized is retraumatizing," she said. "That is revictimization of a group of people. My concern is that no one is caring for the mental health of this community and to heal from the grief they are all experiencing.
"Just having proximity to a person in military SWAT gear is intimidating, it's anxiety producing and it seems to escalate the situation," she added. "You need a relationship that is not adversarial." 
Resources directed in the right direction (such as "functional" cameras at housing developments) will result in positive effects, she said.
Walton added she supports Cuomo's new proposals but has little faith in gun buy-back programs that will register less effect than "getting people in living wage jobs."
"There is not a silver bullet solution," she said. "Police have a role to play but not the only one. I'm interested in data from the Buffalo Police Department to suggest how to make changes. 
"We have to get real about what works and what does not," she added.
Buffalo police highlight community policing
Brown spokesman Michael J. DeGeorge did not return a call seeking comment, but Buffalo police in recent days have highlighted their community policing efforts and interaction with citizens as a way to combat the recent spike in gun violence that has consumed many other major cities around the country.
For example, Buffalo police on Tuesday conducted a "Taking it to the Streets" community engagement event in which top police officials gathered near Ashley and Swinburne streets, not far from the scene of a June 24 triple homicide.
The event included music and free food with a goal of providing interaction between police and the public so ideas and concerns are exchanged. Police Commissioner Byron C. Lockwood said earlier this week that the department conducts community events in high crime areas, and that similar events are planned.