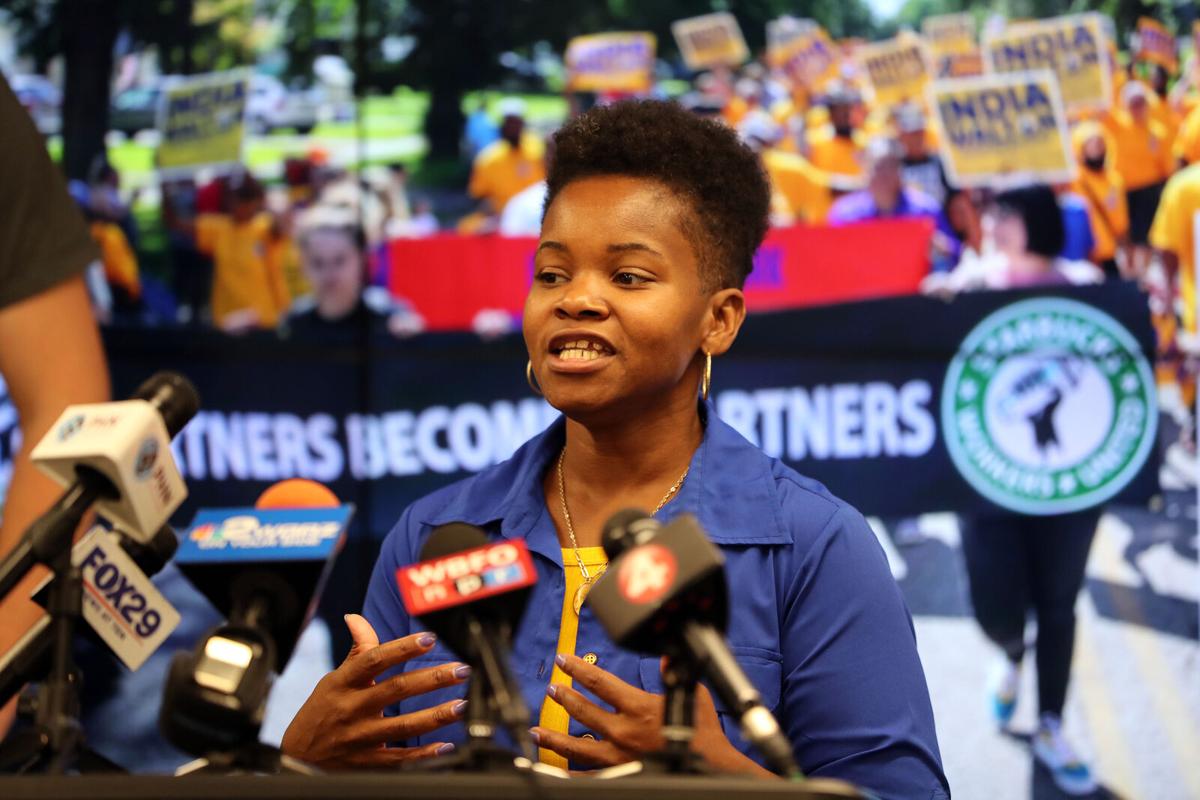 India B. Walton, the Democratic nominee for mayor of Buffalo, had her car impounded Thursday for hundreds of dollars in unpaid parking tickets and an expired inspection.
"They towed my damn car," Walton wrote on Twitter. "I'm late on some parking tickets, and my inspection sticker is expired. Those are my bad – I should have handled them on time. I'm handling them right now."
Walton's black Subaru was towed from an on-street parking space near her downtown campaign office to the city's impound lot on Dart Street, her campaign manager acknowledged.
Kevin Helfer, the city parking commissioner, said Walton's car was towed because of the expired inspection and for being a "scofflaw." The value of the fines she owed was in excess of $600, he said.
Walton said on Twitter that her status as a "low-income single mother enrolled in Medicaid" factored into her inability to pay the tickets on time.
"People like me don't always have the money to pay tickets," Walton wrote.
Campaign manager Jesse Myerson, responding to questions from The News, said Walton was rushing to the impound lot to try to retrieve her car before the lot closed for the day.
"This is the sort of thing poor and working-class people in Buffalo deal with all the time," he said.
Myerson said that it was unclear even to Walton exactly how many tickets she had not paid. He also said he was unsure of details about the registration and inspection of the car.
Myerson said that the unpaid tickets are illustrative of the frustrations of many low-income residents of one of America's poorest cities.
"The way Byron Brown has run the city has been to de-tax the wealthy and property owners and shifting taxes to the poor and working-class, especially brown and Black people, through unfair fines and fees," he said.
Walton also in part blamed Brown's refusing to concede after his Democratic primary loss and his campaign as a write-in candidate in the general election.
"I have had to run for office for months longer than I should have … " she wrote. "So unfortunately I have put getting my car inspected on the back burner."
Myerson suggested that Walton may have been targeted by city inspectors, though he acknowledged that he had no proof of such a scheme.
The Brown campaign criticized Walton's response.
"Today is another example of Ms. Walton's failure to take responsibility for anything – there is always someone else to blame or a conspiracy around the corner," said Conor Hurley, Brown's campaign manager. "Breaking the law is not 'my bad…but' over and over. If you don't follow the law, you can't be expected to uphold it."
Walton, a first-time candidate who upset Brown in the Democratic primary, has come under scrutiny during the mayoral campaign. The News has reported that Buffalo police charged her with harassment in 2014 after she was accused of threatening to break a co-worker's legs. Walton told The News the case was resolved with an adjournment in contemplation of dismissal. The News also reported that Buffalo police investigated if a friend of Walton was dealing drugs out of Walton's home in 2018. Walton has denied she threatened a fellow registered nurse at Children's Hospital or allowed drugs to be sold from her home.
The Brown administration has had legal issues of its own. For more than six years, FBI agents and federal prosecutors have investigated people, businesses and political organizations closely associated with Brown.
Brown has never been charged with a crime.
Federal agents raided one of his administration's City Hall offices, seized thousands of City Hall documents, questioned dozens of people, including city employees and contractors who did business with the city, and persuaded Brown's former deputy mayor to become an informant.