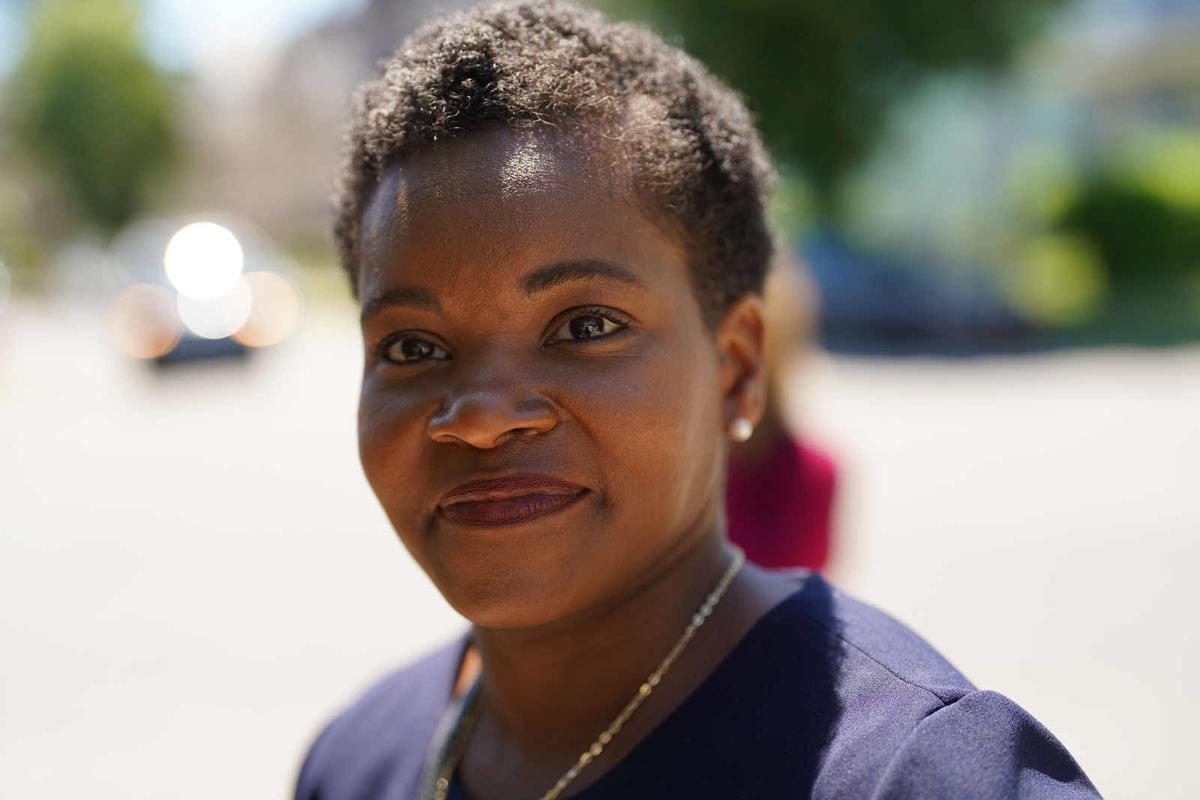 India Walton's campaign to become mayor of Buffalo saw an explosion in fundraising since winning the June Democratic primary against incumbent Mayor Byron Brown.
Walton out-raised the four-term mayor during a recent 33-day reporting period – powered by an infusion of mostly small donations and a steady flow of left-leaning supporters from around the state and country.
Campaign disclosure filings for Brown, now hoping for a political long-shot in his write-in campaign against Walton in the November general election, have not yet appeared on the state elections board website. Filings for candidates across New York were due by midnight Thursday.
A Brown spokesman said Friday afternoon that the campaign was having a technical problem uploading its financial disclosures to the website. The campaign provided overall numbers: he raised $193,000 in the period, spent $293,000 and has about $200,000 on hand. Details beyond that were not disclosed.
In a recently closed campaign reporting period, Walton, who has never held elected office, raised an average of $6,000 per day in a 33-day period, most of it after her June primary win. Going back to mid-December when her first contribution came in, she was averaging about $600 a day in donations.
The Walton campaign overnight reported to the state elections board that she raised $199,000 during the most recent public disclosure period from June 7 to July 11. In little more than a month, Walton exceeded her entire campaign total – $126,000 – stretching back to the middle of last December.
Walton reported having $147,000 in the bank at the end of the recent reporting period.
In a statement, Walton, who describes herself as a democratic socialist, said her campaign has received thousands of small donations, including un-itemized ones less than $99. She said the average donation to her campaign has been $56.40.
"Our campaign is proud to be a grassroots, people-powered movement, and our most recent filing with the Board of Elections reflects that, with thousands of small donations not just from individuals in the Buffalo community, but the community at large," Walton said.
Donations from across the country
The Walton campaign saw the number of donations leap following her defeat of Brown. The money coming her way is heavily skewed from Buffalo in relatively low amounts of $100 or $200. But she is getting larger donations from individuals who live in Western New York and afar.
Walton's largest local donor during the period came in two contributions totaling $11,296 from Carl Dennis, a Buffalo resident who was a longtime University at Buffalo poetry professor and winner of the 2002 Pulitzer Prize for poetry.
Maria Scrivani, a Buffalo freelance writer, gave Walton $6,000 during the recent reporting period, according to state Board of Election records. Victoria Ross, former executive director of the Western New York Peace Center, gave Walton $1,000 and Buffalo resident Johanna Dominguez Limpach donated $2,900.
The Walton campaign did what it told The Buffalo News several weeks ago it planned to do: turn to donors who supported her before primary day. Two of the bigger ones are from out of state.
Among them is Dr. Karla Jurvetson of Palo Alto, Calif., who donated $7,797 since the primary on top of the $2,000 she gave before. Jurvetson is a national Democratic Party megadonor, having given $14.6 million to a Super PAC that supported the 2020 Democratic presidential bid of Sen. Elizabeth Warren.
Another repeat donor is Jason Katz-Brown, an executive with a left-leaning polling firm in San Francisco.
Many of Walton's out-of-area donations have come from people who are involved in some way in liberal Democratic or democratic socialist causes. In the new filing, she attracted money from Brooklyn; Cambridge, Mass.; Ann Arbor, Mich.; Madison, Wis.; Minnesota; and Chicago.
Locally, the union representing Buffalo teachers donated $1,000 to Walton.
In his three previous campaign filings this year, Brown reported raising $488,000. Democrats have criticized Brown's primary campaign for not taking Walton's bid seriously and for running a lackluster effort against her.
In the earlier reports, Brown's campaign was heavily bankrolled by a who's who of business, lobbying, union and political interests. He's attracted large donations from companies, some with business before the city, with money flowing from real estate developers, construction executives, the Seneca Nation of Indians, a pest control firm, a janitorial firm, engineering companies, health care interests and others.
Unlike the Brown campaign, Walton's camp has received hardly any corporate money, her campaign filings show. Two companies, with the same Niagara Street address, gave her a total of $10,000. One of the firms, Trinity Title & Abstract, is a women-owned business, according to its website.
The Walton campaign also appears to be running, compared with many political campaigns, a fairly tight ship. It spent only $79,000 during the past 33 days at a time when she is trying to spread her name both locally and nationally. Walton has generated excitement among socialists across the country given the prize – mayor of a large U.S. city – at stake.
From 11 days prior to the primary until July 11, which is the period covered in the new report, Walton spent modestly on advertising, with much of her expenditures on postage, campaign literature, lawn signs and fundraising.