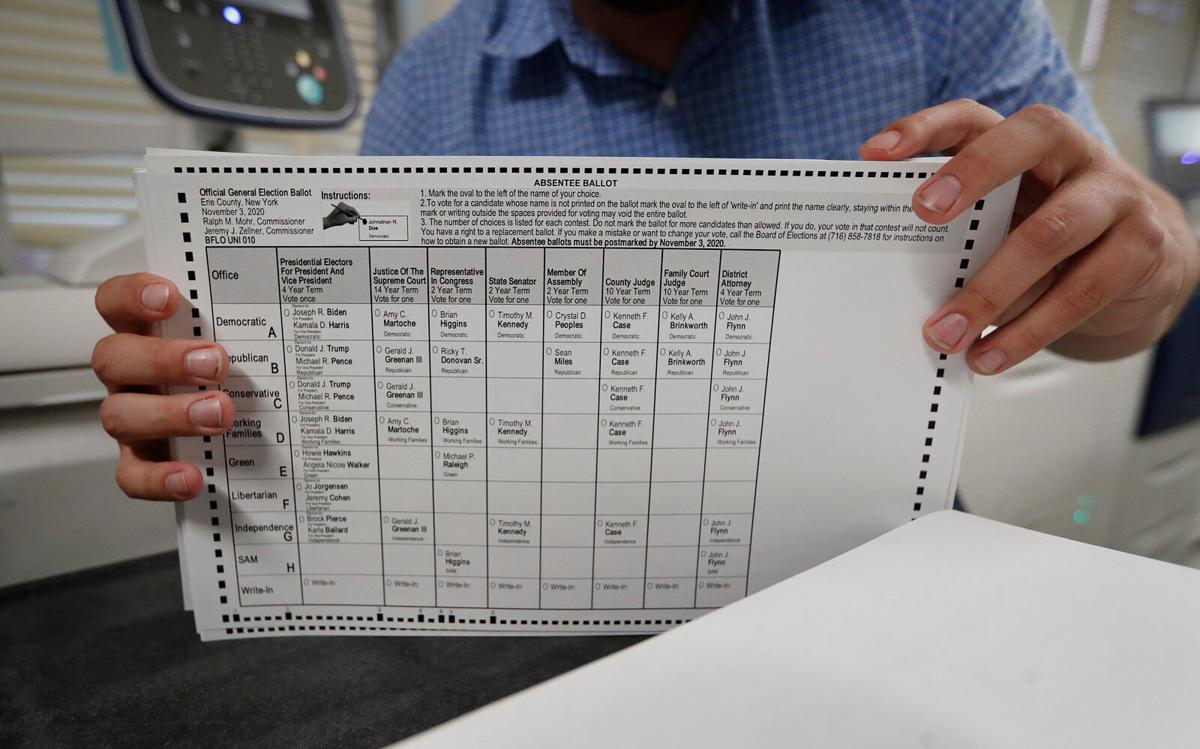 What are enterprising political candidates to do when needing another ballot line and old stand-by parties like Independence and Green have gone the way of Whigs?
They form their own party, of course.
A host of candidates throughout Erie County this week filed petitions with the Board of Elections sporting unique monikers like Integrity, Back the Blue, Public Service or Justice and Peace. For the most part, they are formed by Democrats and Republicans who hope for another minor party line to attract voters of all stripes.
And while creating "temporary" independent lines is nothing new in New York elections, their proliferation this year after former parties failed to achieve "permanent" ballot status is proving not only noteworthy but a potential factor in November, too.
"There are only four parties on the ballot now," said Jeremy J. Zellner, Erie County's Democratic elections commissioner, "so creating a line makes more sense than in the past when we had seven or eight parties on the ballot."
In his dual capacity as Erie County Democratic chairman, Zellner has overseen some in his party circulate designating petitions for the Integrity Party. The new line (like the others) features no real organization or structure but allows several Democratic candidates to offer a voting alternative on the ballot. They include comptroller candidate Kevin R. Hardwick, endorsed sheriff candidate Brian J. Gould and Family Court candidate Sharon M. Lovallo.
Republicans are using the tactic to a greater degree this year, too. John C. Garcia, vying for the GOP sheriff nomination, has submitted petitions for two parties – Back the Blue and Guardian. Democrat Kimberly L. Miller-Beaty, meanwhile, has established the Justice and Peace Party after she earlier lost a bid for the permanent Working Families line.
In Amherst, four of Chairman Brian D. Rusk's Republicans have filed for the United for Amherst line. He says many in the GOP no longer covet the Conservative nod.
"The Conservatives in Amherst have been taken over by liberal, union Democrats," he said. "The Conservative Party in Amherst has lost its compass."
A new party is surfacing in Hamburg town races, too. Stefan I. Mychajliw Jr., the county comptroller who is running for supervisor, is joining other GOP types on the Support Police line. He says the effort is to attract those not interested in "defunding the police."
"They can vote for radical progressives or true conservatives," he said, adding elimination of former alternatives like Independence makes the new lines "critical."
"The more lines you have, the better your chances," he said.
One candidate, however, has shunned the major parties and is concentrating all his efforts on a new independent line called Public Service. Theodore C. Dinoto, the Amherst detective lieutenant running for sheriff, said he received "quite a lesson in politics" after failing to gain the Republican endorsement that went to retired Buffalo Lt. Karen L. Healy-Case. He now plans an organized but independent campaign running on a six-figure budget (including $50,000 from his own funds) that will denounce "political" control of the Sheriff's Office.
"I came to realize there are political agendas involved and that's not necessarily the way I police," Dinoto said. "I didn't want any party or political boss influencing me or interfering with my job.
"The decisions will be made by me, as a 30-year law enforcement professional," he added, "and not by someone feeling they assisted in getting me there."
Former County Executive Joel A. Giambra, one of Dinoto's main supporters, personally gained many of the 750 signatures required to establish an independent line. He enlisted 43 "friends and family" to help circulate the petitions.
"We got almost 2,200 signatures, and because we did not have party backing, we didn't have all kinds of government employees working on the campaign," he said.
Giambra claims that Dinoto is running a truly independent effort unaffiliated with either Democrats or Republicans.
"These other people are trying to hedge their bets," he said.
Nevertheless, conflict is developing over the some of the independent lines. Clarence political consultant Christopher M. Grant, assisting sheriff candidate Healy-Case (already backed by the established Conservative Party and who did not establish another line), said he expects her campaign will challenge GOP rival Garcia's minor party effort.
He said she will challenge Garcia's Guardian emblem that too closely resembles the Statue of Liberty (not allowed), while a flag in Back the Blue's logo is also not permitted.
Grant said the Healy-Case challenge to Garcia's independent lines extends beyond logos. If Garcia loses the Republican primary to Healy-Case on June 22, Grant said, it will be prove virtually impossible for him to win the November general election on minor lines. And he said Garcia will then siphon Republican votes in November (though if Garcia wins, Healy-Case could also attract general election votes on Conservative).
"No one in history has won a countywide election on just two minor party lines," he said. "This clearly just a sour grapes effort in the general election to be a spoiler when Karen wins the Republican primary."