Kimberly Beaty rode a surge of votes in Buffalo to victory in the Democratic primary for Erie County sheriff, overriding a solid performance by her opponent, Brian J. Gould, in most of the county's suburbs and rural communities.
On the Republican side, John C. Garcia took every city and town in Erie County on his way to dispatching Karen Healy-Case, with narrow margins in the Northtowns amplified by big support from the Southtowns.
Those are the headline findings of a Buffalo News analysis of voting in the Democratic and Republican primaries for sheriff late last month, when the parties' endorsed candidates both went down to defeat.
The primary results raise a key question: Can Beaty pull in enough votes from her Buffalo base in the fall election to offset Garcia's strengths in places like Orchard Park, Hamburg and Lancaster?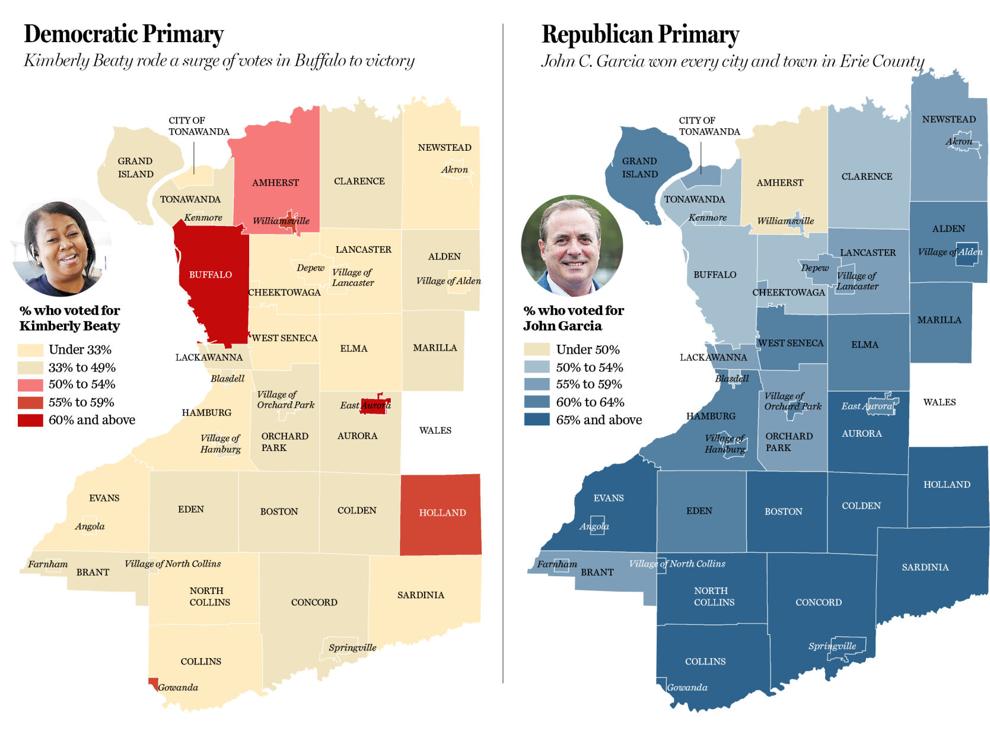 Democrats have a distinct enrollment edge in Erie County over their Republican rivals, but a Democrat hasn't held the sheriff's post since 1997.
Garcia, who lives in Buffalo, said he isn't conceding the city's votes to Beaty, who is running to become the county's first woman and first Black sheriff.
But November's contest for sheriff remains uncommonly crowded, with Healy-Case and another candidate, Ted DiNoto, remaining on the ballot. They could split the Republican vote with Garcia, political observers say.
Further, a spirited write-in campaign waged by Mayor Byron Brown could boost turnout in Beaty's Buffalo stronghold. And, of course, the specter of retiring Sheriff Timothy B. Howard, a Republican whose tenure has come under criticism, looms over the race.
It all sets up an unusually intriguing election for Erie County sheriff this fall.
"I think it's going to be very interesting," said Bernard A. Tolbert, former special agent in charge of the Buffalo FBI office who ran unsuccessfully as the Democratic candidate for sheriff in 2017. "I think this might be the right time, and the right set of circumstances, that we finally will see a Democratic sheriff."
Republican State Sen. Patrick Gallivan, Howard's predecessor as sheriff and a Garcia backer who has worked with him in a private-security firm, has a contrasting outlook on the race.
"I am confident that he'll be elected sheriff, despite all of these different variables that we're facing this year that we haven't in the past," Gallivan said.
Beaty and Garcia both took on their respective parties' endorsed candidates for sheriff.
In the Democratic primary, party leaders backed Gould, the assistant Cheektowaga police chief, over Beaty, a former deputy Buffalo police commissioner now serving as Canisius College's director of public safety. Beaty initially dropped out before supporters urged her to reconsider.
Beaty ended up winning 51% to Gould's 37.5%, with another candidate, activist Myles Carter, winning 10.5%, according to Erie County Board of Elections data.
Gould won 24 of the county's 28 cities and towns. He piled up winning margins of 858 votes in Cheektowaga and 682 votes in Hamburg, and also beat Beaty by at least 290 votes in Evans, West Seneca and Lancaster.
But it wasn't enough to overcome Beaty, who edged Gould in Aurora and Holland, beat him by 300 votes in Amherst and trounced him by 7,162 votes in Buffalo, where she took 63% of the vote to Gould's 23%.
Beaty's 1,940-vote edge in Buffalo's Masten District, for example, was more than the 1,870-vote margin Gould grabbed in Cheektowaga, Hamburg and West Seneca combined, records show.
Tolbert, who had planned to enter the sheriff's race before family considerations prompted him to withdraw, said party leaders on both sides misread their constituencies.
"I don't think that, on the Democratic side, they were looking for someone who represented the status quo, the same old, same old," he said of primary voters. "They were looking for a candidate who was more reflective of the time."
In the GOP primary for sheriff, the party officially backed Healy-Case, a former Buffalo police lieutenant and district chief, over Garcia, a retired Buffalo police detective.
Each campaigned as the most conservative candidate and most loyal to Donald Trump, but it was Garcia who won handily over Healy-Case, 59% to 40%, election records show.
Garcia won narrowly in the towns of Amherst, Clarence and Tonawanda, but won every other town and city in the county by at least 54% to 44%.
He won by at least 200 votes in eight southern and eastern suburbs, led by Hamburg, Aurora and Lancaster, pushing him to a winning margin of nearly 3,600 votes.
"I attribute it to the hard work we put in," Garcia said. He wasn't the party's endorsed candidate, he said, but had backing from the Erie County Sheriff's and Buffalo Police unions.
In the general election, Tolbert and Gallivan said Beaty should benefit from a heavily publicized showdown for Buffalo mayor. Observers anticipate higher-than-average turnout as Brown launches a spirited write-in campaign against India Walton, who won the Democratic primary.
Garcia, a Brown supporter, said he can connect with those voters as a city resident and retired city police officer who understands their public safety concerns.
The Northtowns are likely to shape up as a key battleground for both campaigns.
Beaty said she's offering a message of restoring professionalism to the Sheriff's Office that she believes will strike a chord throughout the county.
"The results are a clear indication that folks across Erie County are ready to move forward and we're going to do that together," she said. "It's clear our message resonated from Buffalo to Amherst to the towns like Holland and everywhere in between."
Veteran political figures can't recall a sheriff's ballot as crowded as the one voters will see this fall.
Gould remains on a ballot line of his own creation but said he won't actively campaign. Healy-Case, for now, retains the Conservative line, while DiNoto also has an independent ballot line.
Healy-Case and DiNoto, who opted not to run in the Republican primary, could siphon support from Republican-minded voters away from Garcia.
Gallivan said voters for sheriff are willing to overlook party label – a key consideration for Republicans in a county where Democrats outnumber them almost 2-1 – but Garcia has to make his case that he's best qualified for the job.
"He would have to do that whether there's only two people in the race or six people," Gallivan said.
Howard chose not to run for re-election, but his presence looms over the race to replace him.
"He's his #1 supporter," Beaty said of Howard, who backed Garcia. "We need change. We're trying to fix a broken system."
Garcia said the electorate will judge the candidates on how well they articulate their vision for the job.
"I know that I will be able to connect with, let's just say, the voter – our public – because I have done the job," he said. "People saw that I'm real. This is who I am."
News Enterprise Editor Patrick Lakamp contributed to this report.