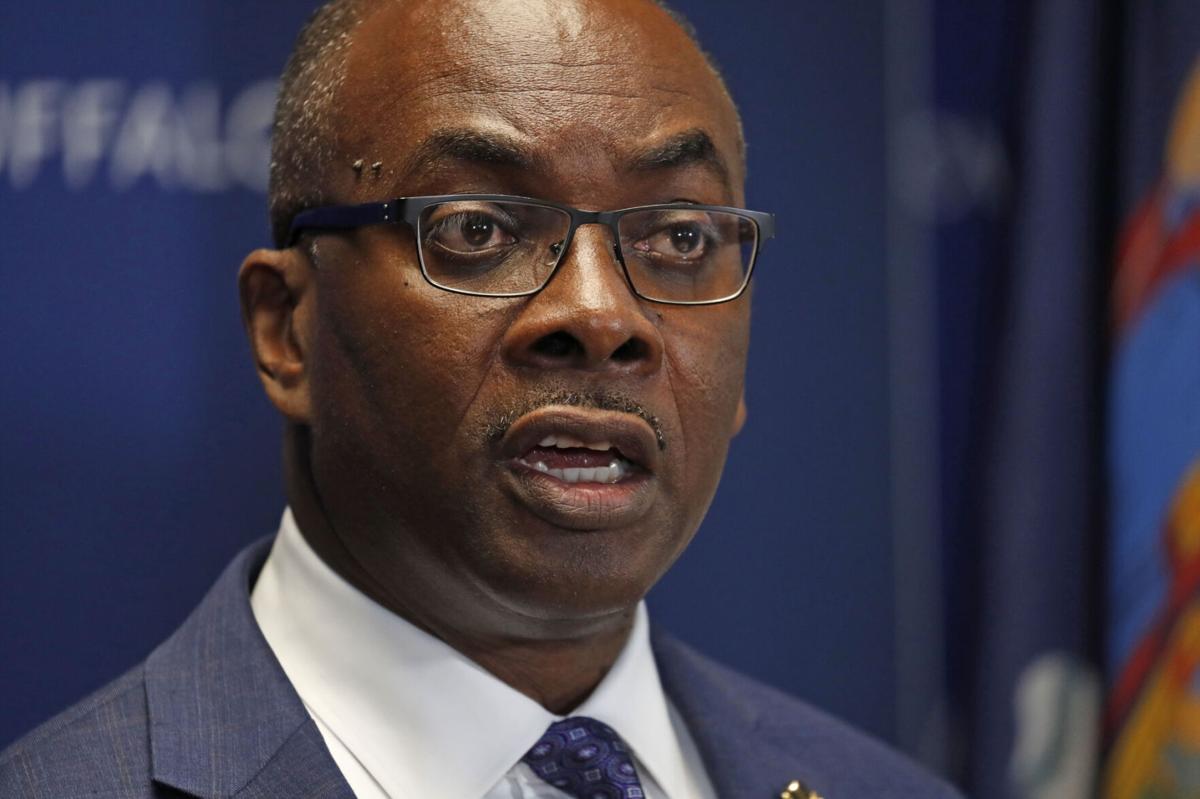 Mayor Byron Brown's proposal for spending some $328 million in federal stimulus aid includes the following: 
Revenue Loss Replacement. $100 million to replace City Hall revenues lost due to the pandemic, such as sales tax, parking, user fees, permits and licenses.
Smart Sewer. $40 million to improve the efficiency, quality and service of water and sewer systems throughout the city. Priority would be given to projects located in neighborhoods disproportionally affected by the pandemic.
Masten Park/Johnny B. Wiley Reconstruction. $23 million to be allocated for part of City/Buffalo Public Schools master plan for construction of athletic field, splash pad, outdoor pool, playgrounds, landscaping, shelter building, multi-use pathways, site lighting, access drive and parking lot, demolition of existing building, and construction of new building within indoor sports court, restroom, locker room, concessions and general space.
Income Assistance Program. $20 million to provide $500 monthly checks to low-income households selected by lottery, providing direct support for more than $1,600 households.
The "income assistance program" is one of 28 ways Mayor Byron Brown has recommended spending more than $328 million in federal stimulus aid to the city over two years.
Community Center Renovations. $20 million for renovations at four community centers, including enhancements of the centers' high-speed internet connectivity, expanded computer labs, new HVAC systems to make them Covid compliant, and energy efficiency projects to lower utility costs and reduce the centers' carbon footprints.
Park Access Equity. $20 million to improve at least eight city parks with the purchase of new playground equipment and other capital improvements, and $8.5 million of the allotment would be set aside for the construction of an indoor sports facility.
Affordable Housing Fund. $14.3 million to seed an affordable housing trust that would leverage the city's $12 million HOME funds and other private sources for the construction of new, affordable permanent housing for low-moderate income families and persons with disabilities, and improvements to existing housing as well as transitional housing units for displaced residents and their families.
Water and Sewer Forgiveness. $13 million to forgive the outstanding balances of every household's water and sewer bills.
Health Equity Initiative. $10 million to establish a community health clinic on Buffalo's East Side as well as health educational outreach and programming and affordable quality housing.
Replacing old lead lines. $10 million to replace the lead water service lines in at least an additional 1,000 homes in addition to the lines already replaced in 500 homes.
Clean Up Corps. $9 million for a two-year program to provide jobs for individuals who will advance the city's neighborhood improvement efforts, parks improvement projects and other community service efforts. The corps would have 50 members and five supervisors.
Neal Dobbins Restorative Justice. $6 million for technology and community-based antiviolence programming to improve neighborhood safety and encourage resident-driven crime prevention programs through targeted interventions and mentoring service. 
Cultural Institution Support. $6 million to support major institutions such as the Albright Knox Art Gallery, Shea's Buffalo, the Buffalo History Museum, Kleinhan's Music Hall, the Buffalo Museum of Science, Burchfield Penney Art Center, Theatre of Youth, the museum at 509 Michigan Ave. and the Buffalo Zoo.
Garbage User Fee Assistance. $5.5 million to provide low-income residents with assistance in clearing any debts or outstanding bills.
Buffalo Municipal Housing Authority High Speed Internet. $5 million to install city-owned fiber-optic cable at five of BMHA's most populous housing facilities, and provide free internet for three years for residents of those housing facilities.  
Mayor's Summer Youth Program. $4.35 million to gradually increase in the number of participants over three years, with some able to be compensated for enrolling in summer school programs to make up for learning loss due to the pandemic. 
Traffic Improvements. $4 million to pay for minor road repair improvements, installation of scheduled speed humps, crosswalk markings and maintenance. 
Minority Owned Business Assistance. $3.5 million to provide funding support for minority-owned businesses.
Skills-based Job Training. $3.5 million to a qualified nonprofit partner to establish a skills-based job-readiness program that matches low- to moderate-income residents with specific employers and provides those residents with the training and skills necessary to secure a job and a career path they can use to higher wages and greater socio-economic mobility.
Frontline Arts Organizations Fund. $2 million: To create a frontline arts organization sustainability fund.
Buffalo Municipal Housing Authority Rental Assistance Fund. $1.8 million to help BMHA residents who have been indirectly impacted by the pandemic either through loss of potential sources of income when the job market contracted, schools closed and child care options became more limited. Eligible BMHA applicants must not be eligible for other forms of federal emergency housing assistance in order to qualify for this fund.
Community Food Security. $1.5 million to create the nation's first community garden land trust and support of nutritional food preparation programming, food delivery and wellness education. Funds could be used for electric vehicle purchases for nonprofit organizations and community centers that make deliveries to food-insecure older residents, cooking classes for low-income residents  and nutritional programming to address the food security needs of specific constituencies.
Northland Workforce Training Center Scholarship. $1.5 million to residents of color and female students who are typically under-represented in the advanced manufacturing field. It would provide assistance for transportation, learning supplies, child care and other expenses. 
Cybersecurity. $1.5 million to enhance cybersecurity measures and make the city's digital infrastructure more resilient against potential ransomware attacks.
Buffalo Urban Development Corp. Operating Assistance. $1.2 million to cover the operational costs the agency incurred as a result of providing small business assistance to private entities impacted by the public health safety measures intended to slow the spread of Covid-19.
Healthy Homes Inspections. $1 million to support inspections of housing to prevent lead poisoning and other environmentally rooted causes of health disparities for three years until the program becomes self-sustaining as a result of fines and fees the inspections would generate.
Fire Department Self-Contained Breathing Apparatuses. $530,000 to upgrade the equipment. 
Administrative and Evaluation. $400,000 to hire staff to ensure the stimulus funds are used in accordance with state and federal guidelines.