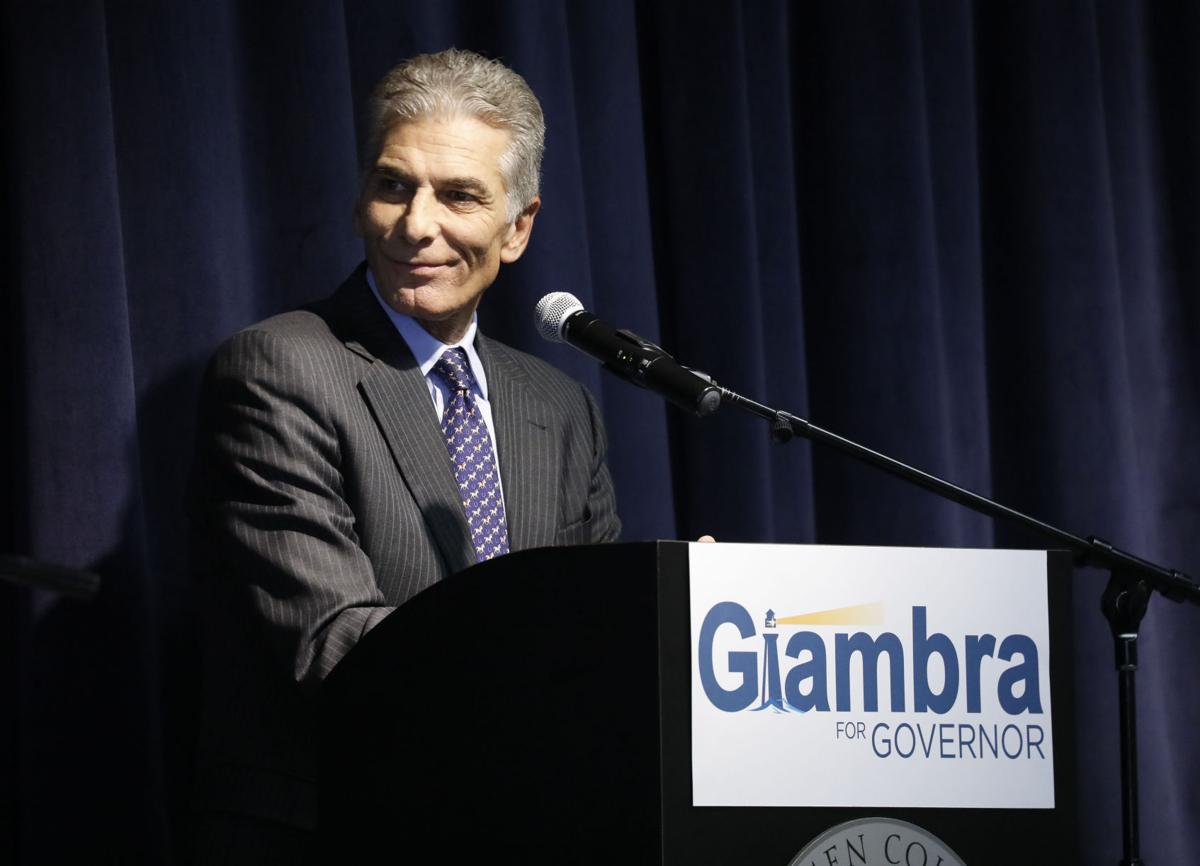 Just as in 2018, Joel A. Giambra finds himself studying next year's potential Republican field for governor and asking, "Why not me?"
The former Erie County executive sees no "moderate" Republican amid at least five candidates expressing interest, and wonders if the GOP will guarantee another failure in the 2022 gubernatorial election by nominating a supporter of former President Donald J. Trump in ultra-Democratic New York.
And just as he did in the last election for governor, the Democrat-turned-Republican says he might be the answer.
"I'm not a Trump guy and I never have been, though I support some Trump policies," Giambra said Monday. "And I think the Republicans' only chance of winning is if the Democrats cannot place a Trump moniker on our candidate.
"There's no question I've based my career on moderate Republicans like George Pataki," he said, referring to the former three-term governor. "That ingredient has to be there for the Republicans to even contest."
Giambra's short-lived gubernatorial effort of 2018 went nowhere as GOP leaders dismissed him as a former Democrat whose "red and green budget" haunted his tenure in the Rath County Office Building, and as a one-time supporter of Bill and Hillary Clinton. After a debate at Daemen College early that election year against two others who also never figured in the final GOP calculus, the party settled on Dutchess County Executive Marc Molinaro before enduring another crushing defeat by Democratic Gov. Andrew M. Cuomo.
So what's different this year?
Giambra says the party cannot continue following the same pro-Trump game plan. He seeks to make his case before Republican leaders throughout the state, emphasizing that any Trump supporter such as Rep. Lee Zeldin of Long Island (the only announced candidate so far) will face the kind of 23-point defeat suffered by Molinaro. While acknowledging Republican leaders' less than enthusiastic reception to his same basic idea in 2018, Giambra hopes the party will chart a different course this time.
He also believes the New York GOP must coalesce around one candidate as early as possible to avoid a primary pitting him against a candidate identifying with Trump.
"That's where the party leadership has to realize that anyone associated with Donald Trump will probably come in second," he said of the general election. "If they want to come in second, they should use the same playlist."
Indeed, Giambra proclaimed "Donald Trump is absolutely crazy" while heading a local Republicans for Hillary group in 2016.
But history is not weighing on the former county executive's side. Developer Carl P. Paladino – espousing Trump-like themes five years before Trump's arrival on the national scene – beat "moderate" Republican Rick A. Lazio, 61% to 38%, in the 2010 Republican primary for governor. Paladino won Erie County 93% to 7%, before losing badly to Cuomo in the general election.
State Republican Chairman Nicholas A. Langworthy, a close ally, would not comment on a potential Giambra candidacy. But as chairman of the Erie County GOP in 2018, he dismissed Giambra while noting the fundraiser he once sponsored locally for New York Mayor Bill de Blasio.
"He had a fundraiser here for the most liberal politician in the history of the City of New York and most liberal politician in the country," Langworthy said then. "That raises a lot of questions about why he would be our best standard bearer, before even discussing his record in office."
Giambra said Monday he would begin broaching a potential candidacy with the Conservative Party, especially since an old nemesis – former state Chairman Michael R. Long – no longer heads the party. But Erie County Conservative Chairman Ralph C. Lorigo said Monday that Giambra faces an uphill climb with the minor party.
"He's accomplished a great deal in his career and I think a lot of him as a person," he said, "but realistically there are good number of people who are looking at it seriously."
He especially mentioned Zeldin, who has been gaining more and more traction among party leaders since officially announcing his candidacy last week.
Giambra launches his explorations just as state Republicans are set to invite interested candidates to an Albany session on Monday. A spokeswoman said the party had not yet heard from Giambra, but that Zeldin, Molinaro, former Westchester County Executive Rob Astorino (the 2014 candidate), Rep. Elise Stefanik of Saratoga County, and Andrew Giuliani, a former aide in the Trump White House and son of former New York Mayor Rudy Giuliani, are expected to attend.
After losing out to Molinaro in 2018, Giambra briefly explored running for governor on the minor Reform Party line as well as for comptroller. He said Monday he is feeling well and playing golf after a kidney transplant earlier this year.
Giambra has been politically active this year in assisting the sheriff campaign of Amherst Detective Lt. Ted DiNoto, who is running on an independent line.