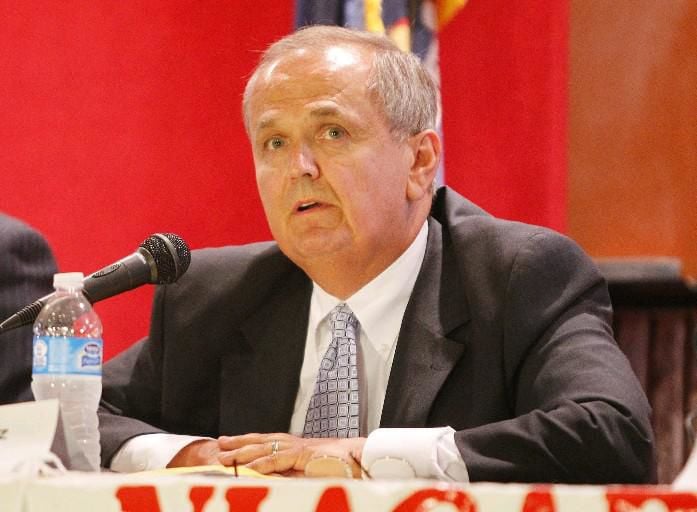 Nine years after he last faced voters, former State Sen. George D. Maziarz surprised a Newfane Republican Committee meeting Wednesday night by announcing he intends to run for town supervisor this year.
The party already had a candidate for supervisor – Niagara County Legislature Vice Chairman John Syracuse, who also happens to be the chairman of the town GOP.
"I've never seen this before," Syracuse said Friday. "Just before the close of the meeting, that's when George Maziarz stood up and said he was interested in running for the office."
"Not totally unexpected," retiring Supervisor Timothy R. Horanburg said. "He talked to me two years ago about doing this."
Horanburg said Maziarz told him then that he intended to run for supervisor after Horanburg was done.
"I thought he forgot about it. I guess not," Horanburg said.
"Not prepared to make any statement at this time," Maziarz, who left the Senate at the end of 2014, told The Buffalo News by text message.
The Niagara County GOP Committee is to meet Thursday to vote on endorsements for this year's races. County Chairman Richard L. Andres Jr. said he wouldn't be surprised if someone spoke up on Maziarz's behalf.
"I assume somebody would say something," Andres said. But he said he had already received a list of recommended endorsements for Newfane offices, including Syracuse for supervisor.
"We don't endorse candidates when there's more than one person interested," Syracuse said. "When there's a primary, we'll let the voters decide."
But the county committee could make its own decision.
"I want the endorsement. I think I've proven over the years that I'm worthy of it," said Syracuse, a practicing chiropractor in Newfane who has served in the County Legislature for 18 years.
"I was excited to hear John was going for (supervisor)," Andres said. "He's my go-to guy up there. He's Mr. Newfane. He's a good man and a good legislator. I would think he'd have a leg up in that race, but I don't live in Newfane. I don't have my finger on the pulse of that community."
Maziarz's 19-year Senate career ended abruptly when he abandoned his 2014 re-election race after filing nominating petitions. It turned out he was under investigation for election law violations pertaining to phony statements on financial disclosure forms.
The state Attorney General's Office accused Maziarz of trying to conceal payments to former aide Glenn S. Aronow, who left the Maziarz staff after a sexual harassment case.
Maziarz was indicted on five felony charges but ended up pleading guilty to a misdemeanor and paying a $1,000 fine in March 2018.
Since then, Maziarz has been on the warpath against his former political allies.
He accused former Niagara County GOP Chairman Henry F. Wojtaszek of misusing tickets to concerts and sporting events purchased by Western Region Off-Track Betting, where Wojtaszek is CEO.
He asserted that a bid for a Niagara County grant-writing contract was rigged to help a Wojtaszek associate win the bid. And he accused some of his own former employees of stealing his campaign cash.
No criminal charges have resulted in any of those cases. Special prosecutors dropped the campaign cash and bid-rigging cases, saying they couldn't find enough evidence to charge anyone.
No official has said anything about the status of the OTB case, but no charges have resulted two years after Maziarz went public with his accusations.
Last year, Maziarz sent direct mail pieces attacking Wojtaszek's wife, Caroline A. Wojtaszek, the GOP-endorsed candidate for Niagara County judge. She won the election.