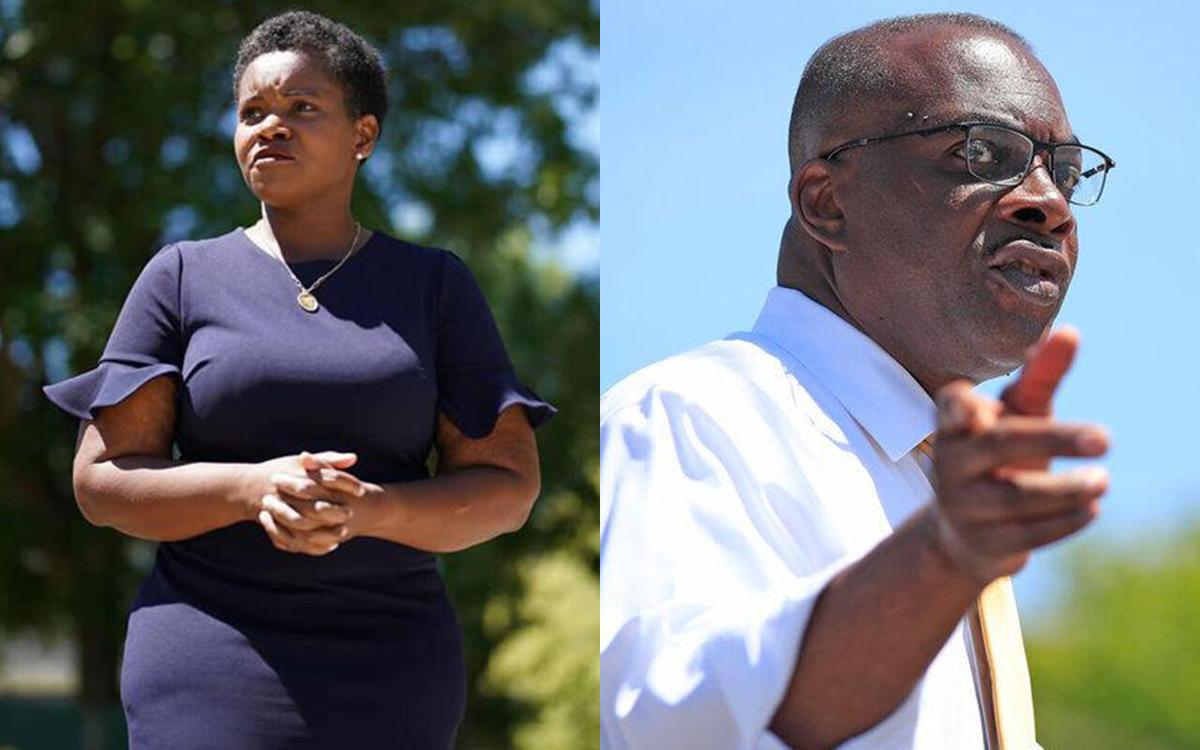 A Buffalo attorney and 138 others have complained to the city's Board of Ethics that a television ad sponsored by Mayor Byron W. Brown's re-election campaign violates a host of rules and regulations by portraying police officers in support of a political candidate.
Stephanie A. Adams filed her complaint on Monday, citing the ad that debuted on Sept. 14 featuring 18 police officers whom the campaign said volunteered to appear. The officers, some wearing T-shirts identifying them as police, said they would be among 100 officers who would be laid off as a result of mayoral challenger India B. Walton's plan to cut $7.5 million from the city law enforcement budget.
"All of us will lose our jobs," they say in unison, before two officers close the spot.
"Our job is to keep Buffalo safe," says one.
"We can't do that with India Walton as mayor," adds another.
The Walton campaign immediately cried foul when the ad first appeared, saying the candidate would eliminate jobs through attrition and other cost-saving measures and not via layoffs. Its content features a core element of Brown's campaign against Walton, the Democratic nominee for mayor, and her plan to reduce Police Department funding and assign some duties, such as intervening in domestic disputes, to mental health professionals. Brown, who's running a write-in campaign to remain mayor, maintains the police would lose effectiveness and personnel, which the Walton campaign labels a scare tactic.
But now Adams raises new questions about the propriety of police officers appearing in the ad, citing department regulations and state and federal laws.
"We are very concerned that this is not personal expression by police officers acting as private citizens but is rather a politically partisan message made by officers illegally using the influence afforded by their official roles," Adams wrote in her complaint, "in order to solicit support and donations for a partisan candidate for office."
The complaint also said six of those appearing in the spot are dressed in "Class B" uniforms of short-sleeved shirts emblazoned with "POLICE" or the Police Department seal, and are identified as "real Buffalo police officers." In an interview, Adams said she notified the Walton campaign before filing the complaint, but added there is no official connection. The Walton campaign had no comment on the complaint.
Adams said she was most offended by the concept that the officers constitute a "chain of command" extending through the police commissioner and ultimately the mayor.
"This is not about the officers but about people who have power over those officers," she said, adding she sees the potential for the participants "feeling vulnerable in their employment."
"To me, that's duress," she said.
She also said that under department regulations, permission for such an appearance would be required.
"They either got permission, and that's a problem," she said, "or they didn't get permission, and that's a problem. [Brown] either directed or allowed this to happen in violation of the code of ethics and state and federal law."
Adams, a Walton supporter, said she was moved to file her complaint through concern about "a potential abuse of power," adding she recognizes the officers' First Amendment right of free speech.
"This is not an attack on the officers. If wrong was done, then it was done to them, too," she said, "because they were given bad guidance."
The attorney said she obtained the signatures of 138 others after posting her complaint online. She has requested a written finding from the board.
Conor Hurley, spokesman for the Brown campaign, called the ethics complaint a "distraction," and reiterated the ad's disputed claim about police "layoffs."
"Throughout this campaign, Ms. Walton and her supporters have talked about defunding the police, laying off 100 police officers and how our police don't keep us safe, but now, ironically, they are 'very concerned' about real Buffalo police officers," Hurley said. "The campaign ad speaks for itself, and the complaints that were made have no validity whatsoever."