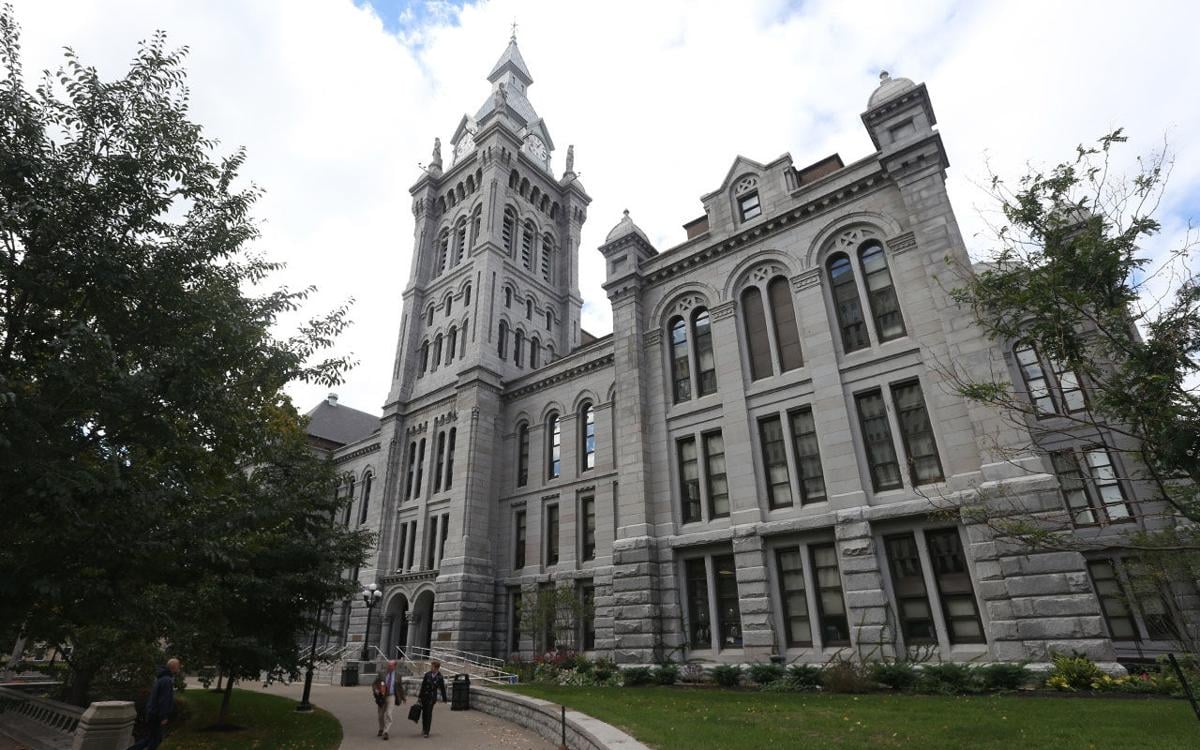 When Erie County Executive Mark Poloncarz declared a state of emergency in March of 2020, the county Legislature gave him the authority to spend federal Covid-related money without its approval. The goal then was to respond quickly to a rising infection rate and death toll.
The county administration subsequently spent more than $100 million last year without Legislature approval, prompting many lawmakers to seek the return of their authority. Now, it appears they're going to get it.  
Given the improvement in Erie County's Covid-19 infection rates and vaccine supply, the Legislature next week is expected to roll back Poloncarz's sweeping spending powers.
Deputy Budget Director Benjamin Swanekamp signaled Thursday that the county administration would not fight an effort by the Legislature to revoke the county executive's ability to award coronavirus-related contracts and spend up to $250,000 without the Legislature's consent.
The county budget office, however, would still like the ability to transfer up to $10,000 between Covid-19 related budget lines without having to seek Legislature approval. Legislators seemed willing to compromise on that Thursday.
At last week's regular Legislature meeting, the Republican-supported minority caucus argued that Poloncarz no longer had a need for unilateral spending authority.
"The time has come for Erie County government to get back to doing the work of the people," said Minority Leader Joseph Lorigo. "This honorable body has a role in that. We have a say in how that money should be spent and what taxpayer dollars are used for."
While many Democratic legislators voiced support for that concept, they did not agree on the extent of any rollback last week and instead decided to resolve the matter in committee.
"The temperature was, there has to be some change," said Majority Leader Timothy Meyers, chairman of the Finance and Management Committee, on Thursday. "We all knew there needed to be a rollback, but what that looked like, we weren't sure. I think everybody was looking for a little information on that."
Legislators previously grappled with this issue in March, questioning the need for the authority one year later. They also quizzed county budget and legal officials about how much control the county executive would maintain over the $178 million federal stimulus money from the American Rescue Plan this year.
Members of the Republican-supported minority caucus have repeatedly pointed out that Poloncarz had unrestricted authority last year to spend up to $160 million in federal stimulus money earmarked for Covid-19 response efforts. Millions of dollars in contracts went to vendors without any bidding process.
Erie County Executive Mark Poloncarz might keep his emergency spending authority a while lon…
Poloncarz has also had the ability to shift up to $10,000 between county budget lines without Legislature oversight, a mechanism the administration relied on last year to get emergency spending needs covered. The administration has asked that this mechanism be allowed to continue. 
In light of the loss of oversight last year, the Legislature's Democratic majority curbed some of Poloncarz's spending authority this year by requiring Legislature approval for emergency contracts over $250,000.
But the minority caucus argued that's not restrictive enough, in light of the American Rescue Plan.
That money is divided into four categories, only two of which are tied to direct and indirect Covid-19 response efforts and hazard pay for certain essential workers. Federal money not related to the health and safety response, such as investments in county infrastructure, fall outside of Poloncarz's emergency spending authority.
In regard to health-related spending, county administrators have previously argued that emergency spending authority allows the county to quickly open up pop-up clinics and secure needed staffing. Swanekamp said the county will also want to devote more resources to marketing efforts encouraging more people to get vaccinated.
They also had suggested that the revocation of emergency spending authority should be contingent on the county achieving herd immunity vaccination levels or positive Covid test rates falling to 1% or lower.
As of Thursday, the county's average positive test rate was .9%. 
Poloncarz has previously expressed reservations about how the Legislature only meets in full session every other week. But Meyers said he expects the requests for new Covid-19 related contracts to be fewer and less time sensitive, and subject to better advance planning by the administration.