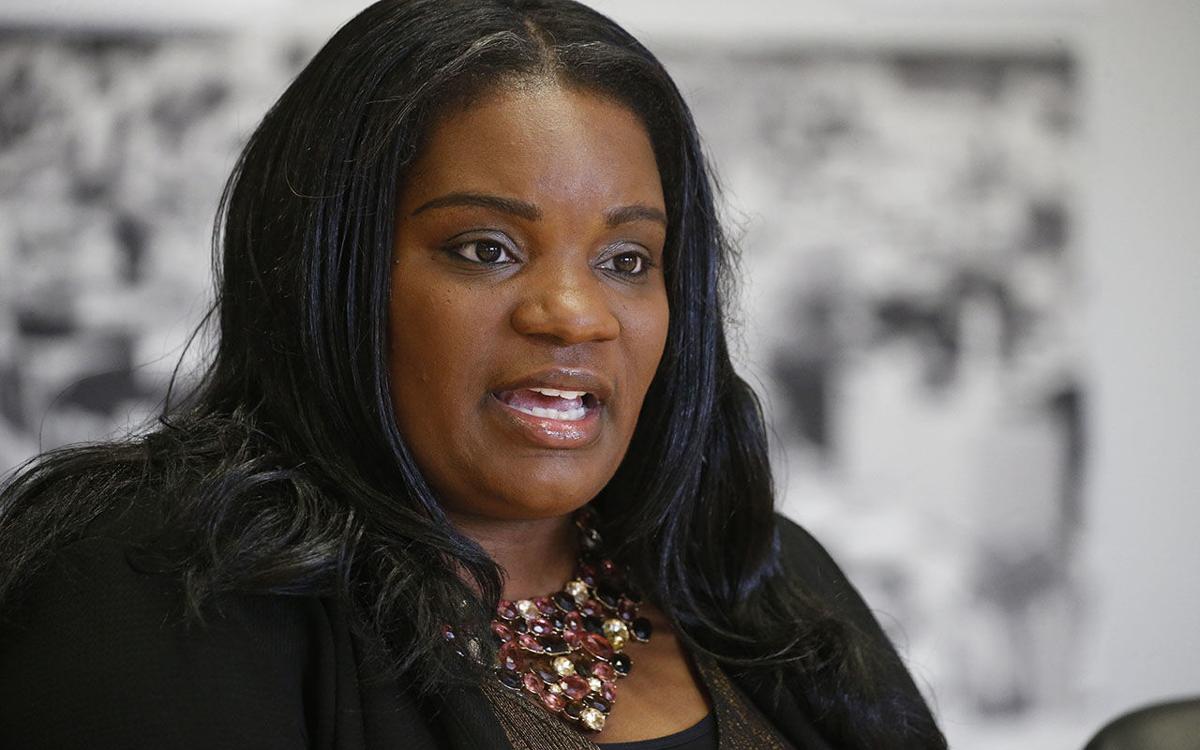 So who's running the Sheriff's Office this week?
The chairwoman of the Erie County Legislature would like to know.
The Legislature canceled an informational meeting scheduled for July 23 to discuss overtime spending related to Covid-19 because virtually every top administrator for the sheriff was unavailable to answer questions, said Chairwoman April Baskin.
The Sheriff's Office has claimed more Covid-19-related overtime than any other Erie County department or office, including the Health Department.
"In addition, I have not seen or heard from Sheriff Timothy Howard since the pandemic began in March," Baskin said in a lengthy statement that criticized the office for the "willful inability" of administrators to participate in the informational meeting that lawmakers scheduled July 23.
"Who precisely is running the Sheriff's Office this week while all management is 'out of the office?' " she asked.
Howard told The News that the County Legislature may have planned the informational meeting last week, but his office was not consulted on staff availability and never got an invitation to show up. 
"For the record, I do not work for the Erie County Legislature, any more than the county executive or the other independently elected officials, although I am anxious to work cooperatively with the Legislature," he added.
In her statement, Baskin listed who was out of the offic:
Undersheriff Mark Wipperman, who has led the day-to-day operations of the Sheriff's Office, announced his retirement last week and is now on vacation until his official last day on Aug. 8.
John Greenan, who has served as chief of administration, has been tapped by Howard to serve as acting undersheriff. He was not working when the meeting was supposed to be held.
All other Sheriff's Office command staff administrators were "out of the office," too.
Howard told The Buffalo News that it's clear who is in charge.
"I am responsible for the oversight of the Erie County Sheriff's Office," Howard said. "Daily operations are directed by the various chiefs – individuals who have developed more knowledge and expertise in their specific disciplines than I. I am proud to make that statement – not ashamed. I helped to develop our talent pool, and am vicariously gratified by their accomplishments. I remain in frequent contact with these individuals."
The Legislature did not actually invite the Sheriff's Office to appear July 23 because it became clear no one whom lawmakers wanted to talk to was going to be around, said Timothy Callan, chief of staff for the Legislature's Democratic majority.
He said he was surprised to get an out-of-office email from Wipperman last week saying he was on vacation until his official retirement date. 
On Monday of last week, Sheriff's Office spokesman Scott Zylka said Greenan was out of the office through Friday and further volunteered that "other key CSM [command staff members] will be out of the office this week."  
Minority Leader Joseph Lorigo said he was upset to learn that meeting invitations weren't sent out to all department heads last Friday since that's what the Legislature leadership agreed would happen.
"I will support April all day long in making sure the Sheriff's Office is there, but you have to actually invite the sheriff," said Minority Leader Joseph Lorigo. "To criticize the Sheriff's Office left and right when you didn't even invite him is pure politics."
Greenan submitted a report last Friday outlining how Covid-19-related overtime was spent. In it, Greenan stated that some money was incorrectly categorized as Covid-19-related when it was actually related to the George Floyd protests and unrest. But other overtime was related to guarding Covid-19-related facilities, assisting with Meals on Wheels deliveries, and numerous guidelines, policies and revisions written to safeguard inmates and personnel.
Baskin, however, suggested the 400-page document offered more volume that substance. She said the report included "a 200-page manual from the Federal Emergency Management Agency dated 2017 that has nothing to do with the overtime issue."
She expressed further concern that the Sheriff's Office is avoiding accountability.
"I have serious concerns about the management of the Sheriff's Office, considering that they are the only County office that received overtime pay without an employee swipe-in/swipe-out time keeping system," she stated. "Considering that due to recent state criminal justice reforms, the inmate headcount of the county jail system is only around 500 when the facilities can house over 1,500 prisoners, it is imperative that the high salaried political appointees of the Sheriff's Office come forward and justify their earnings of nearly a half-million dollars in overtime from federal funding. These funds were intended to help the residents of Erie County survive a dangerous pandemic and the public deserves answers."
Sheriff's Office administrators responded that the Sheriff's Office has requested a swipe time-keeping system but has been denied by the county administration. Because it doesn't participate in the electronic system, the Sheriff's Office furnished paper time-sheet records.
Howard said that when Erie County upgraded its time-card system, the county did not include the Sheriff's Office. The administration has been unable to figure out how to account for Sheriff's Office schedules, but Howard said he would be happy to have his employees join the same electronic time-card system that the other county employees use.
Be the first to know
Get local news delivered to your inbox!