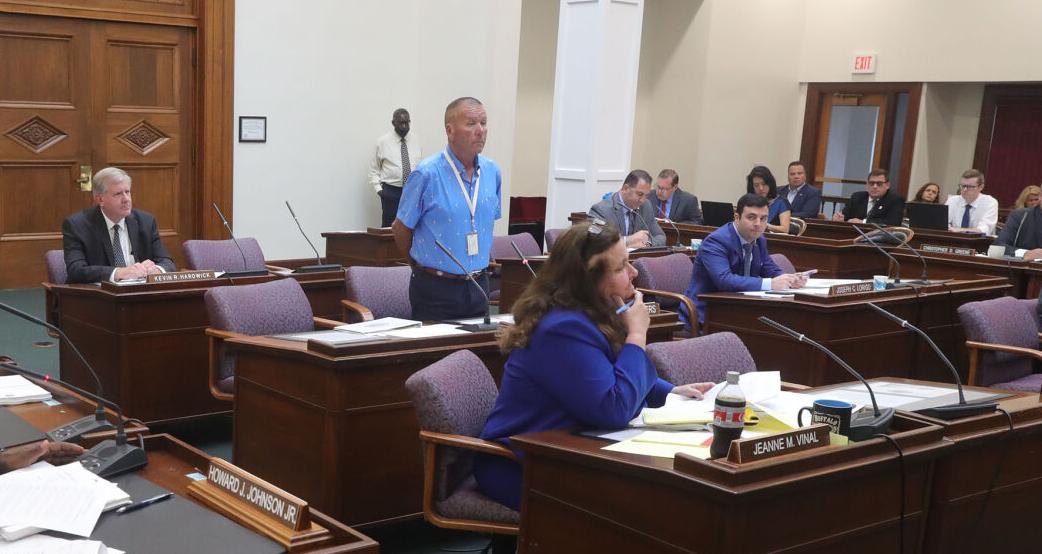 Erie County Legislature Majority Leader Timothy Meyers resigned from his Legislature seat at the end of the day on Friday and vacated his seat for exactly one day.
On Tuesday, a special Legislature meeting was called to reappoint him to the seat he just won re-election for in November.
To be clear, Meyers isn't going anywhere and never was. He just wants to be able to collect his pension from the Niagara Frontier Transportation Authority, and he couldn't do it without technically quitting his job.
New York State retirement system laws prohibit employees on public payrolls from collecting their pensions while they are still on any government payroll. They must leave their job with the state for at least one full day in order to be able to start collecting their pension.
"I don't know why they do that, but it's the law," said Meyers, 60, a Cheektowaga Democrat representing the 7th District.
This resignation-reappointment process will allow Meyers to collect both his $47,558 in majority leader pay and his NFTA pension. Because of state pension rules that cap the amount of money he's allowed to receive each year while under the age of 65, Meyers will forgo pension payments for the last several months of the year for the next several years until he turns 65.
Meyers, who started working at the Buffalo Niagara International Airport as a custodian at age 19 and worked his way up to airfield superintendent at the Niagara Falls International Airport, retired from his job on Saturday after 41 years.
Meyers isn't the first county legislator to do this. Fellow 3rd District Legislator Lisa Chimera, D-Town of Tonawanda, worked as a Kenmore-Tonawanda school district teacher for 34 years and retired from teaching in June. Because she was still on the Erie County payroll as a legislator, she couldn't also collect her teacher's pension. She wound up quitting the Legislature for a couple of weeks, then get reappointed to the same job.
Both Meyers' and Chimera's actions are legally allowable, and both have been transparent about the true nature of their "resignations" from office. The state retirement system requires only that there be at least a full day of job separation from the day a public employee technically quits, then restarts a current job or any other job.
But it requires the restart of a full appointment process. 
The appointment process for an Erie County legislator typically occurs when a legislator leaves office midterm – such as winning election to higher office. It requires political party committee members from the legislator's district to meet and vote on a recommended replacement, after which legislators vote to appoint the individual to fill the remainder of the former legislator's term.
Even though Meyers isn't going anywhere, Democratic committee members from his district still had to meet on Saturday to name him as the recommended appointee to the refill his own now-vacant seat. The county Legislature Democrats – minus Meyers, who had technically vacated his seat – voted 6-0 for his reappointment.