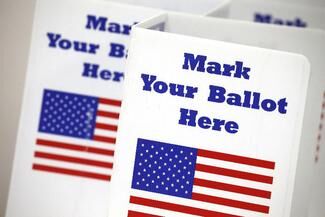 Early voting in New York State will run from Saturday, Oct. 23 to Sunday, Oct. 31 – a weeklong period in which registered Erie County voters can cast their ballots in any of 38 designated locations.
Polls will be open from noon to 6 p.m. on weekends, and noon to 9 p.m. on weekdays. Voters can view sample ballots and a full list of voting locations at the Erie County Board of Elections website, elections.erie.gov, or call 858-8891 with questions. There is at least one early voting location in each Erie County municipality, plus 11 in the City of Buffalo itself.
The contrasting philosophies of Mayor Byron Brown and challenger India Walton on policing mirror a nationwide dialogue about the American criminal justice system.
To vote absentee, Erie County residents must request a ballot online, by mail or in person. The deadline to request online is Oct. 18; after that deadline, voters can also mail requests until Oct. 26 or deliver them in-person to the Board of Elections office at 134 W. Eagle St. until Nov. 1. All completed absentee ballots must then be dropped off at the Board of Elections or a polling location during business hours – or postmarked, if sent by mail – on or before Nov. 2.
The Board of Elections announced this week that it would extend its hours until 7 p.m. on Oct. 19, 21, 26 and 28, and from noon to 6 p.m. on Oct. 23 and 30. Voters who request or return an absentee ballot can still vote in person, though in that case only their in-person ballot will be counted.
"How outraged is the Republican Party and John Garcia about what happened on Jan. 6?" candidate Ted DiNoto said in a statement. "That is the question many ask, myself included."
In addition to the City of Buffalo mayoral race, which has attracted rapt national attention in recent months, voters in Erie County will choose their next comptroller and sheriff. There are also competitive races for supervisor or mayor in Amherst, Orchard Park, Hamburg and the city of Tonawanda, among other municipalities, and for dozens of other municipal, county legislative and judicial seats.
In Niagara County, where early voting will take place at two locations in Lockport and Niagara Falls, voters will decide races in nine county legislative districts and choose the next mayor of North Tonawanda, among other posts. Full hours and exact locations are available at elections.niagara.ny.us.
Besides a partisan difference, the two candidates have a generational difference, too. Pecoraro is 63. Tylec is 29.
Voters across the state will also decide the fate of five proposed amendments to the state constitution, including one – Ballot Proposal 4 – that would make it easier to vote by mail. Should the proposal pass, voters will no longer need to supply a "valid reason," such as a disability or out-of-district trip, to qualify for an absentee ballot. 
This year, like last year, voters can also opt to vote by mail if they'd like to avoid voting in person because of the Covid-19 pandemic. The pandemic rapidly popularized both early in-person and absentee voting: Some two million New Yorkers cast absentee ballots in the 2020 election. Nationwide, roughly 60% of registered voters planned to cast ballots early last year, according to a poll conducted by the Washington Post and the University of Maryland. 
The deadline to register to vote in this year's general election was Oct. 8. Election Day is Nov. 2, when polls will open at 6 a.m. and close at 9 p.m. across New York.