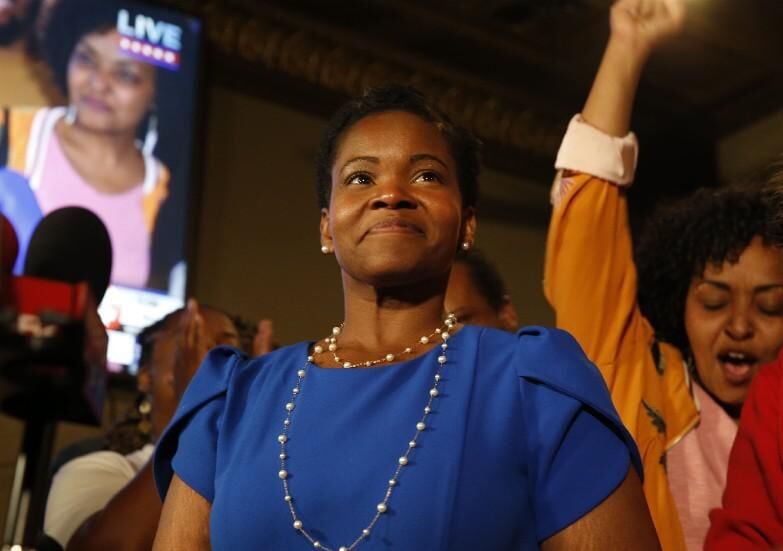 An allegation of drug activity at a house rented by Democratic mayoral nominee India B. Walton three years ago cast new perspectives on her campaign Tuesday, ranging from uncertainty among supporters to a rally planned in her defense.
Erie County Democratic Chairman Jeremy J. Zellner raised the most significant questions by noting that his committee has not yet "officially" endorsed Walton after she beat incumbent Mayor Byron W. Brown in the June 22 Democratic primary. Zellner, who emphatically promised party support for Walton after her victory, now says he will weigh new input from committee members on how to proceed in the general election campaign.
"We are not opposed, but if our party leadership has significant concerns, I will listen to them," the chairman said.
"Could this change?" he asked, referring to party support. "The answer is yes. Anything could change. We've asked her to be upfront with us ... but I don't know what else is out there."
Nobody was charged in connection with the complaints activity. Police reports obtained by The News indicated that officers followed up the complaints in the fall of 2018. Two police sources said the man suspected of dealing drugs from Walton's home was Anson Whitted, who served more than 12 years in state prison for selling cocaine, assault and possession of a weapon, according to state corrections records.
The landlord told The News that the man had moved into Walton's house. Walton denied Whitted ever lived at her home, but acknowledged he occasionally stayed there.
Whitted told The News he never lived at the home or sold drugs from it.
One of the most vocal voices in Walton's defense on Tuesday was former county Legislature Chairwoman Betty Jean Grant. She did not return a phone call but said on Facebook her "We Are Women Warriors" group is planning a rally to protest The News' story.
Grant wrote on Facebook that the group "is asking all who believe in fair play and respecting the voters, who chose Ms. Walton to represent them in the November General Election" to join.
Still, questions continue to be raised by some Democrats.
Jennifer L. Hibit, chief of staff to Erie County Executive Mark C. Poloncarz, said she expects the situation will be addressed further.
"He'll probably have a conversation with her eventually," she said, referring to Poloncarz. "I know he has talked to the chairman and that the chairman will have conversations. As of right now, we'll just see where everything falls and how it plays out."
Hibit added, however, that new campaign finance reports show no significant activity and no real momentum in the Brown campaign.
"The mayor has not stepped up his game," she said.
Other questions have also surfaced about Walton's past in the days following her surprise victory over Brown, a four-term incumbent. She said she resigned from her job as a registered nurse at Women and Children's Hospital around 2014 after being bullied by co-workers on social media.
After a leave of absence, she discovered upon return that one co-worker filed an order of protection against her. She was arrested on a charge of harassment, a violation, after failing to show up in court on the matter, though she denied touching the woman and said she never received the summons.
WKBW News also reported that she was accused of food stamp fraud in 2004, paid back $295, and that a $749 state tax lien was placed on her and her ex-husband in 2008 because of unpaid income taxes. She said the situation stemmed from honest mistakes in tax preparation in the kind of issues faced by struggling people in Buffalo.
Seamus Gallivan, spokesman for the Walton campaign, said the candidate has all along "expected" the type of allegations reported by The News on Tuesday.
"India speaks truth to power," he said, "and when a Black woman speaks truth to power, they come for her character. This kind of stuff was expected."
Gallivan noted that many Walton supporters have rallied to her defense.
"Given the expectation for this kind of attack, it's great to see so many people coming to her defense and they are even more emboldened to support her," he said.
Gallivan said the Walton campaign is not connected with the planned rally outside The News building.