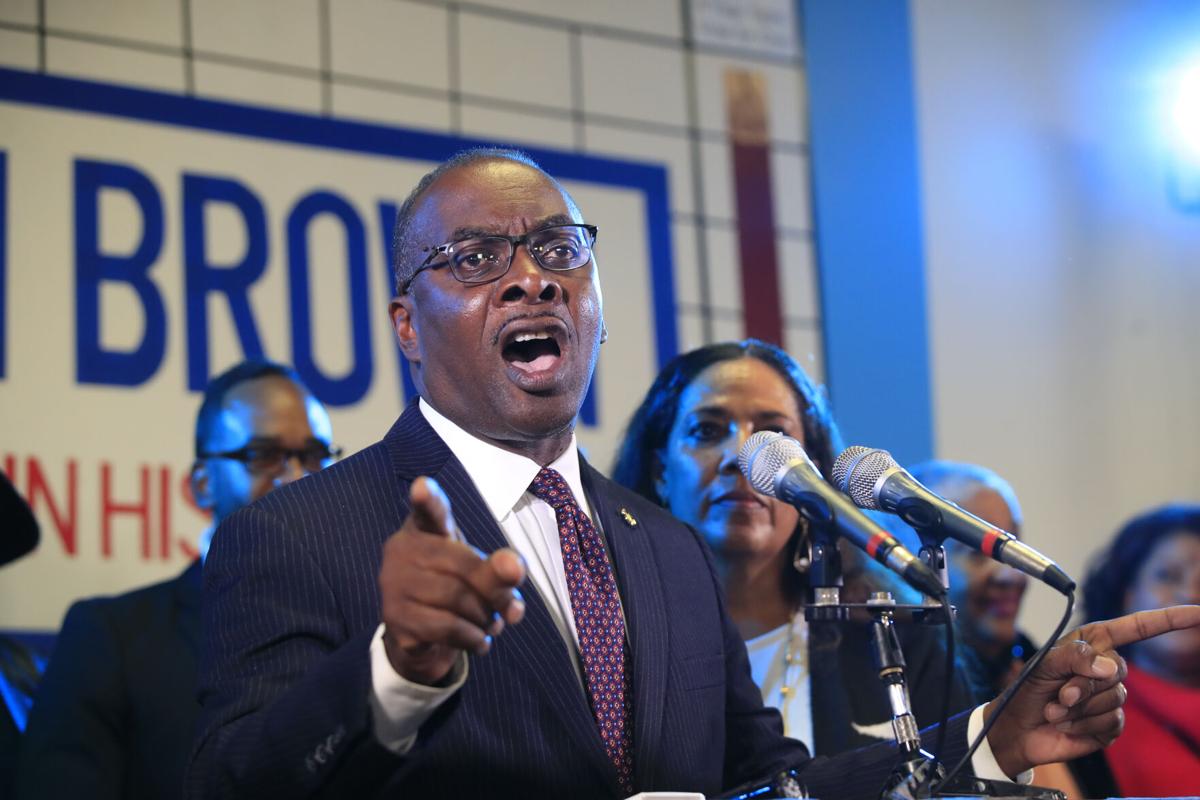 Demands that Mayor Byron W. Brown resign from the Democratic National Committee are growing, especially from a left-leaning group that this week heard India B. Walton vow to intensify her efforts to strengthen the party's progressive base in Buffalo.
In her most extensive comments to date following her apparent mayoral loss to Brown on Nov. 2, Walton late Monday told a virtual meeting of the Our Revolution organization linked to Sen. Bernie Sanders of Vermont that she will continue working to strengthen the local party's progressive base.
"Know that our campaign is very excited and our volunteers are ready to be mobilized and act and do whatever is required to bring truly progressive politics to Buffalo and Western New York," she said to a national online gathering of Our Revolution members.
The developments occurred as New York Democratic Chairman Jay S. Jacobs reiterated his commitment to Brown, on the same day he easily beat back a "no confidence" vote launched by progressives during a Tuesday meeting of the party's state committee.
"I said to the committee, 'This is not about me or my leadership,' " Jacobs said of his 81-14% backing of the committee. "This is more about the direction of the party.
"Democrats have to move to the center if they are to win elections," he added. "And I favor winning elections over ideological purity."
Jacobs has continued to defend Brown, his immediate predecessor as chairman of the state party. On Oct. 17 Jacobs told The Buffalo News he will resist efforts to guide New York Democrats down a socialist path advocated by Walton that he believes will play into Republican hands.
"Now the voters of all of Buffalo have spoken and picked the mayor," he said Tuesday. "Now we move on."
Still, Brown must contend with a continuing revolt within the Democratic Party's left wing because of his write-in challenge to Walton, the Democratic nominee in the general election following her primary victory back in June. Aaron Chappel, director of national policy and political research for Our Revolution, told his organization during the Monday virtual meeting that it would direct a national effort to replace Brown.
"No one who runs against a Democratic candidate in the general election should be allowed to hold a position on the Democratic National Committee," he said. "It's insane. Allowing Brown to keep his position is a bad precedent and bad for future progressives in this position."
And Larry Cohen, the group's chairman and a 16-year member of the Democratic National Committee, promised to raise the issue of Brown's leadership role at the highest levels.
"People need to think twice about those things and then claim to be a party leader," he said. "The issue is not about the mayor – I wish him and Buffalo well. It's about what does the grassroots of a party mean?"
Cohen also took aim at Jacobs, saying the chairman is defending a party that too often aligns with big donors and corporate interests.
"Grassroots Democrats are saying they've had enough to working with Republicans," he said. "And he's well aware that democratic socialism means focusing on working families and working people.
"I will do whatever I can to to raise that narrative about using big money to defeat grassroots Democrats after they have won primaries," he added. "I will defend his right to run a write-in campaign, but not to be a Democratic leader."
Brown spokesman Michael J. DeGeorge noted that as mayor and state Democratic chairman, Brown advocated higher wages for fast-food workers, a prevailing wage for those working on public projects, expansion of affordable housing and several other causes central to the party.
"The Mayor will continue to hold these values and support Democrats who embrace this widely popular approach to addressing the needs of everyday residents," he said in a statement.
Walton, meanwhile, did not return a call seeking comment. But she told the national virtual meeting (that included Cleveland Mayor-elect Justin Bibb) that Brown and his wing of the party "actively colluded with the GOP" to defeat her campaign.
"They really ran a fear and smear campaign that eclipsed our effort to run on the issues," she said, blaming "corporate Democrats" who banded together with Republicans and Conservatives and turned out in the general election.
"I'm committed to spending the next four years to building our base and getting our young people active and engaged and make sure people make it out to the polls," she said, "and getting out ahead of scare tactics and all these narratives they put on top of us."
Walton also said she would commit to teaching and establishing a "nationwide coalition" of first-time candidates like her.