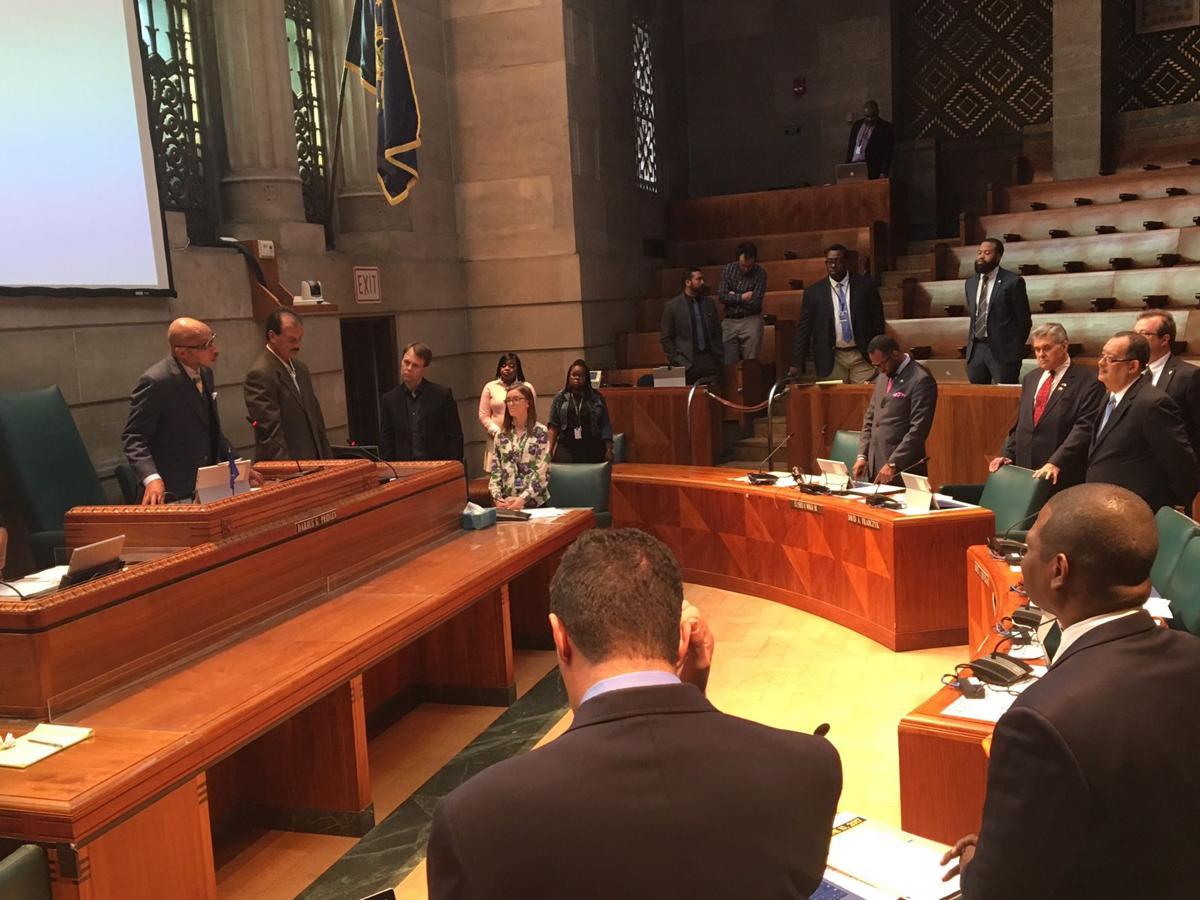 Some Buffalo lawmakers say it is time for the Common Council to have its own attorney to report directly to members and who could work with city attorneys.
An independent attorney could help speed up the legislative process, which was a key reason why the Syracuse Common Council unanimously voted last year to hire its own attorney.
And they say an independent attorney would alleviate confidentiality concerns that Buffalo members have about relying on attorneys who are formally part of the administration, particularly on issues in which the Council and administration may be at odds.  
The move – the latest indication of a Council trying to assert its independence from the mayor – is not a reflection on any one person in the Law Department; it is about the Council's autonomy, they say.
"So that the public understands … it is not about a specific attorney. It is about the Council," said Council President Darius G. Pridgen. "Because we are the legislative body, the legislative body should have an attorney that is only dedicated to the legislative body."
The friction in the last year and a half contrasts with the historically placid relationship Brown has had with the legislative branch during much of his 15 years as mayor.
"It's an excellent idea because when there's times that we're in conflict with the administration, we need clear advice to guide us to make good decisions … and when there's a conflict and (the corporation counsel is) appointed by the mayor, I think that bleeds into their operations for the Council," said University Council Member Rasheed N.C. Wyatt.
Buffalo's corporation counsel, appointed by the mayor to head the Law Department, assigns an assistant corporation counsel to advise city lawmakers and other city boards. But that person, who reports to a mayoral appointee, is not independent, members said. That means anything that the Council talks about with the city attorney can potentially go back to the administration before the Council has time to complete what it is working on, they added.
The current legal advisor to the Council is smart, hardworking and one of the most competent attorneys the Council has worked with, lawmakers said. But they added that she is stretched thin because she also serves as advisor to the city's Preservation and Zoning boards, which means the work of the legislative branch may not move as quickly as needed. They note that Council members sometimes wait months for resolutions, ordinances and amendments to be drafted for them to vote on.
"The Corporation's Counsel's Office overwhelms our attorney where it's difficult for her to get to all the legislation that we put forth," Wyatt said. "I have no issues with her, she's very competent. But again she's stretched ... . The council is now showing great independence. I understand the dilemma she's in, and we all are sympathetic to that. However, we got work to do."
Majority Leader David A. Rivera, the Niagara District representative, said he has confidence in the assistant corporation counsel assigned to the Council, but noted, "There will be times where there are conflicts between the … branches of government, and it's difficult for the assistant corporation counsel, especially if we're in conflict with each other. It puts the assistant corporation counsel in a very awkward position." 
Corporation Council Timothy A. Ball, the city's top attorney, was appointed by Mayor Byron W. Brown and unanimously confirmed by the Council in 2012, and unanimously reconfirmed at least twice. He also is the brother of Brown's deputy mayor, Betsey Ball. 
The Council's new attorney position would pay about $90,000 to $100,000, and the salary would come out of its budget as a staff item the Council included in its budget submission to the mayor.  
Brown does not object to the Council putting it in its budget for the 2021-22 fiscal year.
"If the Council feels that it's beneficial to have an attorney on its staff to assist it with its legislative responsibilities, the Mayor is not opposed to including that request in the upcoming year's recommended budget and subsequent negotiations," said mayoral spokesman Michael J. DeGeorge.
Rivera said he is on board with looking at hiring an independent attorney. But he would like more discussion on what authority an independent lawyer would have other than in an advisory capacity and what the limits would be.
"There were some concerns that we would be paying $90,000 for an attorney that really couldn't do certain things because of the city charter," such as handling litigation for the Council, Rivera said.
Assuming such concerns can be worked out, some Council members say the need is clear.
"We don't care about where the money comes from," University Council Member Rasheed N.C. Wyatt said. "We can still prioritize child safety, and it doesn't have to attach a dollar figure to it."
Wyatt, referencing the city's School Zone Safety Program as an example, said he doesn't think the assistant corporation counsel can be independent or maintain the confidentiality of the Council.
The program sets a 15 mph speed limit around 20 public, private and charter schools. Drivers captured on camera traveling at least 26 mph receive a $50 citation mailed to the car's registered owner.
A majority of Council members have supported revamping the program, including possibly eliminating the cameras and opting instead for non-punitive safety measures such as speed humps and maintaining "school" pavement markings and crosswalks by schools.
Buffalo Public Schools has appealed to Common Council members to activate speed-zone cameras all day at its schools.
But while Brown is sticking with the speed cameras, Wyatt is working on legislation to eliminate the cameras, and he likely has the support of the majority of his peers.
"Corporation Counsel has to review, make a decision or give advice … . I don't think that they can be independent, and quite honestly I don't think they can maintain confidentiality … our attorney goes back to the city attorney and tells them what we're thinking. So client-attorney privilege does not exist in that situation, and I think that affects us," Wyatt said.
Another reason for the Council hiring its own attorney is that the person could help speed up the legislative process.
"When there's a conflict, and we don't agree (with the administration), the mayor's attorney kind of overrides or maybe undermines, and it's a possibility," Wyatt said. "I can't say it's happened over and over again, but there are times it seems like when we put legislation forth it takes some time to get back to us, months."
He cited his resolution to create a police Citizens Review Board, an independent body that could hold public and private hearings, take testimony under oath and issue subpoenas for documents and witnesses for investigations. Wyatt has been waiting since October for the draft legislation from the Law Department, he said. 
The Buffalo Common Council is proceeding with efforts to establish a Right to Know law to bolster police transparency and accountability.
Pridgen also cited proposed legislation for a Right To Know Law for Buffalo to bolster police transparency and accountability, something the community has been asking for. The model is based on a law that Syracuse approved last year as one of the police reforms it implemented following Black Lives Matter and other protests. The Minority Bar Association of WNY gave the Common Council a copy of the Syracuse law in November to help draft Buffalo's law. The Council is expecting a draft of the legislation Tuesday, but many in the community were disappointed about the time it has taken, he said.
The news outlet CNYCentral quoted a Syracuse official as saying the Council there voted unanimously to hire its own attorney because sharing a lawyer from an office beholden to the mayor made it difficult to get legal advice and writing assistance on legislation that the mayor does not explicitly support.