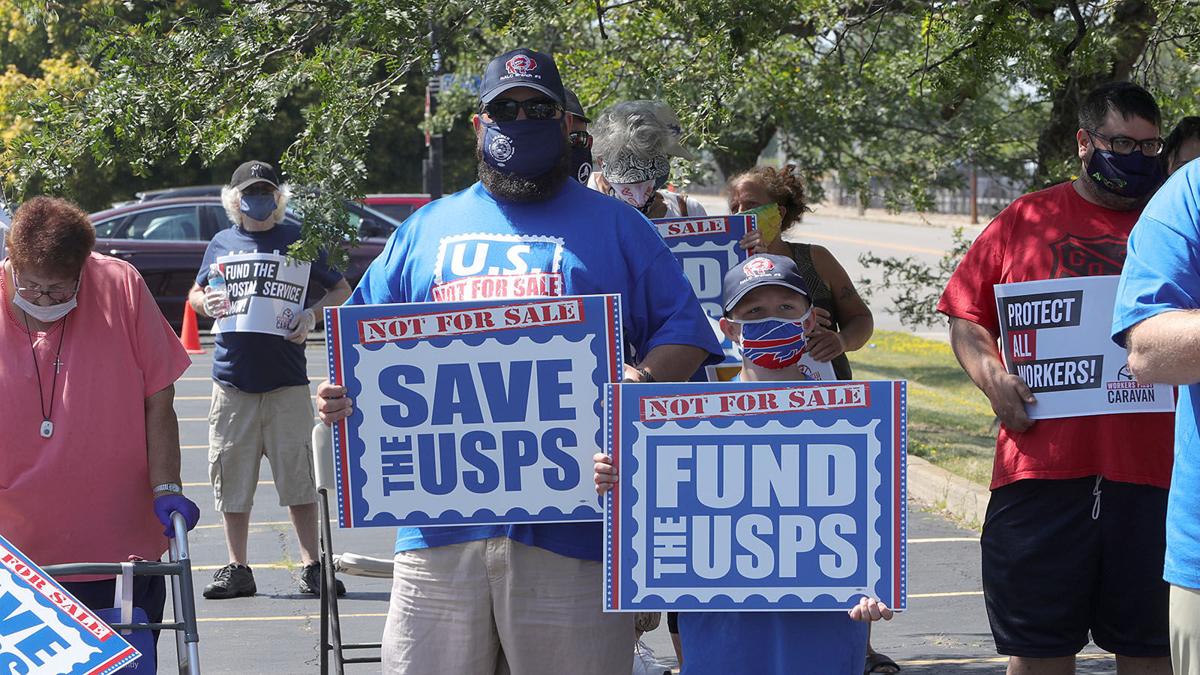 A Grand Island vet's diabetes medicine gets stalled in the mail, as does a Tonawanda man's blood thinner and credit card payment from Niagara Falls.
Meanwhile, Erie County Republicans and Conservatives try to slide those deemed unqualified into the third branch of government – to the point that we lose confidence in the judiciary, just as they're trying to undermine the postal service.
And all of this happens while their leader models not wearing a mask, holds potential super-spreader rallies and downplays the threat of the novel coronavirus as nothing a little swig of Clorox can't cure.
All coincidence? Oh, you're so naïve.
It should be obvious that this is the "really deep state," part of the RAnon conspiracy (not for Rod, it's just the next letter in the alphabet). But unlike QAnon, this one is real. And the fact that it is so obvious is all part of the plan: If it's in plain view, it can't be that bad.
But it is, as Sunday's Buffalo News story about the knee-capping of the U.S. Postal Service made clear. With sorting machines decommissioned and hours slashed, desperate constituents are flooding congressional offices with complaints while mail and packages back up at the William Street facility and an employee says he's never seen things so bad.
With the country evenly divided between the half-wits and the whole-wits, NPR reported the latter far outpacing the former when it comes to requesting mail-in ballots, and a Pew Research Center survey found 58% of those supporting Joe Biden prefer to vote by mail compared to just 17% of those supporting Donald Trump.
See the pattern? You convince the half-wits there's no coronavirus threat, so they will vote in person. Whole-wits, who trust the science, not Trump, know better, and will vote by mail. Then you destroy the postal delivery system.
It's pure genius. Very stable? No shrink would attest to that. But diabolically genius nonetheless.
Of course, after getting caught, new Postmaster General Louis DeJoy promised to deliver election ballots on time, which – coming from this administration – is like saying the check is in the mail.
You can see a similar strategy play out in the right-wing attack on the Erie County Bar Association's ratings of prospective judges, after its committee asked a conservative favorite about a tort, and he described a small, lemon-filled pie.
Actually, the State Supreme Court wannabe told The News he skipped the interview process, and he proved his consistency by being "not recommended" for the second year in a row.
Given the constraints on how judicial candidates can campaign, such ratings are about all the public has to go on in assessing those who don't know a tort from a tart. Undermine confidence in that process, and you can stack the courts from Buffalo to Washington with apparatchiks who'll rubber-stamp anything their political sponsors want to do.
It's no surprise that Western New York would be the epicenter for this really deep state. We turn out en masse for rallies by Trump loyalist Carl Paladino, elected disgraced former Congressman Chris Collins – one of Trump's earliest supporters – and spawned New York GOP Chairman Nick Langworthy, now a White House favorite.
We're fertile ground for a wide-ranging conspiracy that makes debunked rumors of Hillary Clinton's juvenile sex ring in a D.C. pizza parlor look like child's play. Right before our eyes, it's destroying government as we know it and as the founders envisioned it. And it's so nefarious, its supporters don't even realize they're willing accomplices.
The bottom line? Simply stated, we're in deep … trouble.
Be the first to know
Get local news delivered to your inbox!