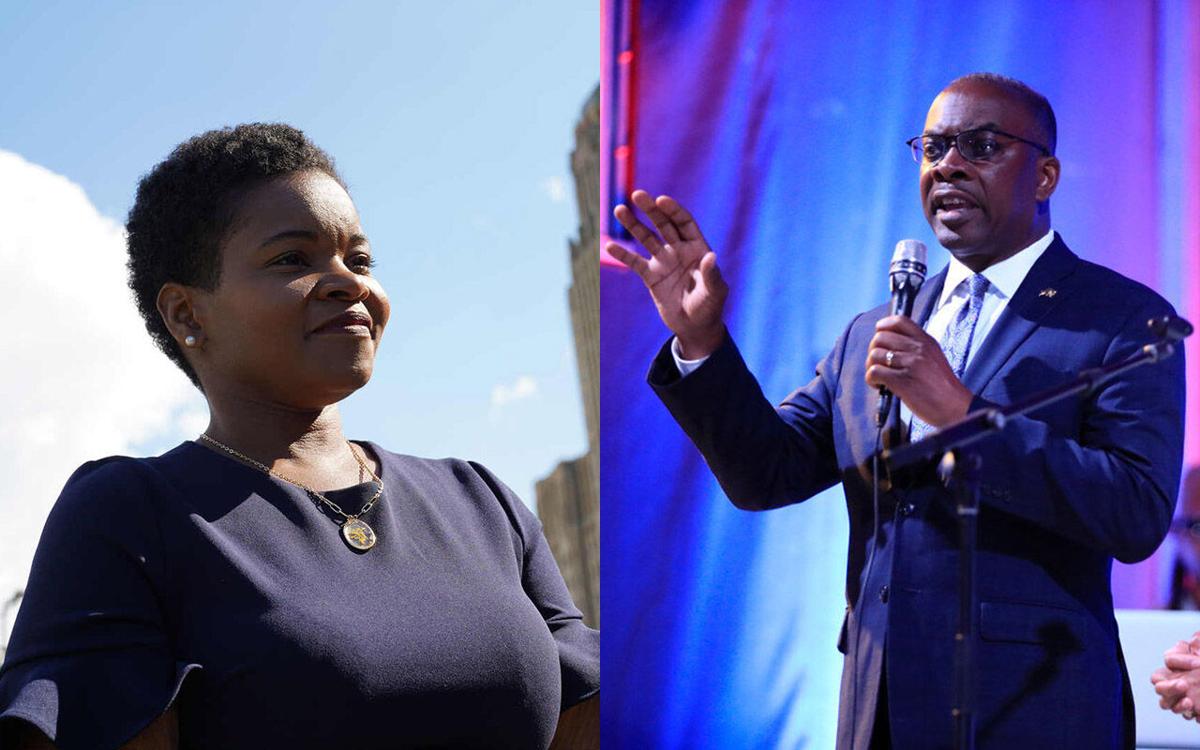 If Byron W. Brown succeeds in his effort to remain mayor of Buffalo, he will become the first candidate ever to win a major election in New York State as a write-in candidate.
Many write-in candidates have won minor-party primaries or village elections, where the total vote is often minuscule. Many people also have been elected to school boards as write-ins, especially in situations where there are fewer declared candidates than seats available.
A new and fiery Byron W. Brown sought to revive his failed mayoral campaign Monday with a whole new persona, and former County Executive Joel A. Giambra and Delaware Councilmember Joel P. Feroleto have indicated that they may also join the fray.
But to win a general election in a major city? That's a different kettle of fish.
Brown will need many thousands of write-in votes to defeat India B. Walton, who won the June 22 Democratic primary and will be the only candidate whose name will be printed on the Nov. 2 ballot.
"This is an interesting case study, a write-in candidate who would have significant resources at his disposal, as opposed to the typical write-in candidate," said John Conklin, spokesman for the state Board of Elections.
"I'm prepared to take on the challenges that the majority of Buffalonians are facing, and I'm not going to back down, I'm not going to cower and I'm not ashamed," Walton says.
Election officials said it is easy to cast a write-in vote, but it may take weeks to count them.
Since New York State retired its old lever voting machines and switched to optically scanned paper ballots in 2010, the write-in process is not much more difficult than voting for a nominated candidate.
Every ballot has write-in boxes at the bottom of every column of candidates for a particular office, said Ralph M. Mohr, Erie County Republican election commissioner.
A voter who wants to write in a name fills in the circle in the write-in box for the office in question, and then writes the name in that box.
That's the right way to do it. There are several wrong ways, some of which still count and some of which don't count.
"If there wasn't a challenge, I would be disappointed," said Council President Darius G. Pridgen.
But those who tried to cast write-in votes in the old days may remember the awkward process in which a voter had to hold a metal slide open with one hand while writing a name on the paper behind the slide.
"There was a big, brown roll of paper," Conklin said. "That was very difficult because the workers had to unroll that at the end of the night and make sure it was for the right offices."
Sometimes it didn't work. And sometimes election inspectors and machine custodians botched their jobs.
A state investigation said that happened in Jamestown in 1993, when Mayor Carolyn Seymour lost the Democratic primary and ran as a write-in candidate.
Seymour was credited with 1,660 votes, which left her in third place, but her supporters said the write-in mechanism didn't work in nine of the city's 30 voting machines, and in other places election workers were unable to accurately help voters cast write-ins.
Walton picked up 505 absentee votes, while Brown had 1,002, according to the Erie County Board of Elections, which counted the absentees today.
The state report said the Chautauqua County Board of Elections failed to properly train its poll workers, but it let the results stand, although Seymour's supporters picketed the inauguration of the new mayor.
In the age of scannable paper ballots, something like that shouldn't happen.
The most successful write-in campaign in recent years was that of U.S. Sen. Lisa Murkowski, who lost the Republican primary in Alaska in 2010 but won as a write-in candidate with 39.9% of the vote. She was the incumbent and thus had high name recognition.
Some of her ballots were challenged because her name was misspelled, but Alaska law said spelling didn't count if the name written in was phonetically similar to Murkowski.
Spelling won't be an issue in November. In New York, if the intent of the voter is clear, the vote counts, Mohr said.
"Isn't the party nod supposed to translate into party regulars working for the nominee?" writes Robert J. McCarthy.
"I expect we'll get a lot of votes for Bryan Brown," Mohr said.
There have been several notable, if unsuccessful, recent write-in attempts in general elections:
2019: Michael Outten polled 44% of the vote as a write-in candidate for Hartland supervisor. But 44% was only 412 votes, which was 114 fewer than Ross Annable received.
2018: Abdulsalam Noman lost the Democratic primary for Lackawanna 1st Ward alderman and tried a write-in bid. He polled 40%, but lost to John Ingram.
2015: Glenn A. Choolokian, who lost the Niagara Falls Democratic mayoral primary by 63 votes to Mayor Paul A. Dyster, pulled 1,291 write-in votes, or 14%, and finished third in November.
Following a push by Buffalo's business community to urge Mayor Byron W. Brown to wage a write-in campaign for November's general election, supporters of India B. Walton say they can play that game, too.
2011: Alden Supervisor Ronald L. Smith lost by 12 votes as a write-in candidate after losing the GOP primary to Harry F. Milligan.
2011: Dion J. Watkins ran a write-in campaign for Lackawanna mayor after losing the Democratic primary by 15 votes to Geoffrey M. Szymanski. Watkins ran second with 37% of the vote in November.
Watkins distributed stampers with his name on them for voters to use in stamping his name on the ballot. Stampers are specifically legal for casting write-ins, Conklin said.
However, stickers were made illegal in 2015. "A sticker is problematic because it'll gum up the scanner," Conklin said.
The Election Night tabulation will be assisted if the circle in the write-in box also is filled in, Mohr said.
"The tabulator will then tabulate it as a write-in vote," Mohr said. "It won't say who the person was that was written in."
Observers saw Walton's win as yet another signal that a dynamic candidate can knock off a complacent incumbent anytime, anywhere.
"If they don't fill in the circle, it still counts as a write-in, but on Election Night we don't know it's a write-in as opposed to someone just leaving a blank space," Mohr said. "It's preferable, but it's not mandatory."
Election workers eventually will examine each ballot to see who the write-ins are for, but Mohr said that process won't start until after absentee ballots are counted, and the absentee count in Erie County starts 13 days after the general election.
Some other fine points to be considered:
Walton supporters should not write her in. "Under the Election Law, it would not count," Mohr said. "The law says if your name appears on the ballot, you cannot write in the same person's name."
But he said that law was based on the old lever machines' functions, and he said it's conceivable a court might count such a vote on a paper ballot.
"It hasn't gone to court since we went to optical scan," Mohr said.
If someone votes for Walton on the Democratic line and also writes her in, the scanner will not count the vote, but Mohr said the Board of Elections, in the hand count, will count it as one vote for Walton.
Mohr said a hand count also would give credit for a write-in vote written in some other blank space in the mayoral column. The Republican, Conservative and Working Families lines for mayor will be blank in November.
But the vote must be in the mayoral column.
"If you write it in under highway superintendent, they get a vote for highway superintendent, not for mayor," Mohr said.