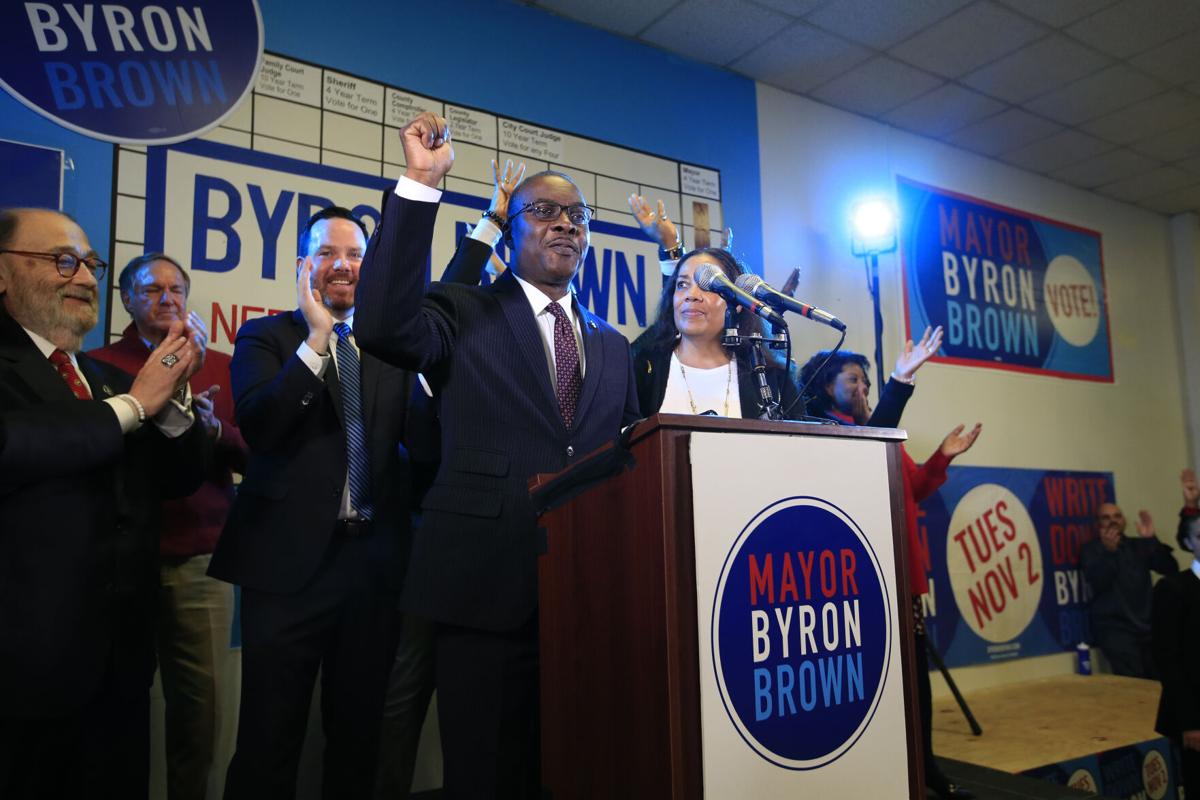 Byron Brown, considered politically dead by many following his stunning defeat in the June primary for mayor of Buffalo, appears to have resurrected his long career as he claimed victory Tuesday in his bruising write-in campaign against Democratic nominee India Walton.
The growing accumulation of write-in votes point to a significant lead for Brown and the first time any Buffalo mayor has won a fifth term. Walton refused to concede, but that did not stop Brown from proclaiming victory at around 10:30 p.m. to cheers at his Washington Street headquarters.
His victory, he said, was not "just a referendum on the City of Buffalo, it was a referendum on the future of our democracy."
"At the very beginning, they said we can't win, that it was impossible to win as a write-in," the mayor shouted to cheering supporters. "But you know, you can never count a Buffalonian out.
"The people chose four more years of the Brown administration," he added. "The people chose one of the greatest comeback stories in our history."
At Main Events Banquet Hall on Main Street, Walton delivered remarks she labeled "definitely not" a concession speech.
"I knew that this was going to be an uphill battle since the beginning," she said. "Every vote needs to be counted. Right now it's Walton against write-in, whoever that is. I think that who write-in is remains to be seen."
The flood of write-in votes presumably cast mainly for Brown still faces significant scrutiny and possible challenges by the Walton campaign. But if totals showing a substantial lead for Brown hold, he appears to have clawed back from the night of June 22, when Walton triumphed in a low-turnout primary and his career appeared finished.
But on this election night, a far different outcome appears to loom for Brown. After taking the formerly little-known former nurse and community activist for granted in the primary, he retooled his political machine in an all-out effort touting his 16-year record and bore down on Walton as an avowed democratic socialist.
The mayor, appearing re-energized by his "Write Down Byron Brown" write-in campaign, thanked them for the high-energy effort he eschewed during the primary and promised the progress he claimed through his first four terms would continue into his fifth.
For Walton, 39, Tuesday's results may have ended her attempt to become Buffalo's first woman mayor – seemingly assured after the primary triumph in June. Back then she vowed her forces would be "coming after" council members and other established Democrats who had failed to recognize her appeal – a threat that failed to deter a host of Democrats eventually supporting her campaign.
On Tuesday, she told supporters that the kind of Democratic politics she embraces can still prove viable in a city like Buffalo.
Throughout the summer and fall in a rare energetic general election mayoral campaign, Walton promised new ways of doing business in City Hall that would cut out big donors and developers while supporting grassroots programs for the city's poor. She also said she would enact a small tax increase and cut funding to the Police Department by $7.5 million – both viciously attacked by the mayor.
Brown, meanwhile, ridiculed her claims of building houses in the Fruit Belt as an executive director of a neighborhood land trust. His campaign literature pointed to news reports that major backers had pulled their support because of her inexperience.
Now, at 63, Brown appears to have pulled off a most unlikely comeback. Political observers had cited write-in victories by Republican Sen. Lisa Murkowski of Alaska in 2010 and Mayor Mike Duggan of Detroit in 2013 as templates for victory, but no one can recall similar success of such magnitude in New York State. After an unsuccessful attempt to establish a minor party line over the summer, Brown turned to a campaign of education surrounding his write-in bid.
Along with traditional ads and speeches touting his record, Brown showed voters – most of whom had never before entered a write-in name – how to master the process. Indeed, though various polls during the general election campaign showed him leading, few campaign experts expressed confidence in their accuracy because of the uncertainties surrounding the write-in process.
Unlike his primary campaign, he directly engaged his opponent and sought the face-to-face debates that he earlier rejected. Eventually, the pair met twice.
Throughout his campaign, the mayor was humbled as former Democratic allies deserted in droves. After a semi-enthusiastic endorsement by the Erie County Democratic organization last winter, Chairman Jeremy J. Zellner bestowed the party nod on Walton as the official nominee of the party following her primary victory.
Others followed, including Sen. Majority Leader Charles Schumer and Sen. Kirsten Gillibrand, followed by liberal icon Rep. Alexandria Ocasio-Cortez of the Bronx, who campaigned with her in Buffalo on Oct. 23.
Only a few old allies – such as Assembly Majority Leader Crystal D. Peoples-Stokes, Comptroller Barbara Miller-Williams and Councilmembers Christopher P. Scanlon, Ulysses O. Wingo Sr. and Joseph Golombek Jr. remained with Brown. A new supporter and expected gubernatorial contender – Rep. Thomas R. Suozzi of Nassau County – was also thanked by the mayor in his remarks.