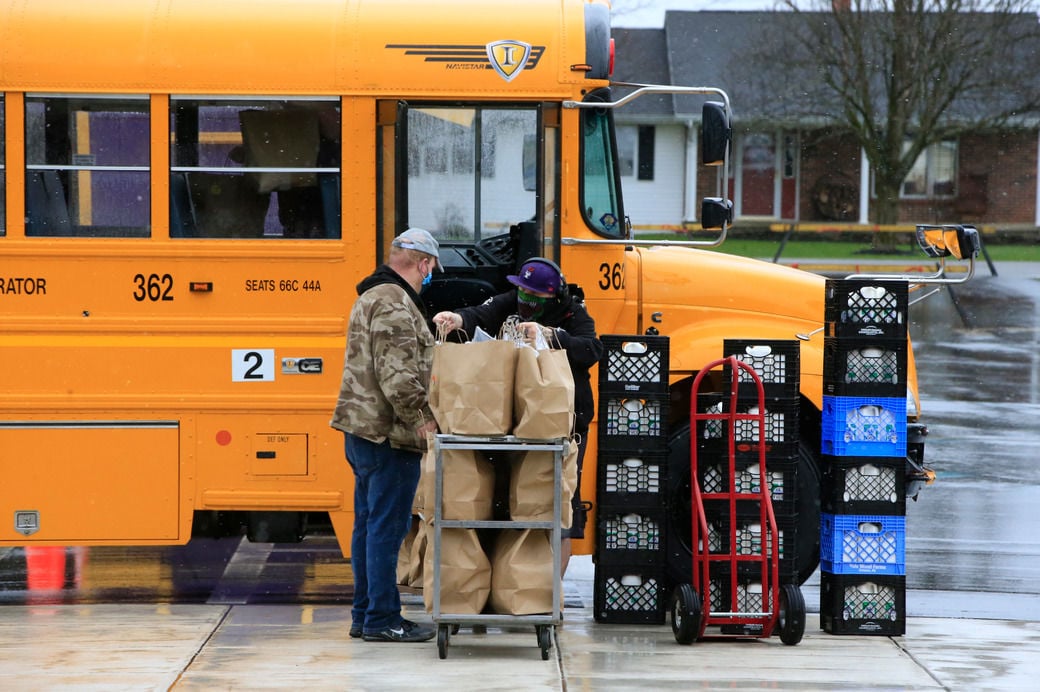 ALBANY – Schools scrambled to meet two edicts imposed by Gov. Andrew M. Cuomo last spring after Covid-19 shut their doors: keep student meal plans going, including distribution of food to students in need, and enact remote learning programs.
Schools across the state jumped into action and, to the mission, many deployed school buses. No longer transporting students, the buses and their drivers were tapped to deliver breakfasts and lunches to students at their homes. They delivered homework and other instructional materials. And they were staged in certain areas to serve as emergency mobile hot spots so that students without broadband services could attend virtual class.
Now, school districts are learning, they are on the hook for all those bus-related expenses between mid-March and June.
The state Education Department says it will not, per current law, be able to pay a dime from a line item that, during the March through June period in question, would normally cost the state about $600 million in reimbursements to 700 school districts for transportation services had classes still been in-person, according to a group representing school superintendents.
At issue is the new requirement for public and private schools to test 20% of their students and staff for Covid-19 each week.
With the state having already held back millions in other payments to schools since the summer, the latest news – delivered to district email inboxes last Friday in a brief note from the state Education Department – compounds an already rattled school system. It also comes as more schools are eyeing a return to remote-only learning.
"You've got schools across Erie-Niagara that did all we could to ensure that children had the instructional material needed, that families in need had meals during a very difficult time, and schools did it using any and every means necessary and often times that meant using district bus drivers fully expecting the state would provide support,'' said Michael Cornell, the superintendent of the Hamburg Central School District.
The Cuomo administration late Thursday morning, however, signaled a solution might be found. Freeman Klopott, a spokesman for Cuomo's budget division, noted that the law is clear about limits on state reimbursement for transportation costs.
"While not allowed under current law, we are considering options for reimbursing districts for important pandemic transportation services, such as delivery of meals and instructional materials to students," Klopott said in a statement to The Buffalo News.
Cornell is president of the Erie-Niagara School Superintendents Association, and he was told Thursday morning that Lackawanna and Lancaster will be among the hardest-hit in the area: the $1 million apiece they spent on transportation during that period won't be reimbursed. (The Hamburg school district contracts its bus services with a private firm, but it did not use that company for deliveries of food or homework to students.)
"Here we are in a yellow zone. Who knows what the future holds, but we're gearing up to be prepared. We're the ones that have to look these families in the eyes every day. We're the ones who'll have to deal with the post-Covid challenges and expenses," Cornell said of school districts. "All we ask is that the state reimburse us for those expenses."
State education department officials said the decision was not theirs to make; state law made it for them.
The state Education Department is not entirely wrong in its denial of transportation costs. That is because state law is quite specific: The state reimburses schools a portion of the costs spent for transporting pupils. The law does not mention anything about reimbursement for delivery of meals or instructional material or using buses as temporary WiFi hot spot stations in a neighborhood.
But Robert Lowry, deputy director of the New York State Council of School Superintendents, said districts acted in good faith last spring when they used the buses to adhere to the edicts from Cuomo about keeping meal programs up and running, while also adding a delivery component, and also continue to teach children despite the schools' closures.
Schools generally know they didn't spend as much on bus transportation services as they otherwise would have had schools been open. But they spent something on all the new ancillary work, and on keeping some employed on a standby basis during the spring. How much is uncertain at this point, given the numbers of districts involved.
"It has provoked a lot of consternation," Lowry said of the Friday memo informing schools.
"I think they have a right to be angry for not being reimbursed for using buses to deliver meals, drop off and pick up instructional materials and paying for people to be on standby," he added.
Not all schools kept paying for bus services last spring. Buffalo, for instance, halted payments to its outside bus contractor, First Student, in March, but it did pay the company in September, even though school buildings had not yet reopened.
The governor's statewide school closure order began March 16. Schools were told the order would be re-examined every two weeks and, if necessary, extended another two weeks. It wasn't until May 1 when Cuomo said schools had to stay closed for the rest of that semester.
Schools maintain they couldn't just displace their entire staff of bus drivers or contract companies or mechanics because, they said, some were needed for the meals and homework delivery and some needed to stay on staff in case the shutdown period didn't last the full semester. Moreover, the federal CARES Act, which provided emergency funding to schools and others last spring, contains a provision urging entities that are closed to continue to pay employees and contractors.
The state Education Department, in its Friday memo, was succinct: "Under current law, school districts may only submit claims for state reimbursements for actual costs incurred in physically transporting students to/from school."
The Nov. 6 memo, written by Phyllis Morris, the education department's chief financial officer, was not without its understanding of the situation. She wrote that the Board of Regents is advancing proposals as part of its 2021 budget process a plan to cover the transportation costs between March 18 and May 1 to cover such things as keeping bus staff on standby and delivering meals.
However, that budget process isn't expected to be completed, if on time, until April 1, and the state's current deficit – about $8 billion – is only set to rise much higher next year, unless there is a major federal bailout in the new Biden administration of the states or, if not, Albany sets off on a major spending reduction, tax hike and borrowing spree to help close the gap.
The state Senate in July unanimously passed a bill by Senator Rachel May, a Syracuse Democrat, to remedy the situation. The measure is stalled in an Assembly committee.