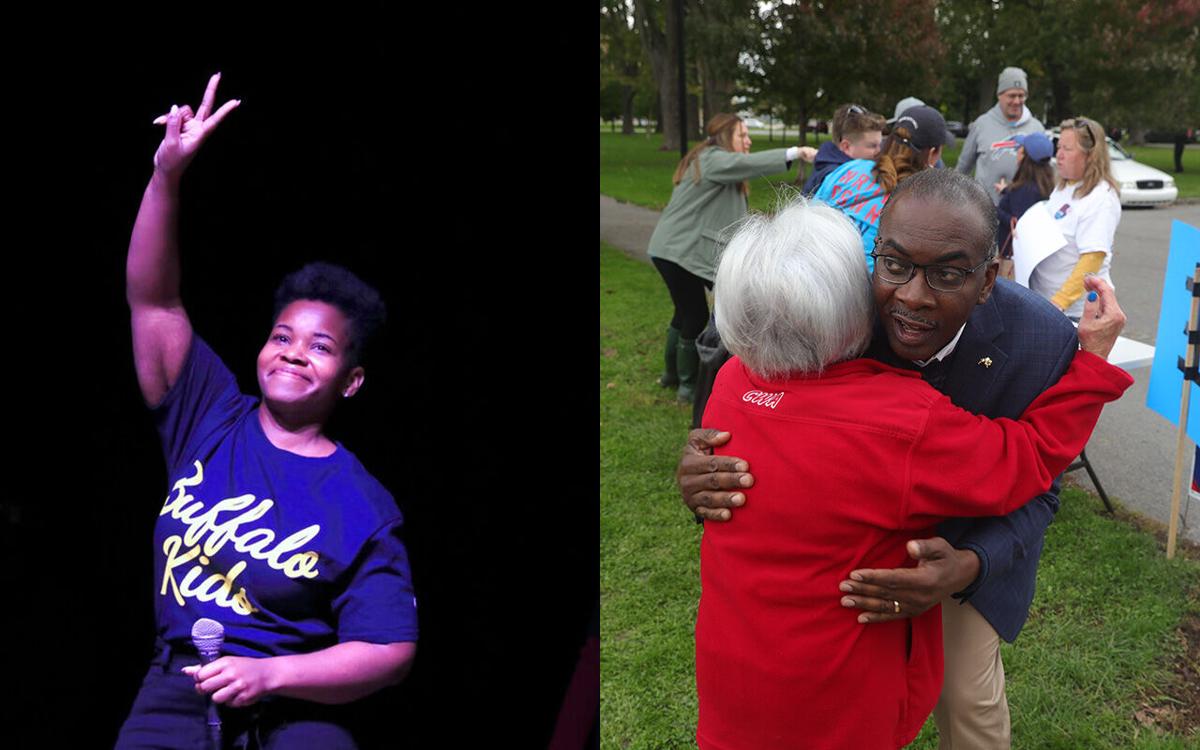 With just a week and half until Election Day, both mayoral candidates ramped up their efforts on Saturday, the first day of early voting – with India Walton's gathering feeling something like a rock concert and Byron Brown's rallies more like the traditional backyard barbecue rally.
Walton held a star-powered rally with Congresswoman Alexandria Ocasio-Cortez and former gubernatorial candidate and "Sex and the City" star Cynthia Nixon that drew several hundred people to the Town Ballroom.
Walton won the Democratic primary in June and will be the only name on the ballot for Buffalo mayor. She faces a write-in challenge from Brown, the four-term incumbent, on Nov. 2.
The rallies kicked off get-out-the-vote drives for both campaigns as they sought to energize volunteers and remind voters that polls have opened for the most contested Buffalo mayoral election in years. The public events have been boosted by last-minute fundraising efforts on both sides. New campaign finance reports filed Friday show Brown raised $340,027 since Oct. 1, while Walton raised $191,295.
Hundreds gathered for a downtown rally featuring Rep. Alexandria Ocasio-Cortez, D-N.Y., and former gubernatorial candidate Cynthia Nixon.
Ocasio-Cortez: 'Buffalo is making waves'
Outside the Town Ballroom on Saturday morning, people began lining up 2 1/2 hours before the event was scheduled to begin. Although it was a rally for Walton, many in line said they were there to see Ocasio-Cortez.
"I think she'll be president someday," said Emily Nissen of Springville, who was second in line.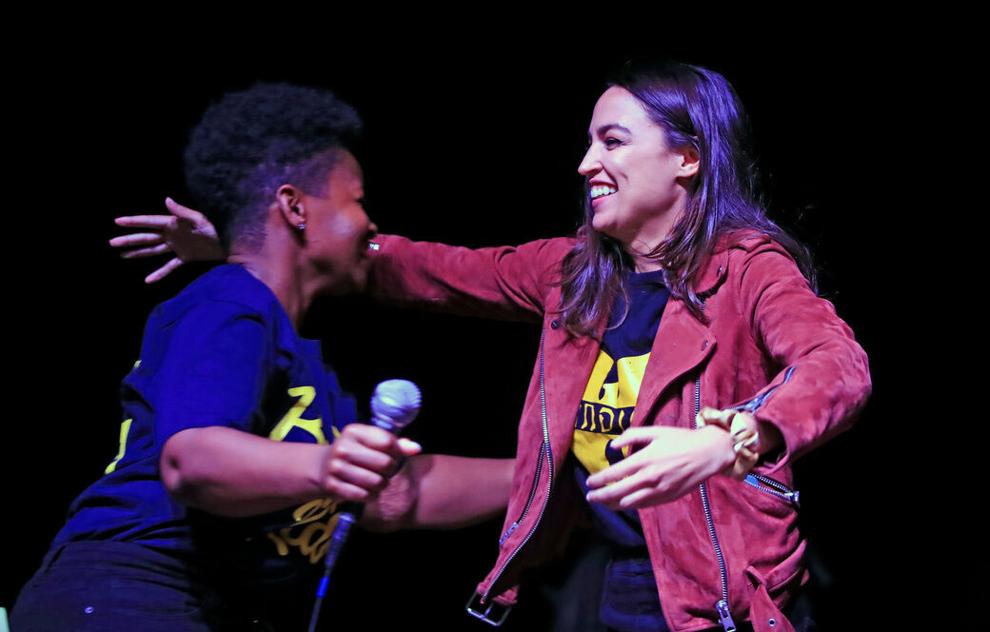 One man brought a comic book called "Alexandria Ocasio-Cortez and the Freshman Force" in the hopes of getting her to sign it.
The congresswoman matched the crowd's energy.
"Buffalo is making waves, has been making waves," she told the crowd. Walton's campaign is gaining attention from elsewhere in the state, including the Bronx and Queens, she said.
Walton's primary win was significant because it's happening in a post-industrial city, said the congresswoman, who urged Walton's supporters to "have her back" through Election Day.
"Don't give her a win," Ocasio-Cortez told the crowd. "Give her a mandate."
Many of the speakers stressed to the crowd the importance of getting to the polls.
"We cannot take anything for granted," Nixon said from the stage before introducing Walton.
Later in the day, Ocasio-Cortez visited the striking nurses at Mercy Hospital with Walton, advocating for higher wages.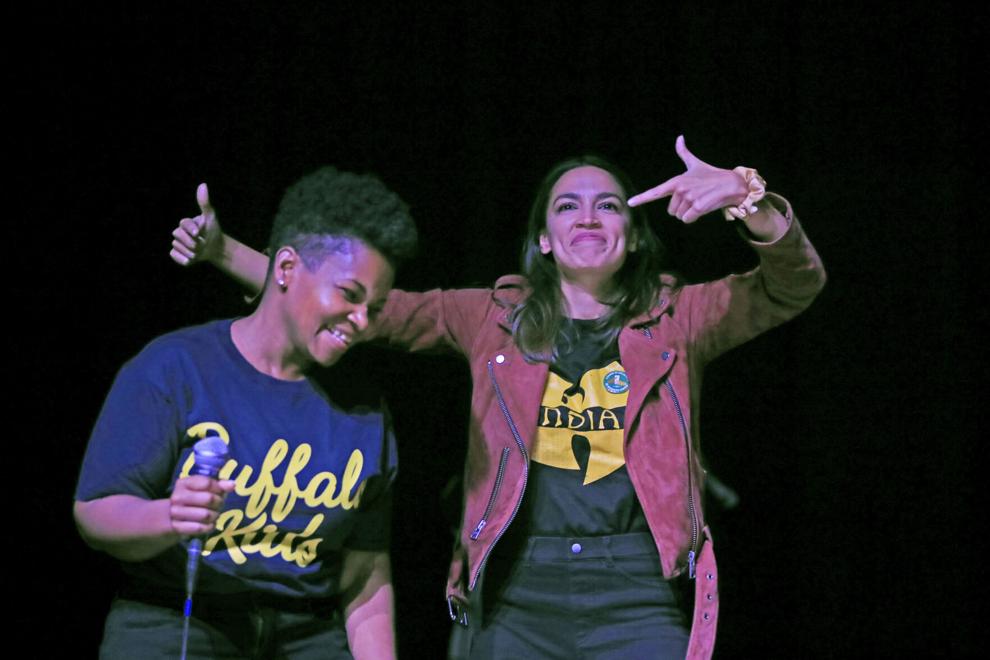 The mayor and his supporters described the election in dire terms, with democratic socialist India B. Walton painted as a threat to Buffalo.
At Brown rally: 'I'm Still Standing"
Meanwhile, Brown held three smaller rallies throughout the day. They had the feel of a more traditional political campaign event, with the mayor working the crowd, shaking hands.
Mid-day, about 100 of his supporters rallied in Cazenovia Park, where hot dogs were free and Elton John's "I'm Still Standing" was blasting. Many in the South Buffalo crowd sported blue T-shirts bearing his slogan, "Write Down Byron Brown," while the mayor wore a sport coat.
He and his supporters described the election in dire terms, with Democratic socialist India B. Walton painted as a threat to Buffalo.
"This race is not just a fight for the mayor's office – it's a fight for the future of this city," South Council Member Chris Scanlon told the crowd. "It's a fight for her soul."
The election, he said, offers voters a choice between continued progress under Brown and "going backwards in a devastating fashion" under Walton.
He mocked Walton's socialist positions on a host of issues, from policing to taxes.
"With an unqualified, radical socialist, our community will only go backwards," Brown said, "and we can't allow that to happen."
About an hour later, supporters gathered a few blocks from the Delavan-Grider Community Center. The event was billed by Brown's campaign as a "labor parade to the polls."
The crowd, which included several people carrying United Auto Workers signs, chanted "write down Byron Brown" and "four more years" as they marched west toward the community center, where Brown cast his own ballot.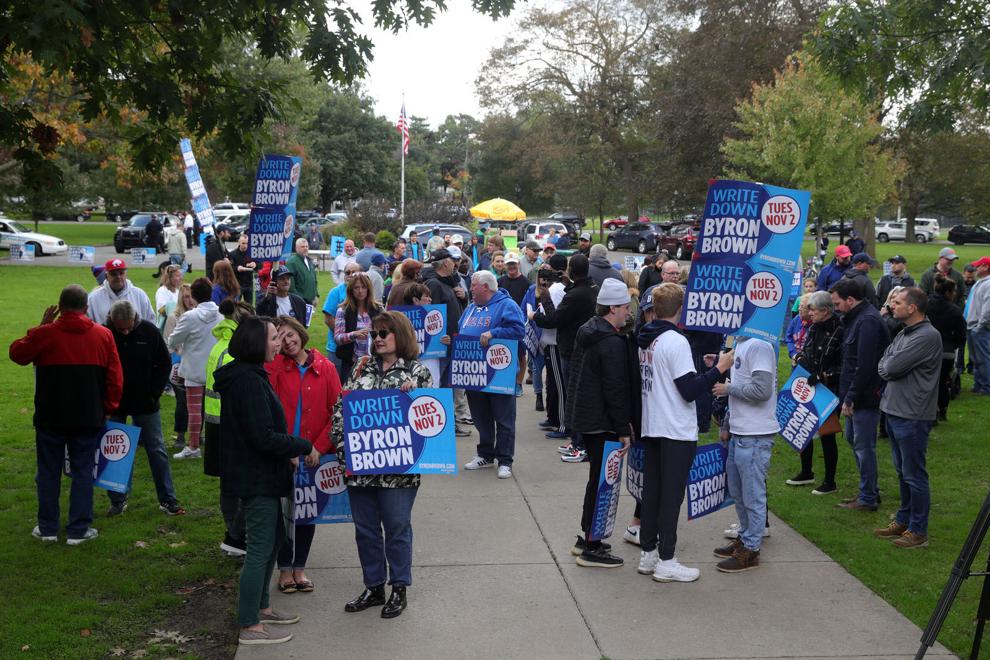 Masten Council Member Ulysees O. Wingo Sr. and City Comptroller Barbara Miller-Williams were among those who addressed the crowd.
On the sidewalk outside the polling place, two volunteers staffed a table where they handed out blue "Byron Brown" stamps designed for voters to use on write-in ballots. They had sample ballots on display, explaining how to write in a candidate's name, and gave out hand sanitizer and pens.
With one of the nation's most watched local elections less than two weeks away, on the day before early voting was set to begin, the two people who want to lead Buffalo as the city's mayor for the next four years continued to highlight their differences and gather support they hope will carry them to victory.
Fundraising continues familiar pace
The two candidates' most recent campaign filings, which were submitted Friday, showed that their respective fundraising since Oct. 1 had continued much as it had been for the first nine months of the year.
Brown again raised nearly twice as much as Walton: $340,027 to her $191,295.
In keeping with her earlier filings, Walton did not itemize more than one-third of her contributions. New York State law does not require candidates to itemize contributions under $100.
The two candidates each reported raising a similar amount from contributors out of state. Brown reported raising $34,375 from other states, while Walton reported raising $38,524 from outside New York State.