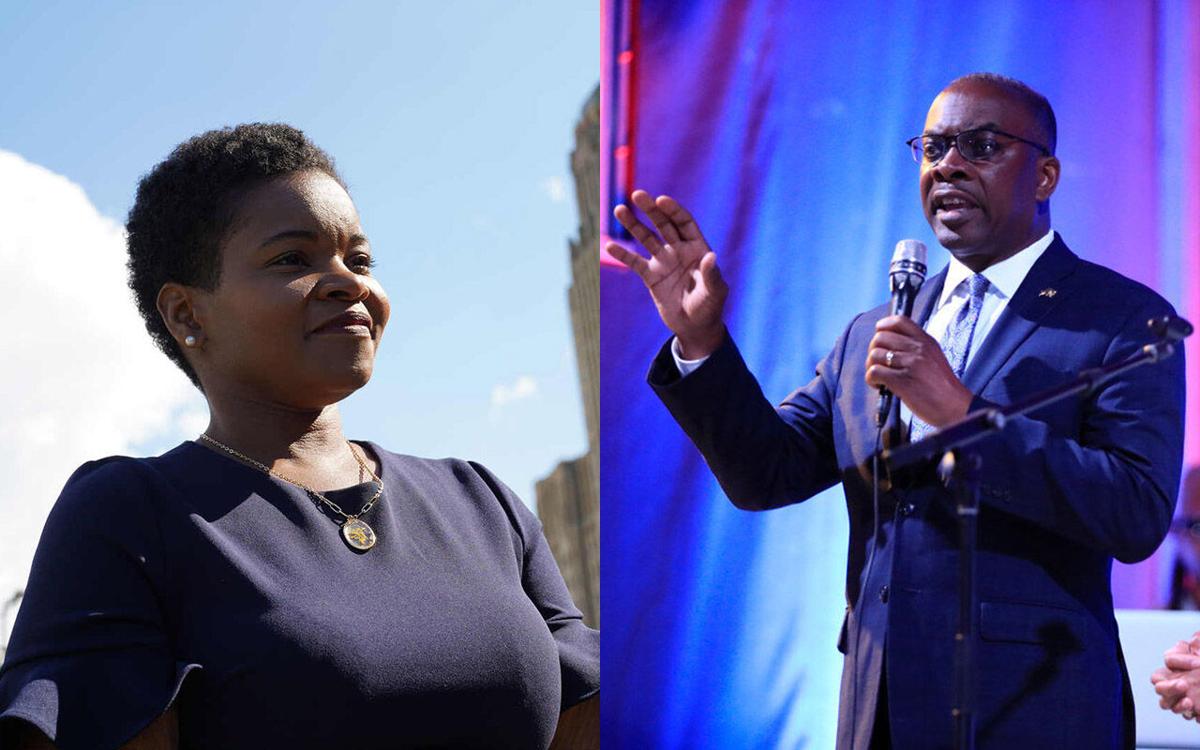 A campaign manager hired in July to run Mayor Byron Brown's re-election campaign no longer holds that job.
Conor Hurley said he "transitioned" into another role in early October, leaving in place a team headed by Betsey Ball, who led Brown's failed Democratic primary effort against challenger India Walton.  
"I have transitioned into a consulting role with the campaign," Hurley told The News from his home in Arlington, Va. "I am confident that the Buffalo-based team that the mayor has in place will be able to carry the mayor across the finish line and secure him re-election on Nov. 2.
Hurley deflected a question on how unusual it is for a campaign manager to leave a race so soon before an election.
"The entire race is unusual," Hurley said. "I don't think anything could be used as a barometer for norms."
A statement from Brown spokesman Mike DeGeorge said the transition was planned "as we all agree that it will be a Buffalo team here on the ground to bring this across the finish line." 
Meanwhile, Walton has expanded her team of advisers to guide her through decision-making in a possible transition into City Hall.
The list includes Goo Goo Dolls bassist Robby Takac and retired City Court Judge James McLeod.
"I am well aware that, as a political novice, I will be relying on the experts around me to guide my personnel and policy decisions in City Hall," Walton said.
"These experts who specialize in a wide variety of topics – public safety, education, labor, business, and more – will help build the safe, healthy Buffalo we all deserve," she added.
The additional advisers include Cesar Cabrera, a D'Youville College professor; Doris Carbonell-Medina, project director at Empire State Poverty Reduction Initiative; Arthur Giacalone, zoning and environmental lawyer; Faizan Haq, lecturer at SUNY Buffalo State; Justine Harris, registered nurse and retired Buffalo police officer; Chris Hawley, senior planner at Buffalo's Office of Strategic Planning; Nina Heard, manpower planner and coordinator at the Tonawanda Engine Plant; Terrance Heard, at-Large member of the Buffalo Board of Education; Bradshaw Hovey, research associate professor at University at Buffalo School of Architecture and Planning; Greg Olma, former Erie County deputy parks commissioner; Anthony O'Rourke, director of the Advocacy Institute at UB's Law School; Daniel Sack, vice president of Campaign for Greater Buffalo; Catherine Schweitzer, executive director of the Baird Foundation; Felicia Stanley, mental health counselor; Myo Thant, former case manager at Journey's End Refugee Services; Jonathan Washington, Homes Guarantee campaign organizer; and Sharon West, former executive director at Buffalo Municipal Housing Authority.
They're in addition to the six Walton announced last month, including Mark Manna, western area director for the United Food and Commercial Workers Local One; Jennifer Mecozzi, West District member of the Buffalo Board of Education; Vanessa Glushefski, lawyer and certified public accountant; Alexander Wright, founder and president of the African Heritage Food Co-Op; Victoria Kuper, co-founder of Cooperation Buffalo; and Kevin Connor, co-founder of the Public Accountability Initiative.
Mark Sommer covers preservation, development, the waterfront, culture and more. He's also a former arts editor at The News.