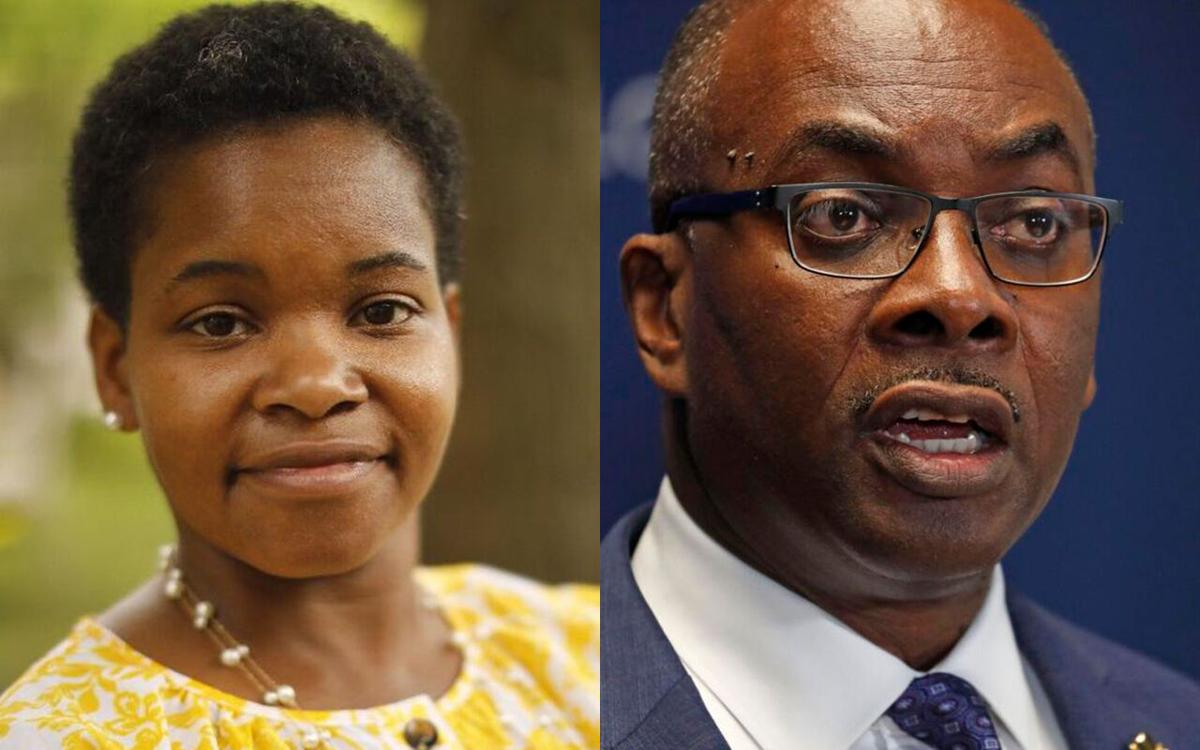 On a tour of worker-owned cooperatives and locally owned businesses Thursday, mayoral candidate India Walton declared: "This is what the future of our Buffalo looks like."
Walton went to the West Side to showcase examples she said reflected her philosophy and the kinds of changes she wants to usher in on a larger scale.
Meanwhile, Mayor Byron Brown was about a mile and half away at a Rotary Club luncheon at the Saturn Club on Delaware Avenue talking about the tens of millions of dollars his administration has spent to leverage some $470 million worth of affordable housing.
"I think we need a variety of different approaches to achieve our goal of affordable housing," Brown told business leaders and professionals who heard from Walton last week.
Housing and development emerged as a theme for both mayoral candidates as they hit the campaign trail less than a month before the general election.
Walton touted land trusts, and Brown acknowledged they have a role in the city's future – to a degree.
Brown said he would continue working with developers on housing and commercial initiatives, and Walton acknowledged they also have a role in the city's future – to a degree.
"We did support the land trust cityside," Brown said. "We can support some of that concept, but certainly that concept by itself, exclusively, is not going to create the kind of affordable housing that we need in the City of Buffalo.
"My goal … is to see more than 30% of the units in the City of Buffalo be affordable, but I don't want to do so in such a way that we restrain, and we constrain the marketplace and we create a disincentive for people to want to invest in the City of Buffalo."
Brown said his administration's funding has helped create more than 2,200 units of affordable housing in the city. In addition, there are more than 1,000 units of affordable housing being built or about to break ground in Buffalo, he said.
Walton, vying to become the first socialist mayor of a major American city since 1960, called herself "an advocate for alternative methods of creating a regenerative, sustaining economy, one that is democratically led and where the workers have a say in how they live their everyday life and the governance over their workplaces."
Walton complimented the efforts of others who, she said, "have worked for many, many years proposing smart, sustainable policies that will finally have an audience in a Walton administration."
Haw Win, a Burmese refugee who came to Buffalo in the early 2000s, opened a laundry that doubled as a community drop-in site and now owns several businesses. He talked about the value of communities working together to improve social and economic conditions.
Victoria Kuper, a Walton adviser and founding member of the worker cooperative that owns Breadhive Bakery and Cafe on Connecticut Street, talked about Buffalo's future under a Walton administration.
"There is a new economy taking root in Buffalo," Kuper said. "It is not one led by developers. It is not one led by venture capital. It is not one that requires people coming in from outside Buffalo to build a brighter future for us." 
At the same time, Walton said she expects to have a strong working relationship with developers, though several have come out in support of Brown.
"We have made it clear under a Walton administration that any use of resources will translate into a public benefit, and I think we have a lot of good developers and a lot of good business leaders locally who also want that same mission and vision," Walton said.
Walton's tour began on Prospect Street, where PUSH Buffalo converted School 77 into senior housing offices and a theater. It continued along Rhode Island Street and onto 14th Street, stopping at a nearby community garden whose users include former immigrants and refugees who have settled in the West Side. A stormwater system and green roof were integrated into the garden.
"Things like this become very familiar to the community and don't seem like far-off solutions but something that makes sense that they have in their everyday lives," said Bryana DiFonzo, PUSH's director of new economy.
Walton was a member of PUSH and has worked closely with the organization in various capacities.
"I think a lot of the ideas I have are very pie-in-the-sky to some people, but I just wanted to demonstrate that these things currently exist," Walton said. "With municipal support and leadership that is responsive to the needs of the community, you can see it scales up in a way that is really going to be beneficial to our community at large."