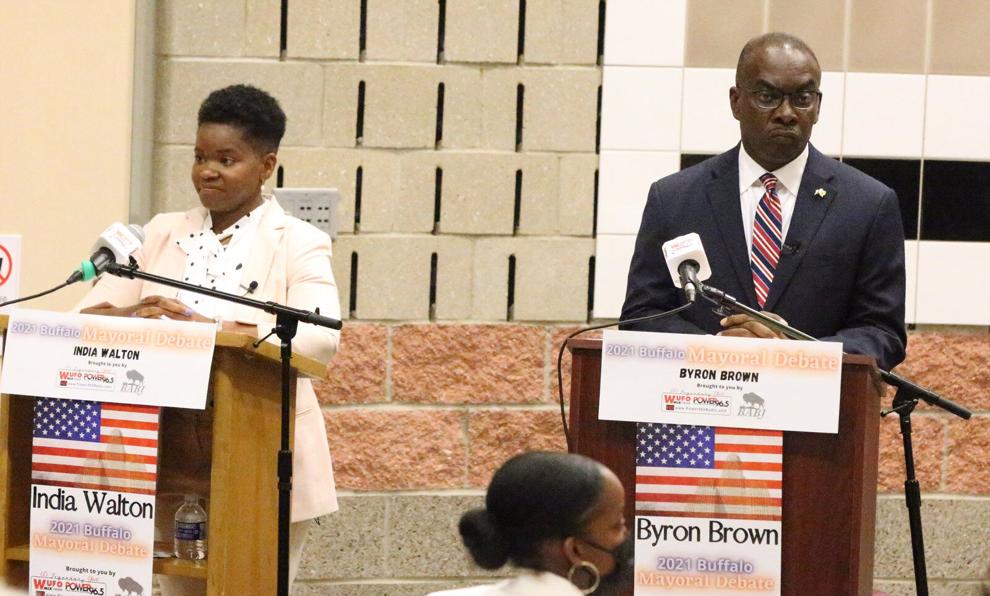 In their first head-to-head meeting of the 2021 campaign for mayor Thursday evening, incumbent Byron W. Brown and challenger India B. Walton could not have drawn sharper contrasts.
Brown maintained his famous cucumber cool demeanor, rattling off statistics and accomplishments in a bid to win an unprecedented fifth term in office, despite losing the June 22 Democratic primary. But Walton, the primary's surprise victor, weighed in with a fury, citing her own proposals and life experiences in a sometimes fiery display that continually questioned whether her opponent had accomplished enough.
When the 90 minutes of debate expired during the encounter at the Frank J. Merriweather Jr. Library on Jefferson Avenue, neither seemed to have derailed the other. But they marked out significant differences on how to police the city, craft a budget, sponsor housing, address a new Buffalo Bills stadium, improve schools – and most of all – whether to raise taxes.
In fact, the pair may have offered their starkest division on how to fund all they had proposed. Walton called for a 3% tax hike, which she said encountered little opposition from residents she met while knocking on doors – especially if they paid for programs to increase home ownership, reduce poverty and promote jobs with a "decent living wage."
"Unfortunately we're going to have have to look at a modest, incremental tax increase in order to balance our books," she said, criticizing the mayor's claim that he had reduced more than a dozen fees or fines during his almost 16 years in office.
"You were compelled to do that because of the outrage," she said to Brown. "Yes, I'm going to be honest, and yes on an increase in taxes."
"Cutting taxes means we will not fund municipal services like trash collection and snowplowing," she said. "Let's stop pulling wool over our eyes."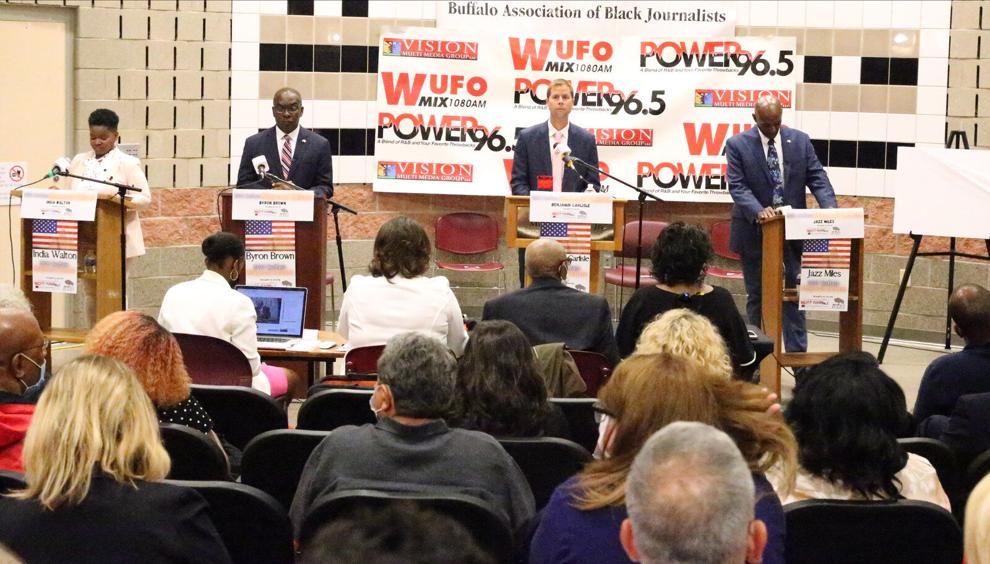 But the mayor shot back, noting he had "held the line on taxes or cut taxes" during his tenure. He also ridiculed Walton's claim of a 3% tax increase as "modest," noting a home valued at $100,000 would be assessed an additional $300 a year.
"It's a shell game with Ms. Walton," he said. "It doesn't add up."
"I either held the line on taxes or cut taxes in the City of Buffalo," he added.
The packed audience at the library's Eva Doyle Auditorium also saw the campaign debut of two write-in candidates – Jaz Miles and Benjamin Carlisle. They ignored each other while peppering Brown for staying too long in office or questioning Walton's self-identification as a democratic socialist.
But most of the attention centered on Walton and Brown. Walton questioned why her opponent was even on the debate stage after losing the primary, while Brown constantly painted her as "unqualified" for such an executive post.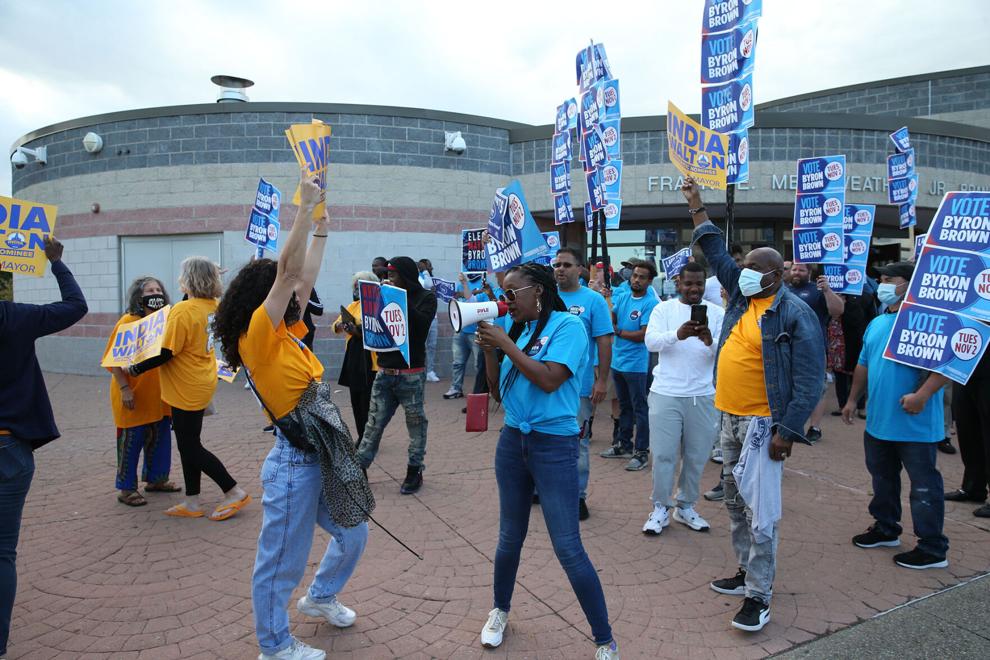 The pair also dwelled on Walton's plans for a drastic overhaul of police services in the city. She cited rising crime statistics, which Brown said mirrored national pandemic crime increases, as proof that new methods are needed – including using professionals, rather than police, to handle cases of domestic violence, mental health crises and traffic stops. Simple innovations such as brighter street lights, she said, will go a long way toward achieving her new police goals.
"Everything does not have to be done through increased enforcement," she said.
But Brown pounced on that approach, too. Her plan to decrease Buffalo Police Department funding by $7.5 million would result in layoffs for 100 officers, he said. Walton said the problem could be addressed through attrition and increased overtime.
The pair also clashed on Walton's tenure as executive director of the Fruit Belt Community Land Trust, as Brown said her claims of building homes in the neighborhood were overblown. She said her agency had built two Fruit Belt homes, while Brown insisted they were built by Habitat for Humanity and the land trust was now attempting to buy them.
The 90-minute session, sponsored by the Buffalo Association of Black Journalists and WUFO radio, was the only scheduled meeting agreed upon by the two major candidates. It covered a gamut of mayoral issues via questions asked by a panel of four reporters – including Deidre Williams of The Buffalo News – and the audience. The candidates also dwelled on crime, as Brown's opponents pointed to new crime hikes while the mayor pointed to annual decreases prior to the pandemic.
They also talked about plans for addressing climate change and fiscal management, with Walton noting that two major credit agencies had recently downgraded the city's credit rating.
And Walton continually defended her identification as a democratic socialist, emphasizing "democratic" as a way of "putting workers first ... taking care of poor people and children ... and providing health care for all."
"It's as simple as that," she said.
Brown and Walton did not shake hands at either the beginning or end of the debate. The only handshake exchanged was between Brown and Carlisle. Miles routinely flogged the mayor with criticism and Brown at one point disputed Miles' claim that they had previously met.
"I don't know Jaz Miles, and after tonight I don't want to know Jaz Miles," Brown said.