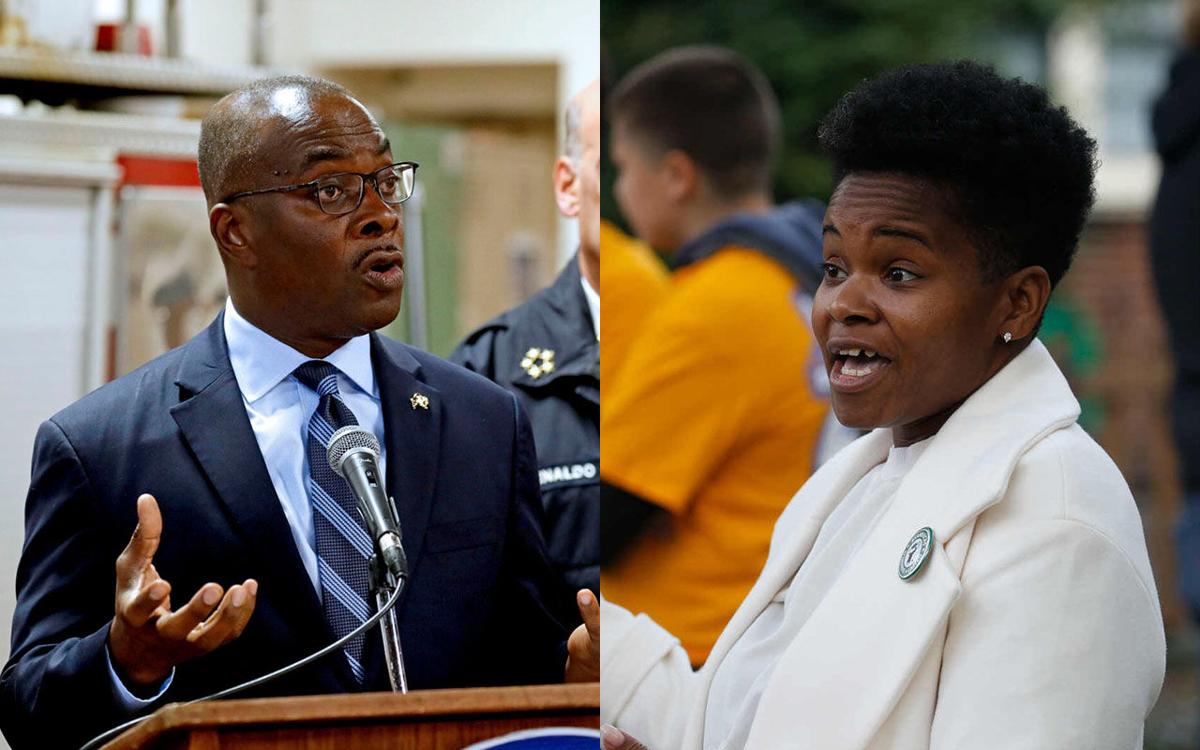 The day before Election Day, Byron Brown and India Walton clashed over an issue that has animated the campaign from the beginning: policing and Walton's role in Black Lives Matter protests.
"We have an opponent that was engaged in protests that were laden with profanities, with a bullhorn to her mouth, shouting how she wanted to defund our police, how police don't make us safe and saying she wanted to cut the police department budget," Brown said of Walton's conduct at protests in summer 2020.
Early voting begins Oct. 23, and Election Day is Nov. 2. Buffalo voters will either write down Byron Brown's name and vote him in for an unpre…
Walton said Brown hasn't pursued meaningful police reform.  
"His lack of leadership is what caused people to be out in the streets yelling profanities," Walton said. "We have been proposing reforms for a long time and being ignored and feeling disrespected, unseen and unheard.
"I would have liked to see the mayor responding to the people protesting in the streets with policy," Walton said, calling his record on police reform "lackluster." 
At a campaign stop at a Hertel Avenue restaurant, Brown compared Walton's behavior to Charley Fisher's protesting decades earlier.
Fisher, a former Council member in the 1990s and campaign manager for Brown early in his career, endorsed the mayor Monday.
"Charley Fisher is one of the early community activists in the City of Buffalo that has protested and marched, but did it with a purpose, did it with intelligence, and did it in a way that he was able to bring back improvements for the community," Brown said.
Brown, who described himself as "a major supporter of Black Lives Matter," said he saw nothing redeeming in Walton's participation.
"It is clear the way Mr. Fisher protested and the way Ms. Walton protests are much different," Brown said. "There were clear objectives out of the protests Mr. Fisher did to bring back things for the community, and not just to shout empty slogans into a megaphone."
Polls will be open from 6 a.m. to 9 p.m. on Election Day. Find out what you need to know before heading out to cast your votes. Click here for…
Walton said she worked with Open Buffalo and Partnership for the Public Good to come up with 32 policy recommendations that were ignored by the mayor.
"That could have put Buffalo at the forefront of the movement to reform police departments, and our police department, in impactful and positive ways before all of this bubbled over into trouble," Walton said.
"I would also point out that I encouraged the mayor to make marijuana a simple possession enforcement, the lowest level law enforcement priority, long before cannabis was legalized in New York State."
Walton said it was the mayor's inaction over issues with police abuse along with issues of abuse nationally that contributed to the anger that boiled over at Black Lives Matter protests.
As a candidate, Walton has backtracked from the comments she made as a protester, Brown said.
"She's now trying to say she doesn't intend to defund the police, she doesn't intend to lay off police officers, and we know that's not true," Brown said. 
Walton has said she will not lay off police officers, but will transfer funds to have mental health professionals and others handle cases that take officers away from responding to crimes like homicides and burglaries.
Mark Sommer covers preservation, development, the waterfront, culture and more. He's also a former arts editor at The News.