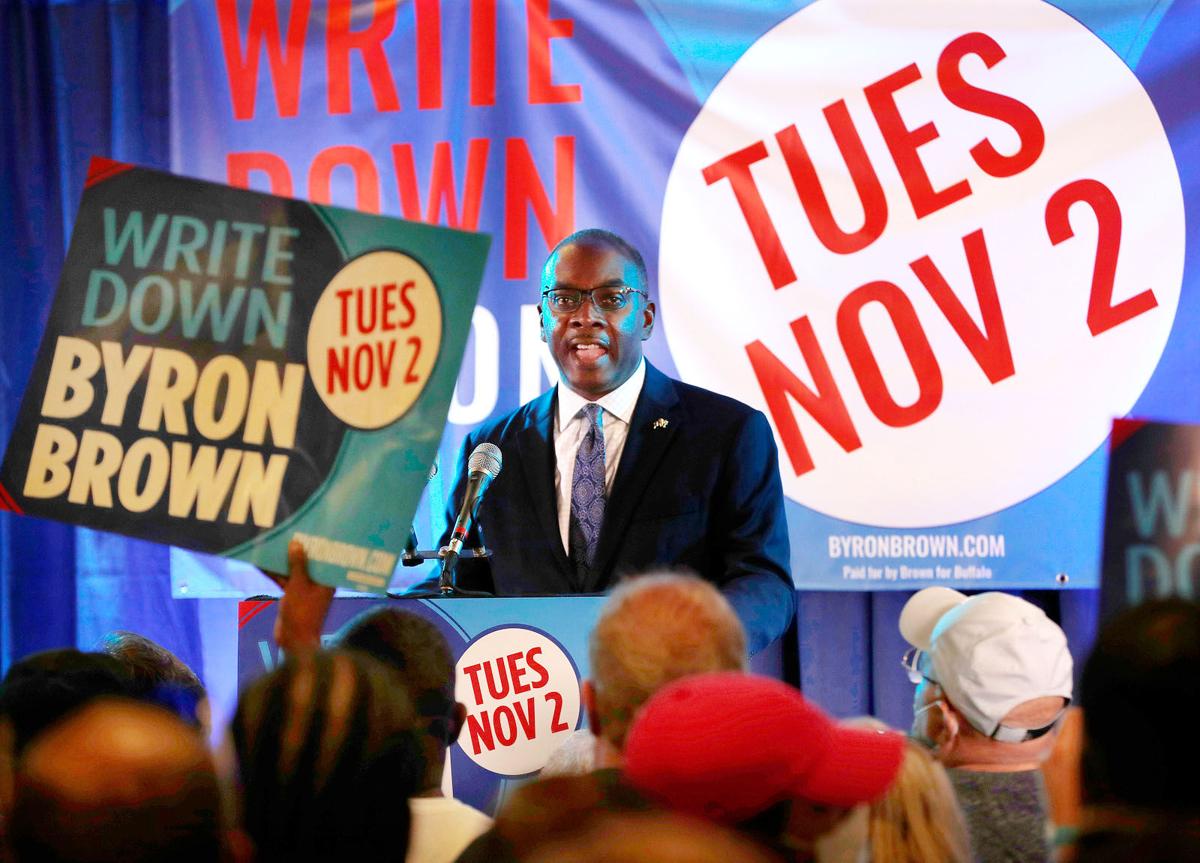 The Erie County Board of Elections shot down Mayor Byron W. Brown's bid for his name to appear on an independent ballot line in November's mayoral election, setting in motion a legal battle.
The board ruled Brown's submission was "untimely" because it was not filed by the deadline set earlier this year by the state Legislature.
"I would rule the petition to be invalid as being untimely and wish both sides good luck as they litigate this out," said Erie County Republican Elections Commissioner Ralph M. Mohr.
"I agree," said Jeremy J. Zellner, the Democratic commissioner at the Board of Elections and also the Erie County Democratic Committee chairman. "It's our job as elected commissioners to follow the law. The law – whether someone likes it or not or whether they think it's controversial or not – is the law and the law is right here, the New York State political calendar that we follow."
"If I have somebody showing up tomorrow with petitions for every office in this county, we would have utter chaos here if we start to accept things past deadlines that are set by the New York State Legislature months in advance. So I would agree with Commissioner Mohr, and I would rule to invalidate as well," Zellner said.
Brown, a four-term mayor who lost the June 22 Democratic mayoral primary to India B. Walton, had submitted to the county Board of Elections earlier this month more than 3,700 petition signatures in an effort to secure an independent line – called the Buffalo Party – on the Nov. 2 ballot.
His campaign disputed a petition filing deadline set earlier this year by the state Legislature requiring independent nominating petitions for political office to be filed no later than 23 weeks before a general election. The state changed the date because the primary election was switched from September to June. Previously, the deadline had been no later than 11 weeks before the election.
Jerry H. Goldfeder, an attorney for Brown, said during Friday's hearing that it was not the jurisdiction of the elections commissioners to rule on the timeliness of the filing.
"Your jurisdiction is limited. If other people have … a problem with giving the voters the opportunity to vote for either one of them on a line, they can go to court because it's the court's job to say, 'You know, that deadline was constitutional or it was not constitutional,' but it's the court's job," said Goldfeder, who appeared on Zoom during the hearing at the board's headquarters on Eagle Street.
"This will have to be determined by a court, and we'll see how that works," Goldfeder said after the election commissioners' ruling.
Sofia Quintanar, a spokeswoman for the Brown campaign, said in a statement that the campaign "respectfully" disagrees with the ruling and will "continue to pursue legal options."
"More than five times the required number of registered voters signed a petition for Mayor Brown to appear on the ballot and thousands more have signed onto his write-in campaign. These numbers give us confidence about the strength of his campaign going into the fall," she said.
Kartika Carr, Walton's campaign manager, said the commissioners made the right decision.
"I think the deadline is the deadline," Carr said. "If we're going to have a fair democracy that means including all and the people spoke at the primary election. People should have the right to choose, and they did, and they chose India B. Walton."
Walton, a political newcomer who was officially endorsed Thursday by the Erie County Democratic Committee, won the party's primary with 11,718 votes to Brown's 10,669 votes.
Walton filed objections to Brown's petition last week, saying the filing did not contain a sufficient number of valid signatures and did not conform to the filing requirements of the new state law.
Sean Cooney, an attorney for Walton, cited New York State election law that says any petition not received on time shall be considered to have "a fatal defect."
"That's in the election law: shall be a fatal defect," Cooney said.
He also pointed out a recent example in this election cycle in which the Board invalidated Walton's candidacy on a Working Families line because of an untimely filing of a certificate of acceptance.
"That was not something that was beyond this board's authority then. It certainly isn't now," he said.
"There is a problem in the country, whether it's Georgia or Texas or Erie County where people want to bend election law requirements and rules to accomplish short-term political goals," Cooney said. "That's not what should be permitted anywhere in this country."
And from a practical view, Cooney said, "If the timing did not have to be followed … there would be no point in having it."
Brown said his challenge over the new petition filing date was set in motion when his campaign heard from a national ballot expert who said Brown had a chance to get an independent line on the ballot.
"Once we got that outreach, we hired election law experts. They confirmed it. They suggested that we move forward," Brown said.
The drive to try to place the mayor's name on the ballot was viewed as an effort to better his chances for re-election, his campaign has said.
Brown is staging a write-in campaign that will continue for now.
A write-in effort requires each voter to write the candidate's name in a box on the paper ballot, rather than fill in a circle beside a candidate's name that is already listed on the ballot.
"Obviously to have your name on the ballot when people go to vote, they see the name, and that's easier for folks, but we're pursuing a dual course," Brown said. "Obviously, we would love to be on the ballot, but if that doesn't work out, we are still pursuing our write-in candidacy," he said.