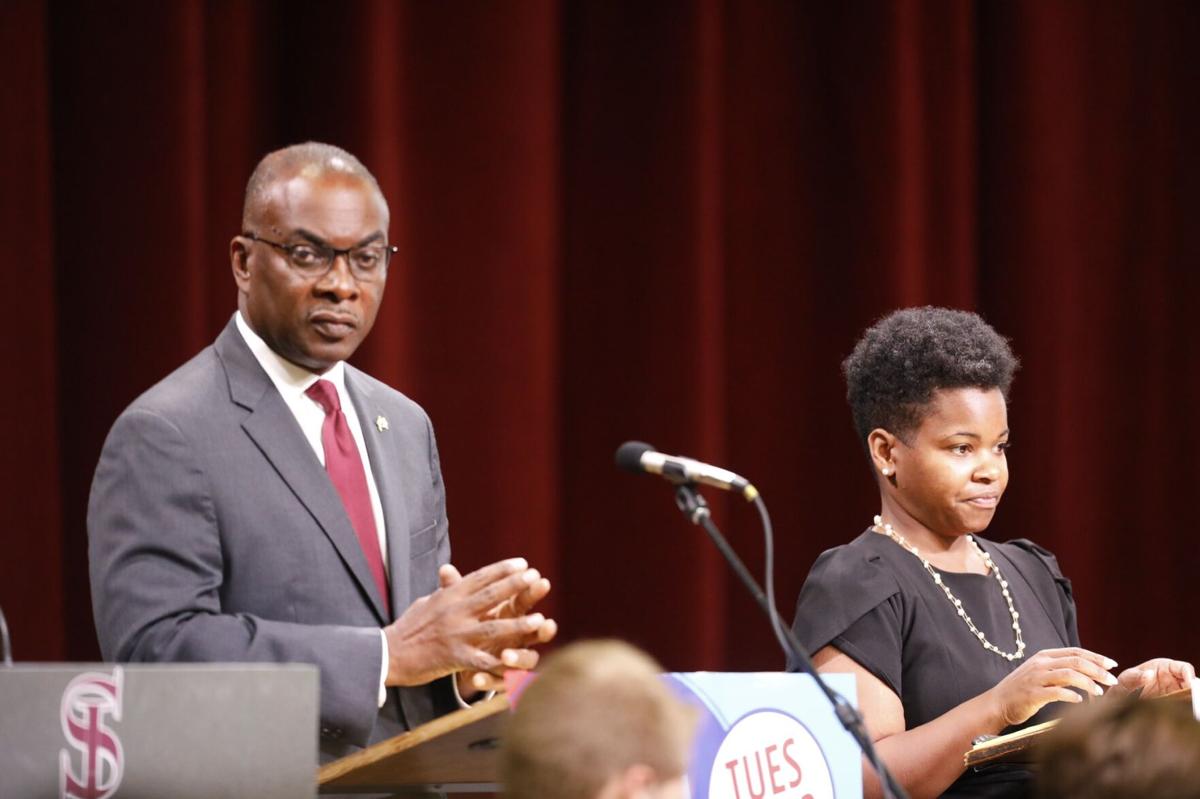 During their mayoral debate this morning, India Walton and Byron Brown covered familiar campaign themes about crime, development and poverty while questioning each other's ability to unify Buffalo residents.
One of their sharpest exchanges dealt with crime in the city.
When asked about the rise in shootings this year, Brown said, "We've done a lot, and we will be doing a lot more."
He said some anti-crime strategies were paused at the outset of the pandemic, but the city has resumed them, such as visiting homes of at-risk youth.
Walton said curbing crime has to involve curbing poverty, joblessness and other root causes.
"Police respond after crimes have happened and don't prevent them from taking place in the first place," Walton said.
Brown said Walton's activities, such as leading protests where she shouted anti-police slogans, made it more difficult for police to do their jobs.
"She is an attacker of police in Buffalo," Brown said, calling her an "apologist" for criminals.
The two agreed to participate in the annual debate at St. Joseph's Collegiate Institute. Another write-in candidate, Ben Carlisle, also participated in the debate. The debate started at 9:30 a.m. Wednesday at the Town of Tonawanda school, six days before Election Day.
Walton denied that 100 police officers would be laid off if she becomes mayor, which Brown in his campaign ads has said would happen.
Carlisle said 100 officers would quit on the day Walton becomes mayor.
"Who is the real India Walton?" Carlisle asked.
He pointed to her vulgar comments at protests and on Facebook.
If Walton wins the election, Carlisle said, "a nightmare would become a reality."
"Who is India Walton?" Walton asked. "I most definitely am real. I am certainly resilient."
And, Walton said, she is ready to take office as mayor, pointing to her ability to overcome challenges in her life, such as growing up in poverty and having a child as a teen.
She highlighted her experience as a nurse and nonprofit leader, and with her voice rising and gesturing to the auditorium of high school students, asked them to think about the kind of city they want to see the next four years and eight years.
If elected, she said, she would not serve for as long as Brown has.
"I'm not going to be in office for 12 or 16 years," she said.
Carlisle said Walton isn't ready to be mayor, but he agreed with her that Brown has been in office for too long.
After 16 years, politicians get "arrogant" and start "going through the motions" and stop "dreaming big," he said.
When asked about how the June primary and general election exposed the fractured Democratic Party, Brown said, "I don't see Ms. Walton as a Democrat."
Brown, waging a write-in campaign in his bid for a fifth term, called her ideas for the city bad and unworkable.
Walton, an avowed democratic socialist, responded by identifying herself as the endorsed Democratic candidate for mayor. 
"The first word in that is Democratic," Walton said.
She said she is not the divisive candidate, but the one who can bring together progressives and moderates.
Walton, stressing her anti-poverty message that has become a centerpiece of her campaign, said she has a "bold vision" for the city. She said she has worked with policy experts on housing issues.
"We'll finally pull our city out of the poverty that has plagued us for the last 16 years of failed leadership," Walton said.
She said it's time for a change at City Hall, and time to stop providing "windfall" profits to developers.
Brown criticized Walton's experience as an affordable housing activist.
"She didn't build a single one," Brown said. "She has no record of success with her ideas or philosophies," he said.
"The City of Buffalo is better and stronger during my time as mayor," Brown said.
He cited the city's diverse workforce, his community policing and police reform efforts, $8 billion-plus worth of economic development and a population increase confirmed by the 2020 census.
When asked about his primary campaign, during which he did not engage Walton in debates nor even mention her candidacy, Brown said he was busy responding to the pandemic, coordinating with various agencies.
"My focus at the time was on getting our community" through a public health crisis, he said.
Brown said the city has demolished 8,000 vacant houses during his time as mayor, removing the structures that "threatened" nearby owner-occupied homes, he said.
Walton derided the policy of demolishing thousands of homes but leaving many of those parcels vacant and unused for years afterward.