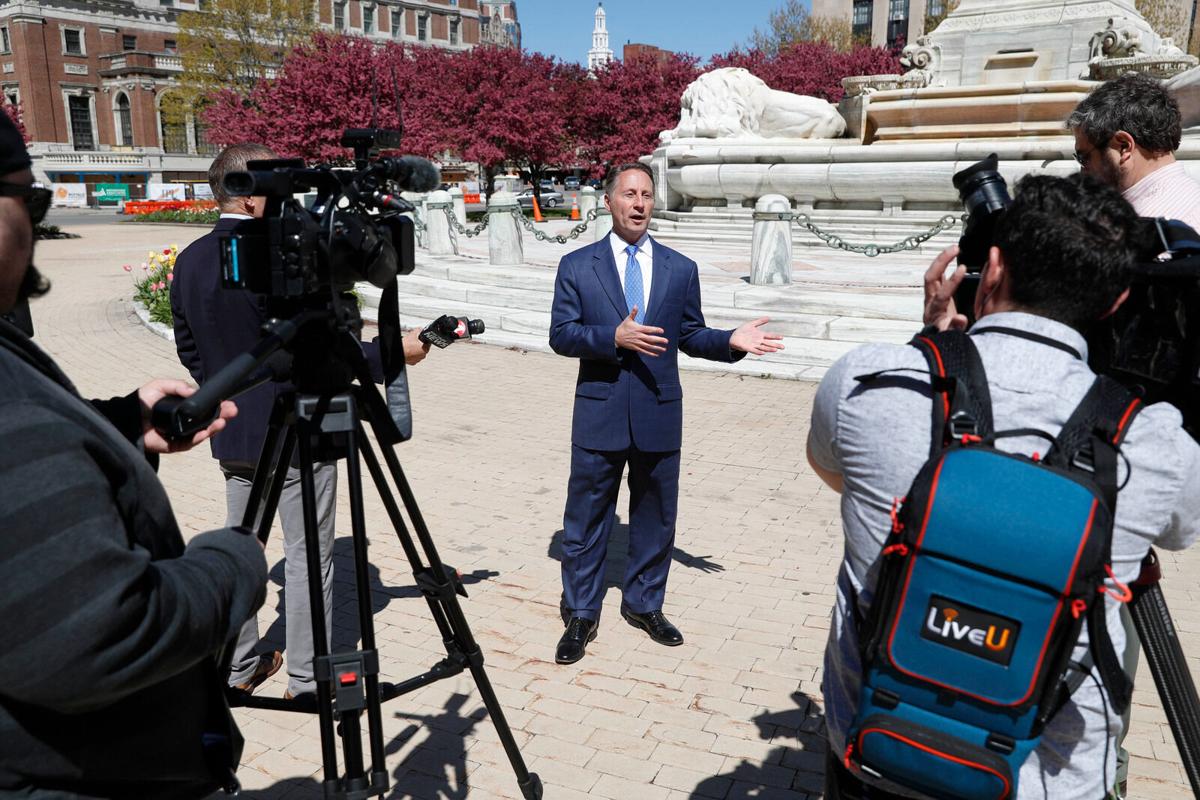 Rob Astorino stood in Niagara Square Wednesday afternoon to declare his Republican candidacy for governor, resurrecting many of the themes from his first challenge to Democrat Andrew M. Cuomo back in 2014.
The former Westchester County executive railed against high taxes, the state's population exodus, and the Buffalo Billion economic development program he called a failure – similar themes as in his unsuccessful effort seven years ago.
But Astorino thinks his 2022 campaign will prove different. He pointed to a host of investigations hounding the governor that allege a coverup of Covid-19 data and sexual harassment. He said homelessness and crime are again on the rise, while Cuomo's pandemic edicts marooned the state's school children at home when they should have been in classrooms.
"The biggest difference is that times have changed," Astorino told reporters. "I was proven right about corruption. The big thing in '14 was the party was not unified, you had all kinds of elected officials playing footsie with him.
"This time we will be completely and utterly unified," he added. "Also, Cuomo is politically wounded."
Even as Rep. Lee Zeldin of Suffolk County has set an early pace by declaring and raising money more than a year and a half before the next gubernatorial election, Astorino exudes all kinds of confidence. He said Wednesday he is committed to running in a primary, even as Zeldin has essentially claimed the party endorsement with support from county leaders across the state – including those in Erie, Niagara and Allegany counties.
Indeed, while Zeldin consistently meets with local party leaders during his trips to Buffalo, Astorino stood alone in Niagara Square with nary a party supporter – a sign he may not command the same GOP support as seven years ago. That seems OK with him.
"I think a primary is a good thing because for the next year we will focus on good Republican ideas and candidates," he said. "But we are in the first inning of the first game of a doubleheader and there are some people who don't want the game to be played."
Still, he saves his sharpest barbs for Cuomo and the Democrats, whom he says have infused Albany with a "radicalism" that voters never bargained for. His bipartisan approach in Democratic Westchester, he says now, can set a template for bargaining with the state Legislature. And to make his point, he summoned the word "balance" several times during a wide ranging news conference.
Like Zeldin, he remains an unabashed supporter of Donald J. Trump in a state the former president lost by 23 points last November.
"I'm a Trump supporter. ... I voted for him twice," he said. "We've got to stand up to the far left agenda that is destroying middle class jobs and sending people to the exits."
Astorino is making a tour of cities throughout the state following his official declaration Tuesday in Albany, expecting to make stops in Niagara Falls, Jamestown and other Southern Tier cities on Thursday. And while he continually lambasted Cuomo for various degrees of "scandal," he cracked that he will avoid the 2014 controversy that dogged him in Buffalo when newspaper photos showed him cheering on the Miami Dolphins.