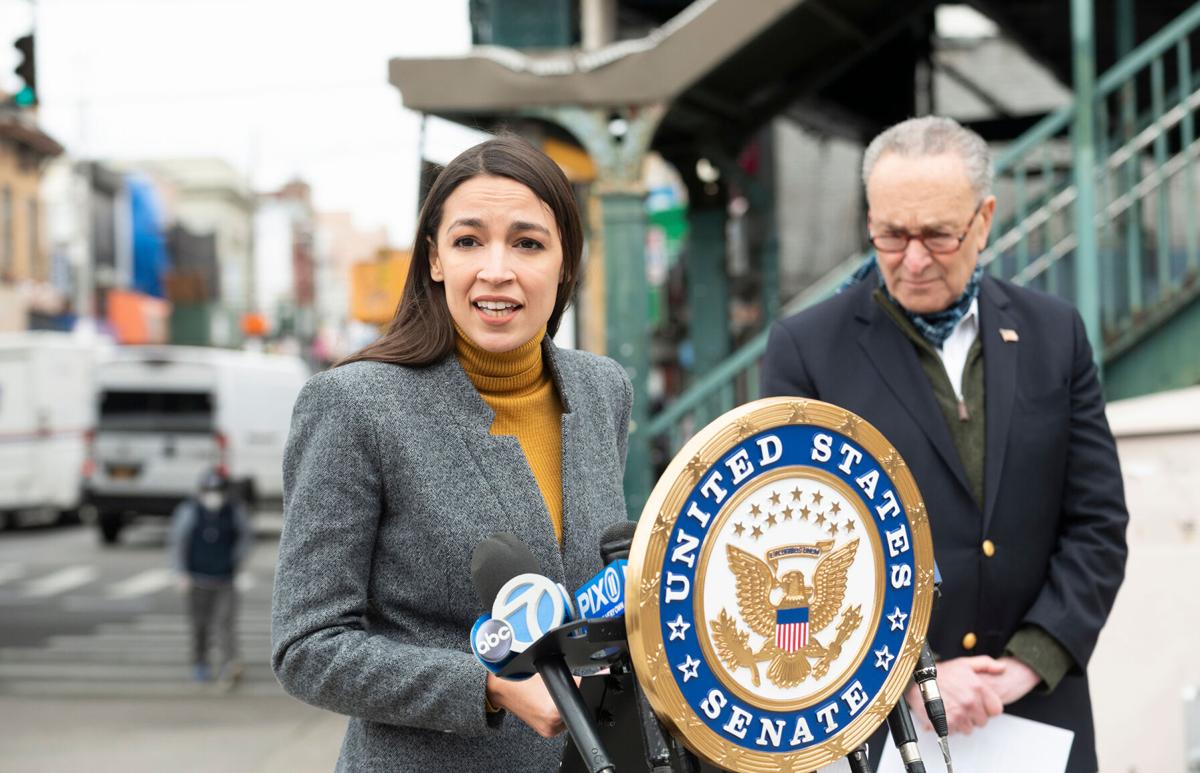 WASHINGTON – The Billy Joel of New York politics – Senate Minority Leader Charles E. Schumer – will appear on the program of Tuesday night's Democratic National Convention with the Taylor Swift of New York politics, Rep. Alexandria Ocasio-Cortez.
And if the dreams of some progressives come true, you will be seeing them on a double bill in two years: a New York Democratic primary ballot.
For more than a year now, there has been talk that Ocasio-Cortez – the democratic socialist from the Bronx – will challenge Schumer from the left when the glad-handing, deal-making old school pol from Brooklyn seeks a fifth six-year term in 2022.
Will it happen? Only Ocasio-Cortez knows for sure, and maybe she doesn't even know yet. But she hasn't rejected the possibility, which some on the left have been openly touting.
"Just gonna say something out loud that should be obvious: The fastest way to speed up the process of changing the corrupt, do-nothing, status-quo-protecting culture of the national Democratic Party is for @AOC to defeat @ChuckSchumer in a Democratic primary in 2022," David Sirota, who served as a senior adviser and speechwriter on Sen. Bernie Sanders' 2020 campaign for the Democratic presidential nomination, tweeted in June.
Hearing that, longtime Democratic activists – especially those in upstate New York – said, essentially, good luck with that.
"With her as far left as she is, she'd have a tough time in Cheektowaga against anybody," said Tim Meyers, the town's Democratic chair, who said Schumer has developed such close ties to the community that "he's like one of Cheektowaga's sons."
Schumer has built similar deep ties across the state, which is why Meyers said: "I don't think she touches him. Whoever is thinking like that is miscalculating."
Lots of New York politicos are thinking that, though, just because of the contrast that a Schumer-AOC primary would present.
Schumer has served in the Senate since 1999, and through all that time he has worked the entire state as if it were his city council district, visiting every county every year and hiring staffers who dive deep into local issues. But, like Billy Joel, he's not always the smoothest lyricist: in the past year, for example, his penchant for praising Republicans like Rep. Pete King of Long Island and Rep. Chris Jacobs of Orchard Park struck some progressives as out of touch with the times.
Meanwhile, everything about Ocasio-Cortez seems new. Ever since upsetting Rep. Joe Crowley in a 2018 Democratic primary, she has built a loyal nationwide following on the left by following through on her promise to push policies like the Green New Deal and Medicare for All, and for aggressively questioning witnesses at hearings. And, like Taylor Swift, she's a star not just in her chosen profession, but also on Instagram.
Political junkies get giddy just thinking about a match-up between two such imposing yet different figures.
"I'm rooting for it," said Doug Muzzio, a political scientist and oft-quoted analyst at Baruch College in New York. "It would be a barn-burner."
It would also be hugely expensive, given that both candidates have proven to be formidable fundraisers who would bring millions to the race.
For her part, Ocasio-Cortez has done nothing to quash speculation about a challenge to Schumer. New York magazine ran a profile of Ocasio-Cortez in January that quoted people close to her as saying she was considering a primary against either Schumer in 2022 or Sen. Kirsten E. Gillibrand in 2024.
And when Politico asked her in April if she would consider a race against Schumer, Ocasio-Cortez replied: "I'm very much focused on my election in 2020, and honestly this news cycle is so insane, who knows where any of us are going to be in 2022?" Pushed to give a clearer answer, she said: "I literally don't even think about this in any serious way so, like, I don't know."
That prompted CNN's Jake Tapper to ask Schumer if he was confident he could beat Ocasio-Cortez in a primary.
"Look, throughout my career, I have done my job. I'm totally focused on this Covid. We are the epicenter," Schumer replied. "And I have found, throughout my career, you do your job well, everything else works out OK."
The only poll to explore the hypothetical match-up, a May survey published by Zogby Analytics with a relatively small sample size, found Schumer with a 31-point lead.
"On the surface, it kind of looks like a butt-kick," said Jonathan Zogby, the polling firm's CEO. "But some of the things that I really found interesting and that I was looking at could pose potential problems for Schumer and definitely benefit AOC. You know, when it came to younger voters aged 18 to 34, she was leading. She was leading with single voters, and she was also pulling pretty close with all voters overall in New York City."
For now, though, any AOC Senate candidacy would face both geographic and ideological obstacles.
"Her real electoral reach is narrow," and largely confined to liberals in New York City, Muzzio said.
Brian Nowak – a Sanders delegate in 2016 and now a Cheektowaga councilman – didn't sound especially enthused about an AOC Senate candidacy.
"It's a couple years from now, so I couldn't tell you what I think of that," said Nowak, who added: "When Schumer comes to town, he's all over the place, so she'd have to make up a lot of ground really quick."
Erie County Democratic Chair Jeremy Zellner also thinks Schumer remains broadly popular in Western New York and much of the state.
"This senator hasn't forgotten Western New York or our local governments trying to maintain police and fire departments while they're all going broke right now," he said. "The congresswoman is popular in her district and within the party, but I just don't see the possibility of her taking him on and beating him."
And in terms of genuine clout, Ocasio-Cortez falls far behind Schumer, too. Proof of that came this week when the convention schedule was announced. As a party leader, Schumer got a speech scheduled to be several minutes long. Ocasio-Cortez, in her third year in Congress, got a minute to introduce Sanders.
That, predictably, enraged Ocasio-Cortez's supporters.
"REPUBLICAN John Kasich is getting more time to speak at the DEMOCRATIC national Convention than @AOC. That is all," progressive activist Nabilah Islam tweeted.
Vowing to make the most of that minute, Ocasio-Cortez took to Twitter to quote the late Baptist minister Dr. Benjamin E. Mays:
"I only have a minute. Sixty seconds in it. Forced upon me, I did not choose it, But I know that I must use it. Give account if I abuse it. Suffer, if I lose it. Only a tiny little minute, But eternity is in it."