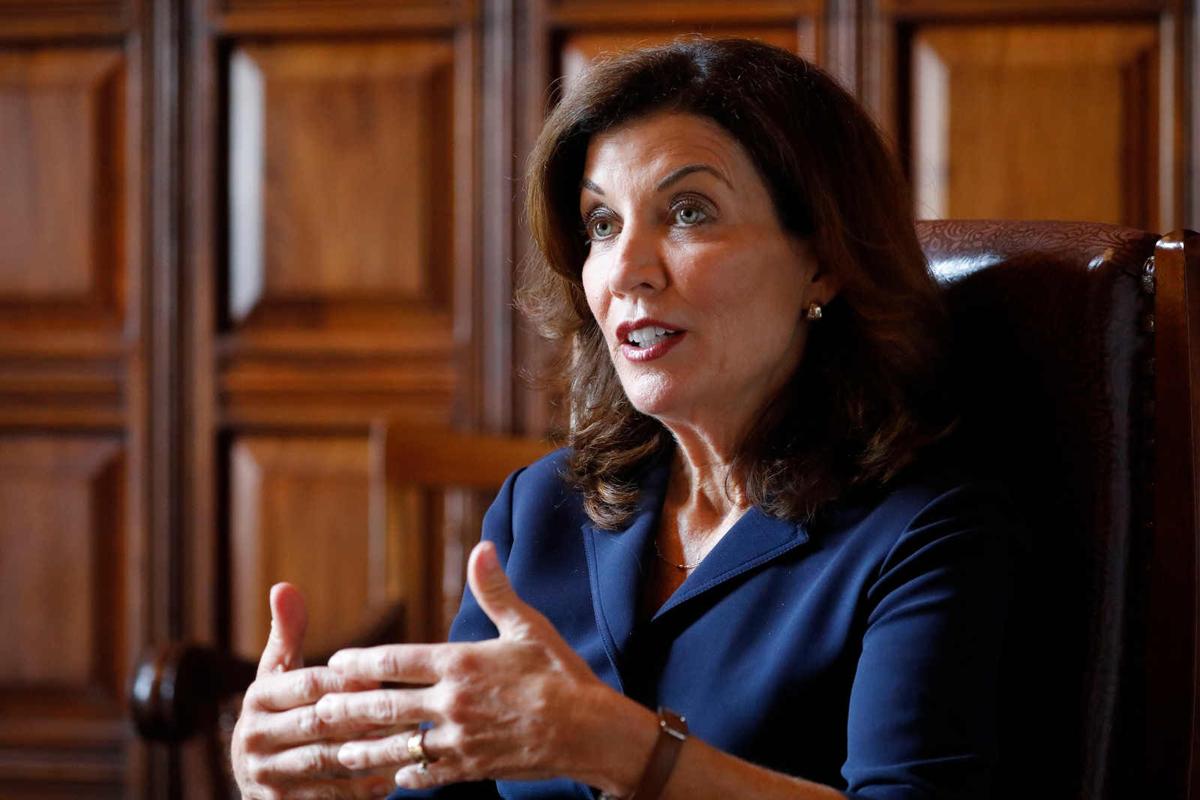 When Kathy Hochul is sworn as the first woman to govern the State of New York, she's not just breaking a glass ceiling. She is promising to change the culture in Albany that allowed the kind of behavior that brought down her predecessor.
Sexual harassment. Whisper campaigns. Secrecy. Backroom deals.
"At the end of my term, whenever it ends, no one will ever describe my administration as a toxic work environment," she told reporters at her first news conference after Andrew Cuomo's announcement that he was resigning.
Hochul's ability to be both firm but also empathetic, her decades of working in every level of politics and her lived experiences as a woman have prepared her for this moment, a sampling of women leaders who spoke to The Buffalo News about Hochul said ahead of her inauguration.
"I think Kathy Hochul is going to bring huge value to the culture of the second floor in Albany," said Assembly Majority Leader Crystal D. Peoples-Stokes, D-Buffalo.
"She gets it because she lived it," Peoples-Stokes said. "Kathy has had a stellar career from the Town Board of Hamburg to county clerk to Congress to lieutenant governor. Now she will do the same as the governor of New York," Peoples Stokes said. But she also pointed out that Hochul is a mother with a son and daughter and knows what it's like to juggle a career and parenthood.
"She's such a compassionate person and feels people's pain," Peoples-Stokes said. She believes that will make the future governor more sympathetic to the dire situation tenants and landlords face as the eviction moratorium comes to an end.
But it's not just an ability to empathize.
She believes Hochul will be more open and more accessible to everyone.
"It's like the door is open," Peoples-Stokes said. "A door has opened for me to have ongoing conversations about the people who I represent," Peoples-Stokes said.
Assemblywoman Monica P. Wallace said Hochul is already showing a new leadership style.
She liked that Hochul signaled in her appearance on the "Today" show that she will likely require masks for all schoolchildren in the fall. Cuomo had punted that decision to local governments and school districts for this school year, frustrating education leaders and parents.
"Moms need to go back to work. They need their kids back in school to do that. ... She's already said: 'I don't see how we avoid it.' That's more than we've gotten from our governor," Wallace said.
"She's a woman who has experience at every level of government. She knows what it's like to be a working mom. She knows what it's like to be the only woman in the room. She knows what it's like to deal with difficult men. We all know what that's like, sadly," Wallace said.
Hochul's remarks about not tolerating a toxic workplace, especially in the wake of Cuomo resigning amidst multiple scandals, were reassuring to women, said Elise L. Cassar, president of the Women's Bar Association of the State of New York's Western New York Chapter.
"Just coming out and saying that right away – we're seeing the type of change that is going to come about in state politics and in Albany," Cassar said. "It's certainly a step in the right direction."
It's also inspiring to see a fellow female lawyer from Western New York rise to the top leadership position in the state.
"To watch somebody local be in this position makes you feel as though there's an opportunity for change and that women certainly have as much opportunity as men," Cassar said.
Hochul's early outspokenness in Hamburg led her down a path that led to government jobs at the county and federal level before she became lieutenant governor.
Women leaders bring different skills to the table and she's excited to see what Hochul will do as governor, said Kimberley Minkel, the executive director of the Niagara Frontier Transportation Authority and the first woman to hold that position.
"Women are better at developing teams, having conversations and getting creative," Minkel said. "I think we're problem solvers."
But women do face obstacles.
"Women still face gender stereotypes. We have a struggle a little bit harder to be listened to. We're not bold and boisterous. But it doesn't mean that our style is a sign of weakness," Minkel said. "I think she is an excellent listener. She listens first and then reacts. I think that's important."
Diane Lechner, president of the New York State Federation of Democratic Women, said having a woman governor like Hochul is what New York needs now.
"Considering the current state of affairs I think New Yorkers could benefit from this cultural shift," said Lechner. "Across the board, we've had men behaving badly in both parties. We think it's time to give women a chance."
Lechner, who is based in Broome County, said Hochul is well-known all over the state and that speaks to her accessibility.
"I have a lot of friends in different political spheres and I'm on social media with them and we have all posted pictures of us with Lt. Gov. Hochul," Lechner said. "So many of us have met her. She has been so accessible to women. She's got a really good sense of what is needed to move us forward."
MSNBC commentator Rachel Maddow spoke on her show about Hochul's trajectory to the governorship, pointing out the array of scandalous behavior by male politicians that led to several of her roles – and how different Hochul is from those men.
"She's probably known as, you know, able, well-respected, pragmatic, scandal-free," Maddow said. But she opined that it took another scandal to make her governor.
"Maybe that shouldn't have to be the path to women having power," Maddow said.