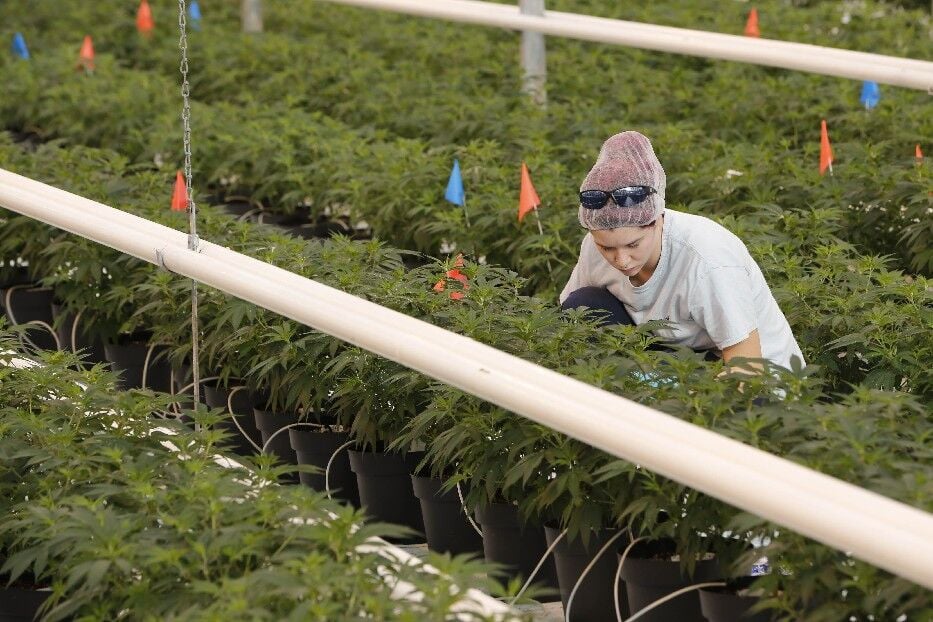 ALBANY – With lawmakers confident they had a deal days ago to legalize marijuana, Friday's work day came and went with the Legislature and Cuomo administration still stuck on wording in the complex bill that will end up stretching more than 70,000 words.
The failure to finalize a deal left openings for critics to keep lobbying, with phone calls, texts and emails pouring into lawmakers' offices throughout the day Friday.
"They thought they had a deal two weeks ago," said Kyle Belokopitsky, executive director of the New York State PTA, which is among the opposition groups trying to get last-minute changes into a final deal.
But advocates of legalizing recreational cannabis say that a highly complicated set of changes that will add to or amend hundreds of provisions of the state's drug laws needs time for Gov. Andrew M. Cuomo and the Legislature to sign off.
"Everything I've heard is that this is moving forward and there is an expectation within the Legislature that this will be printed and voted on early next week," said Melissa Moore, New York State director of the Drug Policy Alliance.
'Drama in Albanyland' changes dynamics
For many years, governors and legislative leaders would often announce a deal, even if the last of the nitty gritty detail work was not done – things as simple as proofreading to ensure no innocent or not-so-innocent mistake had been made by negotiators.
But mistrust in Albany is at a level rarely before seen in recent times. That would seem to indicate, several state sources said Thursday, that Cuomo, Senate Majority Leader Andrea Stewart-Cousins and Assembly Speaker Carl Heastie would rather not announce a historic change in New York's drug law until the bill is formally introduced into the official legislative records.
The marijuana talks are coming at an especially sensitive time, as Cuomo finds himself in a growing number of scandals and investigations on matters from sexual harassment claims against him to Covid-19 deaths in nursing homes and, most recently, stories the governor had family members and friends prioritized for Covid testing last spring.
The marijuana talks come after Stewart-Cousins recently called on Cuomo to resign in the wake of the scandals and as Heastie started an impeachment probe of the governor.
"My understanding is, especially given all the drama in Albanyland … it wouldn't surprise me that dynamics outside of cannabis are coming into play a little," Moore said.
Some sources were saying Thursday and Friday that the actual legislation might not be introduced until Saturday. Optimists said a deal Friday late afternoon or evening was possible.
Another school of thought has been heard: a deal just between the Assembly and Senate. That theory is based on both houses having supermajority status, meaning Democrats on their own could override Cuomo without having to rely on GOP votes. So, if Cuomo won't finalize a deal soon with lawmakers, that theory, expressed by some government insiders, the Assembly and Senate can act on their own, send him the approved bill and dare him to veto it.
That's a dangerous scenario, especially as all sides are trying to get a new state budget in place by next Wednesday.
Opponents seek last-minute changes
Either way, the delay from when people in Albany thought there was to be an announced deal has given opponents – or even proponents – additional time to try to get changes into the measure. Killing marijuana legalization wasn't the talk of opponents, but perhaps changes could happen, they think.
The main areas of concentration this week for negotiators has been over changes to the state's vehicle and traffic law to deal with people police think are high on marijuana. On Friday, they were still discussing the legal penalties for someone who drives while impaired.
But Belokopitsky, of the parents and teachers association, said there has been a push by opponents to try to get the minimum age for legal use of marijuana from 21 – which has been tentatively agreed to by lawmakers – to 25. A tentative deal would let cities, towns and villages deny new marijuana lounges from opening in their communities. But it would also permit a local referendum to undo such denials. Opponents want to get rid of that referendum language.
Another lobbying effort playing out Thursday afternoon and Friday morning in emails, texts and social media pitted counties against cities, towns and villages.
It began with Marc Molinaro, the Dutchess County executive and president of a statewide group of county executives, on Thursday saying the final deal gives counties only 1% of the sales tax revenues, which he said is significantly less than the 3% counties get from alcohol sales.
Molinaro, who ran against Cuomo in 2018, said legalizing marijuana will "dramatically increase the need and demand" for a variety of county services in the areas of public health and public safety.
But other forms of local governments said they support the way the taxes would be distributed.
Peter Baynes, executive director of the New York Conference of Mayors, said it will be cities, towns and villages, not counties, that will most feel the costs of marijuana through law enforcement expenses and code compliance work.
"NYCOM's view is that this new cannabis tax is not the traditional local sales tax and shouldn't be treated as such," Baynes said Thursday.
On Friday morning, Baynes fired off a letter to all 213 state lawmakers in the Assembly and Senate.
"The 3% city/village/town and 1% county split of the new cannabis excise tax is the fair and appropriate way to address the local impacts that will be felt by legalization of adult-use cannabis. NYCOM urges you to retain this agreement in the final legislation you vote upon in the coming days," he wrote.
Meanwhile, marijuana legalization opponents were sending out last-minute pleas to their backers, sharing via Twitter the telephone numbers of senators who, they believe, can be convinced to vote no on the looming legalization bill.
A group of marijuana and hemp growers then took that tweet and blasted it out to its members and supporters, saying it was a "handy" list to use in calling those same senators to urge a yes vote.