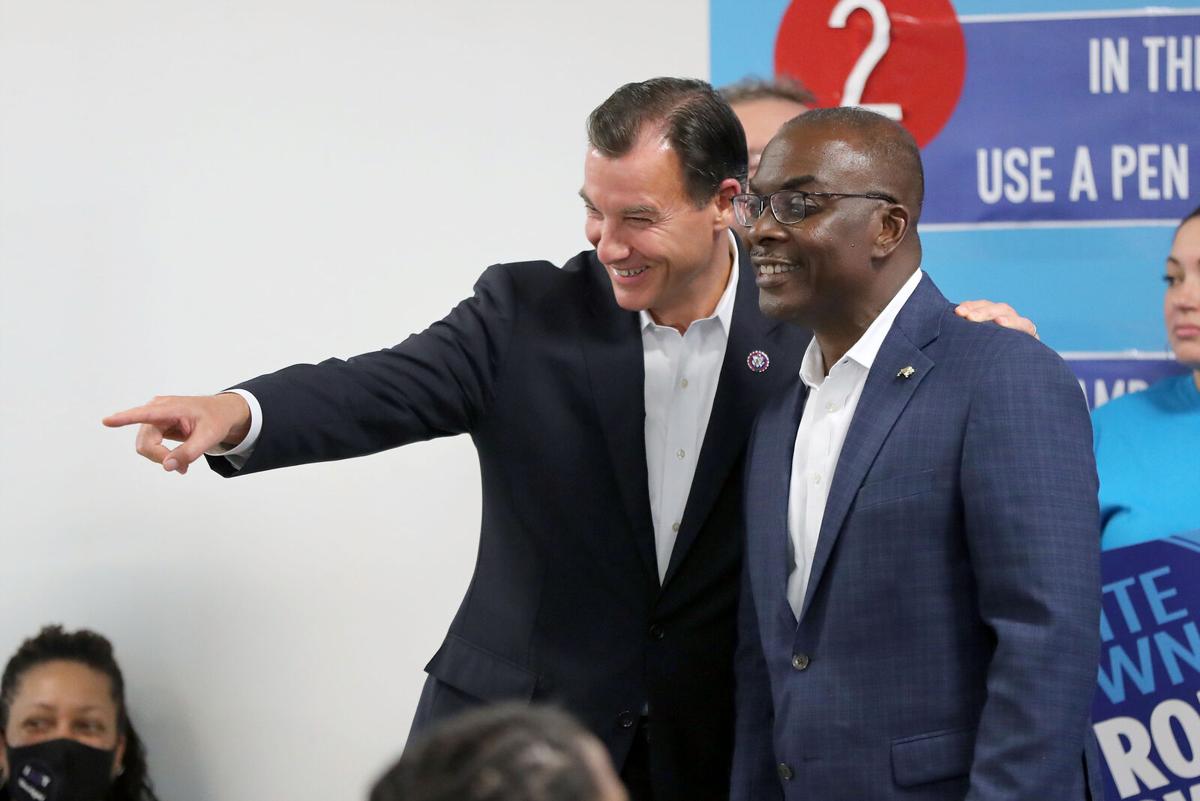 In case you haven't noticed, it's already 2022 – at least as far as the contest for governor of New York is concerned.
Nobody is yet slating rallies in Niagara Square, and the candidates are saving their TV dollars for later. But it's under way.
And some of the most important aspects in the contest for governor occur in what you don't see.
Take Gov. Kathy Hochul. You don't see her spending much time at her Buffalo home. Sure, she addressed lakefront flooding problems last weekend in Hamburg. But the new governor spends most of her time these days in New York City. Because that's where the votes are.
Indeed, Tom Precious of The Buffalo News' Albany Bureau reported back in October that Hochul had spent 62% of all or part of her days as governor in New York City. Through late October, she held 60 public events in the Big Town, not counting the many undisclosed private meetings, dinners or fundraisers.
"New York City will deliver more than half the primary vote for governor in June," he wrote in October, and nothing – including Hochul's schedule – has changed since then.
Still, upstate garners lots of attention. Rep. Tom Suozzi of Nassau County, for example, launched his first concerted upstate effort Wednesday with a "tele-town hall" call-in event throughout Western New York and the Southern Tier. The declared candidate for governor often uses the tele-town hall concept in his Nassau County/Queens congressional district– especially as Covid-19 curtails many in-person meetings – to gauge what people are thinking.
Suozzi may have been low-balling expectations before the event, noting he would be happy with a few hundred participants.
"We got 5,000 callers!" an elated Suozzi reported Wednesday evening, with most participants interested in such topics as crime, taxes and schools.
New York Mayor Bill de Blasio got into the act last week, too – sort of. During his waning days in office, the mayor is making no official declarations of candidacy, and probably won't for a while.
But in 2000, de Blasio managed Hillary Clinton's campaign to succeed Daniel Patrick Moynihan in the Senate, and recalls all too well that she preceded her effort with a statewide "listening tour" in 1999. Clinton spent months traveling the state while still first lady, generating international media attention wherever she went.
De Blasio plans just such a statewide tour a few weeks after he leaves office on Dec. 31, to tout his new education initiative with stakeholders all across New York State. He won't say it, but it appears to replicate Clinton's 1999 travels, allowing him to cement his own long-standing political ties throughout the state.
In addition, the mayor discussed his ideas last week with The News in a Gracie Mansion interview – and not to chat about the Bills. De Blasio has a clear vision for the state, is beginning to articulate it when opportunities arise and seems poised for more.
All of this takes place much earlier than in past elections for governor because the political timetable has accelerated following the 2018 Democratic takeover of the Legislature. Now, both parties are eyeing conventions in February in preparation for designating petitions to be circulated in March.
State Republican Chairman Nick Langworthy expects a late February gathering of his troops at a location to be determined. His Democratic counterpart – Jay Jacobs – said last week his party is looking at mid-February, probably in New York City.
And for Hochul, New York City works out just fine.
While the gubernatorial hopefuls are already hitting the campaign trail, the congressional and state legislative scene remains quiet – for now. Candidates for the U.S. House of Representatives, State Senate and Assembly will not be surfacing until new district lines are determined early in the new year through a reapportionment process stemming from the 2020 census.
The process will be long, convoluted, complicated and controversial, and will probably leave Republicans fighting for survival following an expected merciless Democratic effort to redistrict them out of existence.