A once-and-future restaurant-bar in South Buffalo last week became something new to South Buffalo: a campaign office for Mayor Byron W. Brown, assembled and led by South District Council Member Christopher P. Scanlon and home to volunteers staffing an aggressive get-out-the-write-in-vote effort before Tuesday's general election.
Not to be outdone, Democratic mayoral nominee India B. Walton has three campaign offices, as well as volunteers so loyal that 20 of them showed up on a Richmond Avenue front porch Friday night to hear from the candidate before spreading out and knocking on 1,300 doors in a driving rainstorm.
With just three days left in one of the most intense mayoral races in Buffalo history, India Walton and Byron Brown took to the streets Saturday to shake hands, hand out candy and persuade any undecided voters to come to their side.
So it goes as the intense campaign for Buffalo mayor dwindles down to a few precious last days. Both campaigns said they are doing everything conceivable – from door-knocking to phone-banking to texting – to turn out every single one of their loyal voters while hoping to win some decisive last-minute converts.
It will make a difference, Erie County Democratic Chairman Jeremy Zellner said.
"This whole thing is going to come down to who can get their people to the polls," said Zellner, a Walton supporter.
The two campaigns face very different challenges. Brown's volunteers literally have to teach voters how to "write down Byron Brown," while Walton must harness – and grow – the progressive energy that led to her upset over Brown in the June Democratic primary.
Here's a look at what the two campaigns are doing to reach those goals and get out the vote:
Brown, a veteran of the city's formidable Democratic politics finds himself in uncharted territory. If he wants to win a fifth term as mayor, he must do it in a write-in effort rarely attempted on such a large scale.
The place that once was the Schupper House on Seneca Street is now Byron Brown's. Scanlon and his South Buffalo friends and neighbors gather at the tavern to call their neighbors and prepare to go door to door with the same steady message: "Write down Byron Brown."
Hundreds of people have volunteered to help the mayor, Scanlon said, in a culturally conservative part of the city where Brown's previous campaigns have struggled. This time, though, Scanlon said South Buffalo – home to many Buffalo police and firefighters – appears to be rallying around Brown and in opposition to a candidate who has vowed to cut the police budget.
"This has been not a top-down effort here in South Buffalo," Scanlon said. "This has been everyday residents coming together, concerned about the future of the city and wanting to get the mayor reelected and looking for someone to kind of steer or organize that effort, which is where myself and a few others have gotten involved."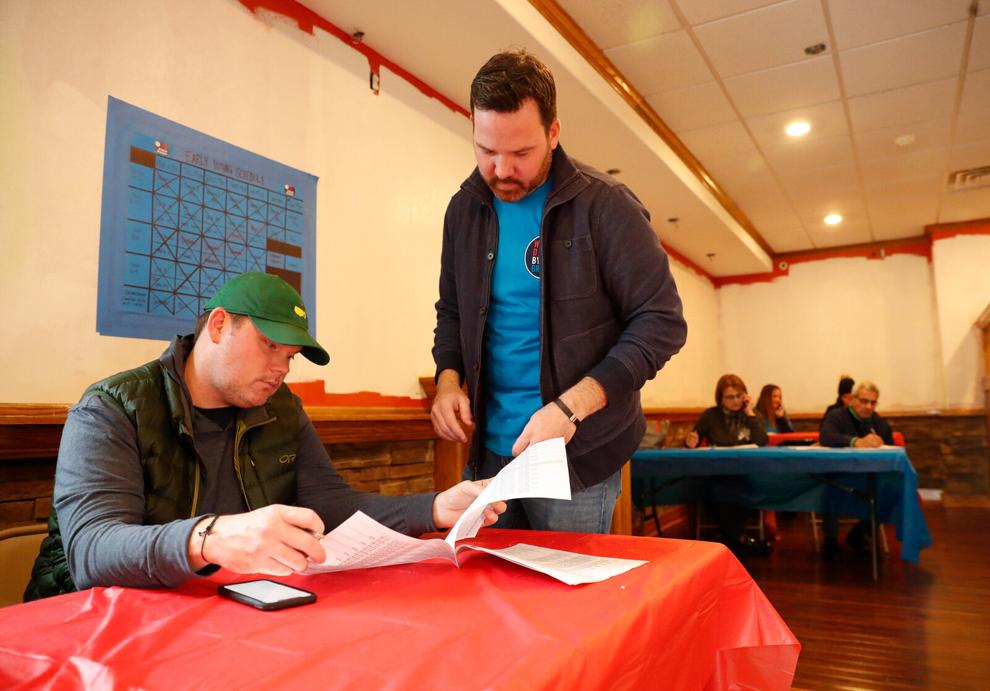 It's an effort that appears to have paid some early dividends. As of Thursday night, more than 2,000 people had cast their ballots at the early voting site at the Tosh Collins Community Center at 35 Cazenovia St. Scanlon said that's more people than those who voted in South Buffalo during the June primary.
Masten District Council Member Ulysees O. Wingo has been leading a similar get-out-the-vote effort in the Masten District, a traditional Brown stronghold where many voters sat out the primary, not thinking it was a serious contest.
"Masten is going to hold for the mayor," Wingo said. "He's going to get the majority of the votes here easily because the majority of the voters here are aware of what he actually has done."
Brown's door-knockers face an unusual challenge, though. They need to show voters how to do a write-in vote: how to find and fill in the correct oval and then write down the mayor's name. Some voters are offered a stamp so they can simply stamp the mayor's name on the ballot.
Brown said his volunteers are teaching voters how to write in his name as they knock on doors, attend house parties, attend informational sessions and even call people on the phone.
"It's a little slower process, explaining how to properly do the write-in, and that's why we've really worked hard to recruit more volunteers," the mayor said.
Since defeating incumbent Mayor Byron W. Brown in the June Democratic primary, Walton has gone from "India Who?" to universally recognized on the streets of Buffalo.
Walton's volunteers – some young, some old, but all of them enthusiastic – can be seen these days on doorsteps throughout the city. But those volunteers are just one part of a let's-try-everything approach to turning out the Walton vote.
"We've been text-banking. We've been phone-banking. We've been having conversations throughout the city, and we've been visible at polling sites," said Drisana Hughes, Walton's campaign manager. "I don't really think there is a voter outreach method that we haven't tried."
Hughes said the Walton campaign is making a special effort to reach absentee voters, a key group that could make the difference in the race if the contest between Brown and Walton is close late Tuesday.
The Walton campaign has involved Buffalo natives who are attending college outside the area, enlisting them in the phone-banking effort, said Eve Shippens, the Walton campaign's field director.
Shippens acknowledged, though, that she and many of Walton's volunteers prefer to go out to meet the voters first-hand to try to persuade them to vote for the Democratic nominee.
Walton's army of door-to-door volunteers will be taking a break on Sunday, though, figuring that voters won't want to talk politics on a day when most door-knockers will be seeking Halloween candy.
In addition, the Buffalo Bills face off against the Miami Dolphins on Sunday.
"I've heard that if you door-knock during the Bills game, you're more likely to get votes for your opponents," Shippens noted.
Walton often takes the opportunity to fire up her troops before they start pounding doors, which is just what she did on that Richmond Avenue front porch on Friday night.
Noting that volunteers for her effort had come to Buffalo from as far away as Missouri and Kansas, Walton said her supporters were eager to pound doors despite the pouring rain.
"This is the spirit of the India Walton campaign, and this is going to be the same spirit of an India Walton administration," she said. "We weather the storm and we don't let anything stop us."