Senate Majority Leader Charles E. Schumer sat in his black SUV outside Wyoming County Community Hospital in Warsaw on Sunday afternoon fielding phone calls from various members of his Democratic conference, just before addressing concerns inside about federal funding for upstate hospitals struggling with Covid-19 costs.
On the short drive to the hospital from Perry-Warsaw Airport, he later acknowledged, he had talked to three Democratic senators about legislation before the U.S. Senate, such as passing President Biden's Build Back Better agenda. It all got sandwiched in with a problem facing one of the state's most sparsely populated counties.
Senate Majority Leader Charles E. Schumer is pushing the U.S. Commerce Department to select the Buffalo and Rochester regions as targeted economic development areas
"Majority leader is a title I'm very proud of," he said during a post-news conference interview. "But New York senator and New York representative is a title I'm even more proud of."
On the day he again completed his yearly visits to all 62 of New York's counties – his first as majority leader – with a stop in Wyoming County, Schumer took obvious delight in fulfilling a 1998 campaign promise. Back then he had responded to incumbent Republican Alfonse M. D'Amato's claim that, if elected, the Brooklynite would "never be seen west of the Hudson." Schumer vowed then to visit each county in the state at least once a year, and has kept the promise ever since 1999, finishing his first tour in Columbia County with agricultural policy discussions in a Kinderhook dairy barn.
Since then, his travels have become part of the state's political ritual. It allows Schumer to tend to his own back yard, from Chautauqua to Clinton, Niagara to Suffolk, and everywhere in between. Even in small counties like Wyoming, where some say cows outnumber people, voters have come to realize Schumer will check in at least once a year.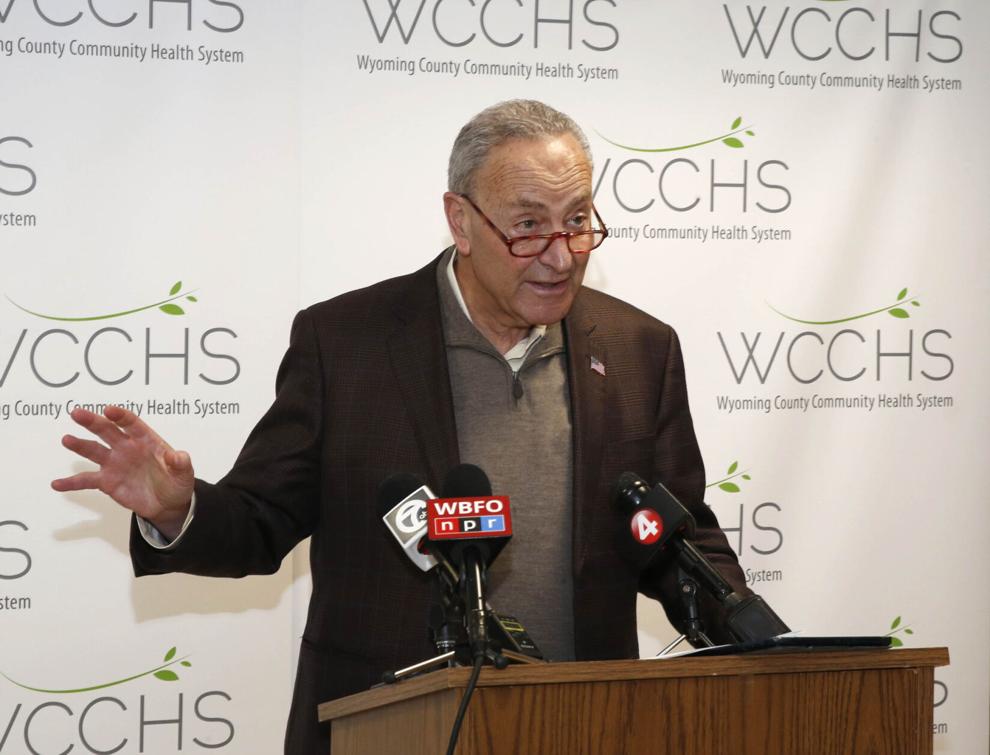 Becky Ryan, the Republican chairwoman of the Wyoming County Board of Supervisors, on Sunday praised the Democrat for his efforts.
"It's outstanding that he makes it a point to visit every county in the state every year," she said as Schumer addressed the county's Covid-19 concerns. "And this is perfect timing – going through what we're going through."
Unlike his previous tours, however, Schumer logged his last county on Sunday as one of the top officials of the United States government.
"This was the most useful year I've had," he reflected. "You talk to school districts all over the state. You talk to local governments. You just learn so much when you do these tours. It inspires you."
Indeed, the majority leader said talking with people in the state's big cities and small towns provides ideas for major legislation, including dealing with almost two years of a Covid-19 pandemic. On Sunday, for example, he noted that Wyoming and Orleans counties were tied for the highest daily average number of Covid-19 cases per 100,000 at 103.
Senate Majority Leader Charles E. Schumer assured that "help is on the way" to restaurants, local governments and families.
Schumer urged the Department of Health and Human Services to consider revenue losses at Wyoming Hospital and 31 other upstate facilities forced to suspend elective surgeries this week because Covid-19 admissions reduced available bed capacity to 10% or less. HHS, he said, should prioritize funding for hospitals with the greatest need.
Still, he admits it's all suddenly harder.
"When I became majority leader, people said you won't have time. I said 'Don't worry, I'll make time,' " he said. "It's how I learn. It's how I do a better job."
Longtime Schumer watchers have always credited his "energy" as the driving force behind the promise, as well as the political savvy to avoid ignoring his home base. Jack O'Donnell, an Albany lobbyist based in Buffalo and former Schumer staffer, at one time accompanied him all across New York's back roads even as the senator talked on the phone with then-Majority Leader Harry Reid. O'Donnell says Schumer has always recognized that what goes on in Warsaw eventually resonates in Washington.
"Part of the reason he's been so successful is that he does connect those things," he said, noting Schumer ultimately pays attention to Wyoming County as well as Brooklyn or Manhattan.
"We are one of the cities with most impoverished kids ... but at the same time it helps the middle class," he said of the new program's effects on Western New York. 
"He really is the same person with the same focus and drive to get results," O'Donnell said.
Even natural foes such as state Republican Chairman Nicholas A. Langworthy credit Schumer with honoring a campaign promise now over two decades old.
"I've done it, and I understand it's a very large undertaking and very admirable," he said. "Until you do that, you don't understand the whole state."
Still, the chairman is preparing for a 2022 challenge to Schumer, who he says has lost touch with the very base with which he connects every year.
"Chuck has evolved. People once saw him as a throwback politician and dealmaker, a backroom guy who could make things happen," Langworthy said Sunday. "Now he seems to have thrown it all away out of a desire for power and be a leader, and be just a shill to the left."
Western New York could be in line for as much as $100 million in federal funds to train workers and otherwise prepare for becoming a national hub for high-tech manufacturing.
Now, he says Schumer feels the need to endorse a democratic socialist like 2021 Buffalo mayoral candidate India B. Walton to placate a vocal left wing of the party and stave off a potential primary.
"Chuck looked like a partisan fool endorsing someone to lead the state's second largest city, someone who wasn't qualified to run a lemonade stand," Langworthy said. "He has lost his credibility to be nothing but a shill for the left flank of the Democrat Party."
Though Schumer has never lost an election since first vying for the Assembly in 1974, and is considered a heavy favorite to win a fifth Senate term in 2022, Langworthy and his Republicans promise a serious effort. He is not yet dwelling on particular names, but some press reports have identified Joe Pinion of Yonkers, a Newsmax network figure and African-American, as a leading candidate.
"There are certainly some names out there," is all the chairman says now. "You'll be hearing about them in the weeks ahead."
The criticism doesn't seem to bother Schumer, who says the Biden agenda of improving child care, lowering the cost of prescription drugs and creating good paying jobs reflects the desires of the nation and New York. His main task, he said, is finding ways to improve the lives of average New Yorkers.
He also told those gathered in Warsaw Sunday that they can expect the ritual to continue in 2022.
"I will be back at least once next year," he said, "maybe more."