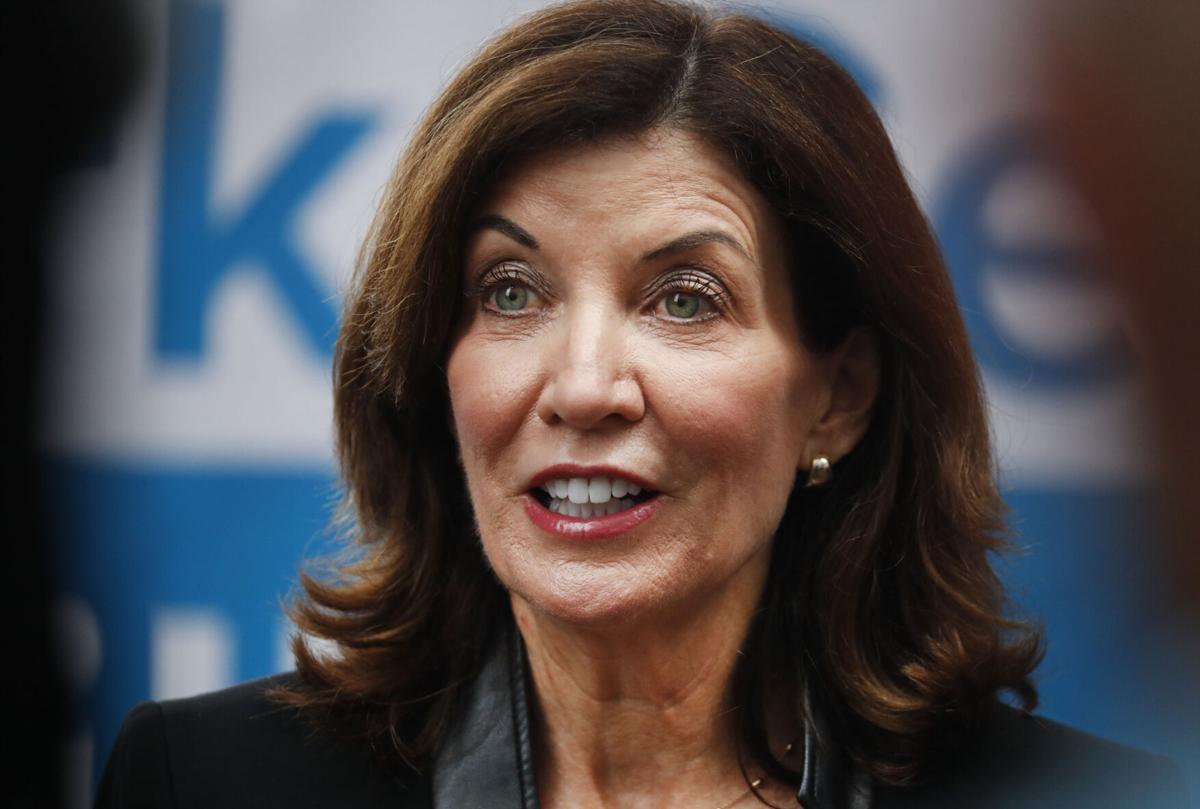 ALBANY – Gov. Kathy Hochul, like most election-bound New York governors over the years, has been on a frenzied tour of New York, mostly downstate, announcing billions of dollars for an assortment of popular projects and programs.
She has touted a huge pot of funds for a subway line in Manhattan; an affordable housing project in the Bronx; $1 billion to fix potholes in the state; $450 million for the hard-hit tourism industry, including direct payments to affected workers; and presided over a ceremony for a newly opened NHL stadium on Long Island.
It also just so happens to be occurring at a time when she hopes in the coming months to convince members of the state Legislature – dominated by New York City area Democrats – to back a deal she expects to be included in the state budget: a new stadium for the Buffalo Bills.
Hochul, a seasoned traveler of New York State, knows that state politics are driven by hardened provincial interests.
And if the past practice of governors spreading cash around the state is any guide, Hochul's hopes of trying to persuade reluctant lawmakers about a public subsidy deal for the Buffalo Bills' stadium is having a key moment.
Can she promise so much money to key Democratic majority legislators, especially downstate, for projects that might please their constituents that it might mollify some lawmakers concerned about public subsidy deals for pro sports stadiums and arenas?
"Put another way, everyone else is getting something, why not Buffalo?" asked John Kaehny, executive director of Reinvent Albany, a government watchdog group that regularly raises questions about large public subsidy deals for private businesses.
"I think it makes all the sense in the world, because she gets to say that in Western New York they care about this, and in your backyard you care about this and I'm helping you in your backyard,'' Sen. Patrick Gallivan, an Elma Republican, said of the linkage that could be at least indirectly made by Hochul.
One Democrat said Hochul is still going to face opposition from some of the more left-leaning state lawmakers over public subsidies for an NFL team owned by a billionaire, regardless of how much she promises in funding for other areas.
Moreover, Hochul has expressed hope that any state financial commitments for a new stadium can be included in the state budget, and possibly as early as introduction of her 2022 state budget plan in mid-January.
That would leave more than two months – an Albany eternity – for the stadium public assistance plan to be dangling. "It's a lot of piñata time," the Democrat said of opportunities for critics to alter whatever Hochul might deliver in stadium talks.
Hochul, who became governor in August following the multiple scandals that forced Andrew Cuomo's resignation, has been on a money-spreading tear. There have been the usual and smaller pots, like money for flood resiliency projects along Lake Ontario or downtown development cash in places like Troy and Westchester. It's all money already approved by lawmakers, with discretion by the governor on how to spend it.
But then there have been big-ticket items, some for capital projects, some not. Some have been using state money, some federal. Thanks to federal bailout money, some is money the state is sitting on at a time of fiscal black ink. And the announcements by Hochul are set to only explode next year – when she faces a primary challenge in June and, if she wins, a general election in November – thanks to billions heading New York's way via the federal infrastructure law recently signed by President Biden.
Hochul recently cut a deal with the governors of New Jersey and Connecticut on how to spend hundreds of millions of federal transit to make up for pandemic-related fiscal losses.
On Tuesday Hochul took lawmakers and reporters on a tour of one of the most expensive promises since she has become governor: a long-delayed Second Avenue subway line extension in Manhattan to Harlem.
She has touted the 2022 opening of a major concourse at Grand Central Station in Manhattan, a project to heavily benefit Long Island commuters and one that saw its development start more than a generation ago. She pushed a new plan for a multi-billion-dollar investment at the crumbling Penn Station, also in Manhattan.
"We will reimagine the post-pandemic world in a way that only the dreamers and doers of New York City are capable of," Hochul said in a recent speech in Manhattan before an influential local business group. "My vision for New York is bold."
Robert Duffy, who preceded Hochul as lieutenant governor and was a point person in the 2012 talks that led to a $130 million Bills stadium renovation and lease renewal, called Hochul's move to announce projects now around the state both "very smart and very strategic."
By seeking to show New Yorkers she can focus beyond her hometown area, Duffy said Hochul is laying solid groundwork for what could be a big ask of state lawmakers with a new stadium financing deal.
"She can point to one project and one investment after another," he said of her recent announcements. In the future, many lawmakers will be rejoicing her recent spending plans in their communities, even stadium-reluctant ones, Duffy said. "She should certainly expect the same support from downstate partners in government when she asks for funding for a Bills stadium."
Hazel Crampton-Hays, a Hochul spokeswoman, did not directly comment on the help the governor's recent funding announcements might provide for pushing for a potential Bills stadium deal with lawmakers. She said Hochul is "committed to rebuilding and revitalizing communities across New York as we recover from this pandemic, and we will keep working with local leaders on key priorities to drive economic development in every corner of the state."
Stadium politics to play out in budget?
By early spring, when lawmakers huddle behind closed doors to enact a new state budget by April 1, Buffalo-area lawmakers will be among those having to answer concerns raised by colleagues from elsewhere in the state about the wisdom for public money going to an NFL team.
First, some insiders say, they can point to state money going to downstate pro sports projects in the past. Second, they can point to Hochul's current spending spree benefiting lawmakers' districts around the state, especially downstate.
Sen. Tim Kennedy, a Buffalo Democrat and major backer of efforts to keep the Bills in Buffalo, said Hochul's spreading-the-wealth approach in recent weeks "will definitely" help if a stadium deal is included in the 2022 budget.
"There's no doubt in my mind that the governor demonstrating in every single area of the state that she is delivering important major financial victories, delivering resources to those communities, will bode well for us making a case for a new stadium in Western New York, as a priority for the fabric of the community but also for the economy of the region and the entire state," he said.
"We don't have to have the this upstate/downstate divide. We can all prosper," he added.
This all assumes the team, Erie County and state can strike a deal in time to include something in the budget, but officials have been increasingly optimistic about such a pact coming together.
"Certainly looking at the politics of it, there's a logic there that a governor always needs to make sure that they are distributing economic development dollars where they are needed," Sen. Liz Krueger, a Manhattan Democrat, said of Hochul's recent big funding announcements.
"In fairness, that's pretty much everywhere in New York State. New York City doesn't have the only needs in the state. Buffalo doesn't have the only needs," she said.
As chairwoman of the influential Senate Finance Committee, Krueger will be a major player in any stadium budget talks in Albany. In an interview last week, she expressed concerns about major public subsidies to a pro sports team, pointing to studies over the years in other U.S. cities that have found economic development and tax revenues seldom equal big public investments made in stadiums.
"The questions people should ask is 'Is that a reasonable use of the money? Is it the highest priority need given the demands all over the state, and what kind of funding structure will be used to pay back the costs?' '' Krueger said of any potential stadium deal.
"I have already voiced those concerns to the governor's office about the economics of stadiums around the country that have not actually proven to be wins from an economic development perspective. You don't get your money back. You don't create jobs,'' the senator said.
Kaehny, the Reinvent Albany head, believes the odds of a Bills stadium financing deal could rest more with what positions Hochul's opponents in June's Democratic gubernatorial primary take than the Legislature. So far, she is facing two challengers: Attorney General Letitia James and New York City Public Advocate Jumaane Williams, both from Brooklyn.
If those challengers can score political points with Democratic voters by criticizing a deal as a "giveaway to very rich Americans from the state and Erie County, which includes on of the nation's poorest cities" – then Hochul could find stadium obstacles rising. He said if Hochul's opponents ignore the stadium subsidy, it "seems unlikely the Legislature is going to put up too much resistance."
Duffy, the former Democratic lieutenant governor, said Hochul's funding announcements around the state are important for any Bills stadium budget lobbying campaign.
"I would expect when it comes down to decisions that colleagues from other regions will support her because she's been pretty good to them and their needs … It's not transactional politics; it's basic politics,'' he said.