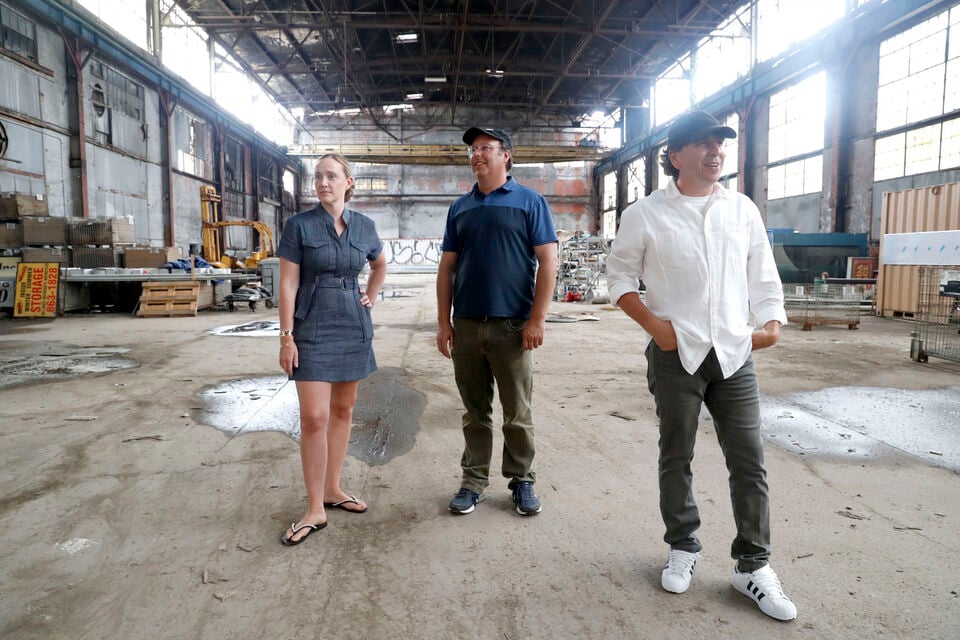 The Hallmark Channel founder who is helping bring a film and TV production studio to the West Side calls Buffalo "absolutely an ideal place to make television movies."
There are successful soundstages far from Hollywood's glow, from Newburgh and Long Island in New York State to Albuquerque, N.M.  
Industry insiders such as Hallmark Channel founder Robert Halmi say yes, given New York State's generous film tax credit, as long as the region cultivates strong relationships in the entertainment business and provides enticing stages.
You only have to look to the other side of the city for a good example of how it can work. Buffalo FilmWorks and its colossal-sized soundstages in South Buffalo is where "A Quiet Place Part II" filmed last year. The film starring John Krasinski and Emily Blunt generated an estimated $60 million worth of economic benefits to the area, and overall, film productions spent $76 million in Western New York in 2019, according to the Buffalo Niagara Film Commission. That marked a threefold increase over the previous high of $25.3 million in 2017. In 2011 that figure was $3.1 million.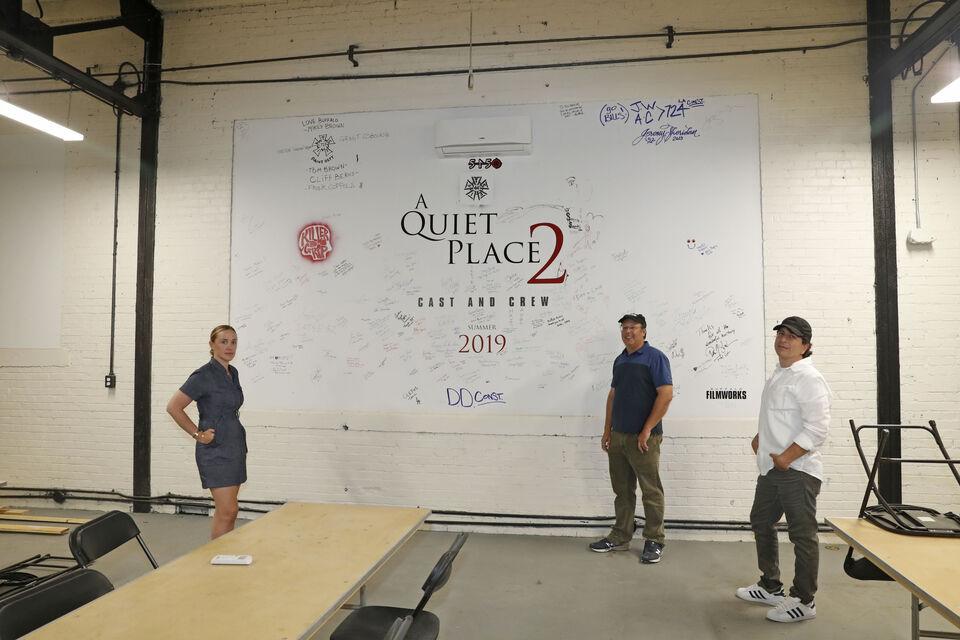 "With the new studio on Niagara Street and what we have here, you're looking at between 500 and 700 jobs when everything is up and rolling," said Kevin Callahan, a partner in Buffalo FilmWorks. "That's a new GM plant. That's a new Fisher-Price. That's the equivalent of having a giant manufacturer coming into town." 
Great Point Capital Management – a media investment fund run by Halmi and Fehmi Zeko – plans a $50 million full-service production facility expected to break ground in September on Niagara Street.  
The production facilities can succeed, Halmi and Zeko said, because of strong local and state support, experienced film crews, a successful track record in hosting filmmakers and the state tax credit that allows up to a 35% write-off on certain costs.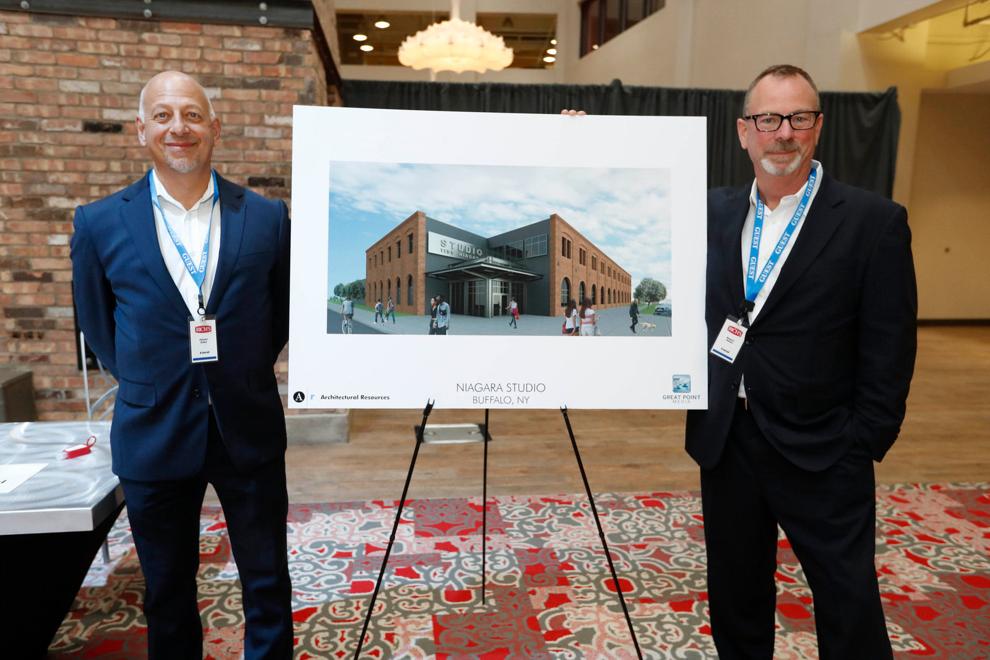 The West Side and South Buffalo soundstages – soundproof, hangar-like structures used for motion picture and television productions – could propel Buffalo to a whole new level in film and television productions, said Film Commissioner Tim Clark.
The challenge, Clark said, is getting the word out to production managers, producers and film studios that Buffalo is ready for them.
"We tick every box," Clark said. "There is nothing we lack now. It's just a recipe for a lot of movie productions and television productions coming out of Western New York."
Albuquerque Studios opened in 2007, nearly 800 miles from Warner Bros., Paramount, Universal Pictures and the other major Los Angeles film studios. 
Actor and Cheektowaga native Bill Fichtner remembers the impact its opening had, with casts and crews for big-budget productions suddenly making a trek to New Mexico. Fichtner was one of them: He appeared in films and TV productions over several years there, including "The Lone Ranger" and "Independence Day: Resurgence."
"When those stages went up in Albuquerque, it went absolutely crazy over night," Fichtner said. "They are the most incredible state-of-the-art soundstages I've ever been in, and I've worked in probably all of the big lots in L.A."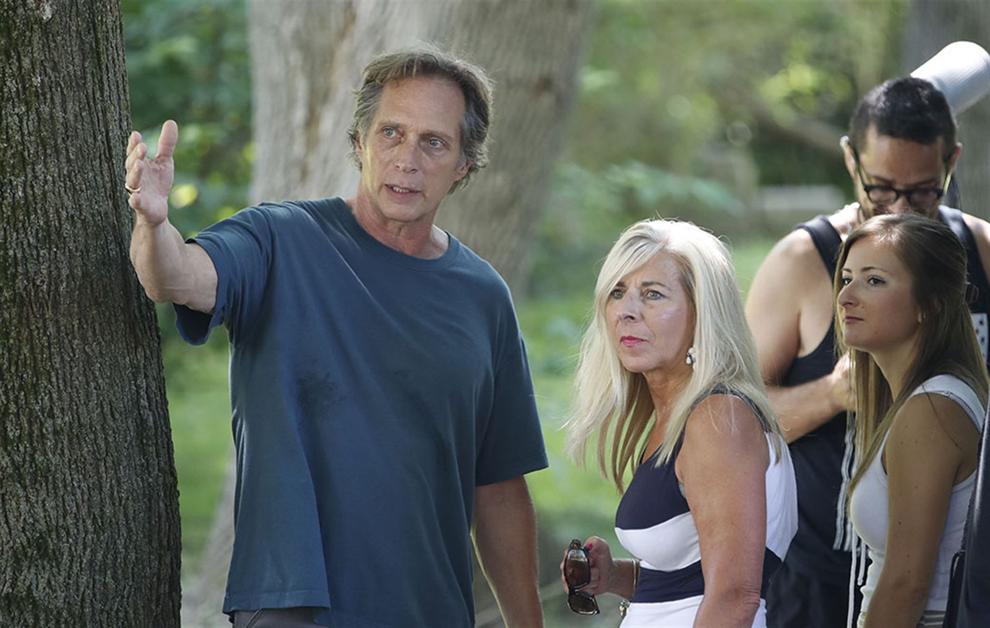 Don Gray, the location coordinator for the New Mexico State Film Office from 2006 to 2019, said the soundstage complex was built in Albuquerque after people recognized the increase in movies being shot in New Mexico and to take advantage of the state's 35% film tax credit. 
"What existed in New Mexico and what I see in Buffalo is that you have already established a bona fide film industry," said Gray, who lived in upstate New York while attending Alfred State College and is now director of film for Las Cruces, N.M. "You've basically answered the call on how to get a film industry here, and it doesn't seem like it's being overbuilt or underbuilt."
"But you can't assume if you build it they will come," Gray said. "There is still a lot of hard work in recruitment of productions. Buffalo's profile in Hollywood is probably not huge, so you have to keep working at it."
Fichtner said the new sound studios coming to Buffalo can have an immediate impact, too.
"Buffalo is a gem when it comes to shooting, and when you take what Buffalo has to offer, and in conjunction put a real soundstage in, it's huge," said Fichtner, who wrote and directed the 2017 movie "Cold Brook" that was filmed in Western New York.
South Buffalo's ample space
Buffalo FilmWorks adds to that equation, Fichtner said.  
"It's more opportunity," he said of the South Buffalo facility. "Productions sometimes need more than a single space, or two going on at the same time. It's nothing but good for the community."
A hulking brick building in the Seneca-Babcock neighborhood stretches the length of nearly three football fields. When it opens for business – it was expected to happen in 2021, before Covid-19, and now looks like 2022 – the cavernous space will become one of the longest motion picture soundstages in the world.
Stage 4 is one of four soundstages at Buffalo FilmWorks, which opened in 2018 in a former 19th-century rail car factory. Close to $3 million has been invested. Two of the soundstages in a second, metal-clad building were rented last year for Paramount Pictures' highly anticipated sequel "A Quiet Place Part II." And sets were built there for director Guillermo del Toro's remake of "Nightmare Alley."
A Universal Pictures' film being produced by Judd Apatow was going to begin shooting there in March but then the pandemic hit. Two other films were planned and possibly a TV series.
Partners Kevin Callahan, Jennifer O'Neill and George Pittas, all Buffalo natives, have invested in what had been a largely abandoned property purchased at foreclosure for $400,000 in 2016.
Though there aren't many bells and whistles yet, a 70-foot green screen was used last year to make "Bashira," an unreleased Japanese horror movie.
"When they show up their eyes open," Pittas said. "These are unique spaces in their size. They can build what they need to and get the lifts in here to build all their sets."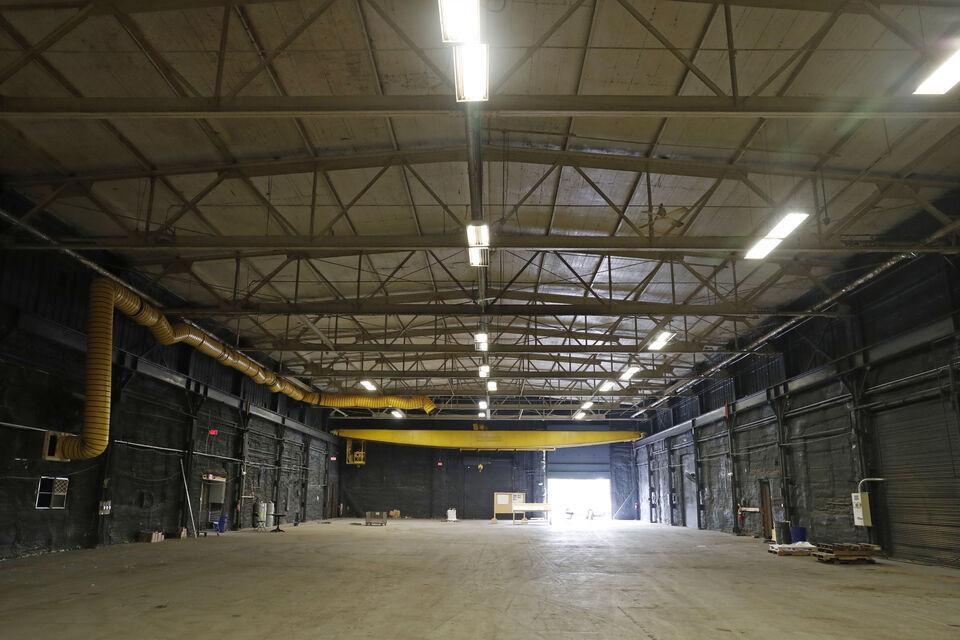 Space is not a problem. Two identical soundstages cover 18,700 square feet – 242 feet long, 70 feet wide and 24 feet high. A third ready to be used in August covers 4,000 square feet and is 50 feet tall.
The fourth stage, at 828 feet long, almost 100 feet wide and 54 feet high, will be the longest dedicated soundstage in New York State.
Getting "A Quiet Place Part II" to use the soundstages from late March to October last year was a coup for Buffalo FilmWorks – and it generated the biggest economic impact of any movie filmed here to date. 
"The impact was staggering," Clark said. "You can't imagine the paint, the lumber, the hotel rooms, the care rentals. It's money you just see blowing all over town."
Hotel room nights totaled over 12,000 alone, Clark said.
A 2020 grant for $600,000 from Empire State Development will be used toward the estimated $3.5 million cost to rehabilitate the giant soundstage, which needs a new roof, electricity, water, HVAC, soundproofing and restrooms.
O'Neill is confident it's only a matter of time before their soundstages are humming again.
"I think there is going to be a huge demand soon, and that demand should drive quite a bit of productions to Buffalo just because people will need to make content," O'Neill said.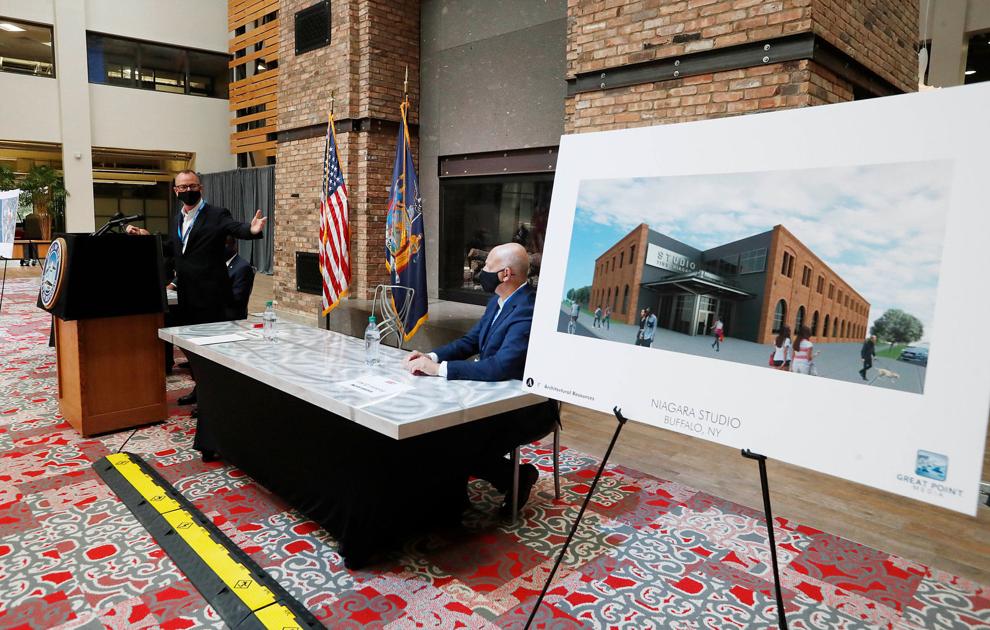 The soundstages coming to Niagara Street will complement what Buffalo FilmWorks is doing and bring added attention to Buffalo, she said.
"There is enough for everybody to work together," O'Neill said. "Our stages are more geared toward movies and they are going to be doing a lot of the Hallmark stuff. I don't think it's competition for us because I think they are going to fill it up by themselves."
The wild card is Stage 4, which Callahan said is big enough to build the facade of an entire city block for a blockbuster-scale movie.
Tony Glazer, a managing partner with Summer Crockett Moore of Umbra Sound Studios in Newburgh, said the biggest challenge for Buffalo will be getting the industry to appreciate what the city and region have to offer.
"You need a good marketing strategy to get your stages out there," Glazer said. "It's really getting the word out to places across the country that New York is a wonderful place to shoot. I'll tell you that by virtue of the soundstage being built that people are starting to listen."
Glazer, who directed the film "After the Sun Fell" in Buffalo in 2015, said city government and the film commission here do an exceptional job of supporting filmmakers and creating an environment that leads people in the film business to want to return.  
"I'm very pro-Buffalo," he said. "I had a great time shooting there. Everyone was supportive, the crew was fantastic and there were so many great locations. "
Umbra was "almost fully booked" since 2017, before Covid-19 ground productions to a halt, Glazer said. Amazon's "Big Dogs" was shot there. So was "I Know This Much is True" starring Mark Ruffalo.
Glazer expects steady business in Buffalo, too. 
"Buffalo has so much going for it that to have a soundstage like this will bring work from other states," he said.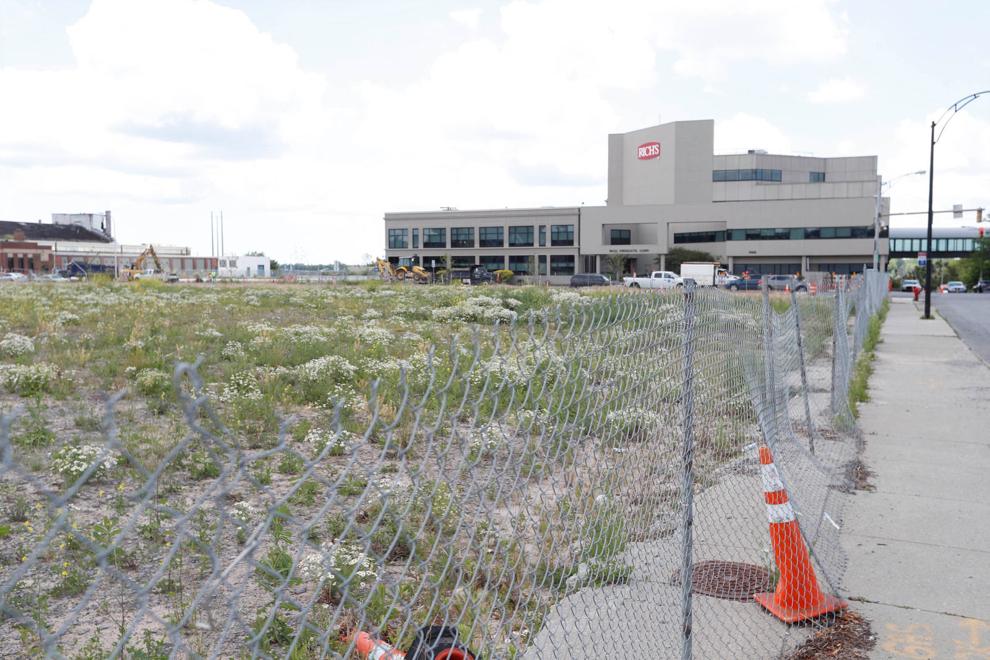 Gold Coast Studios on Long Island, which like Buffalo FilmWorks operates in a converted factory, has five soundstages that includes a 40,000-square-foot space with a 50-foot ceiling used to replicate Times Square in "The Amazing Spider-Man 2." "Ocean's 8," "Sisters" and the TV show "Heaven Can Wait" are among other productions made there.  
Lyndsey Laverty, the studio's principal, said it's critical to make the experience a great one for every production.
"The best advice I can give somebody is to treat the productions like they are your family," Laverty said. "This is a super-small industry, and if they are happy they want to come back."
Because of Gold Coast's proximity to New York City, the added competition forces Gold Coast to go to extra lengths, she said. While Buffalo is in a different situation, she said it will also want to do what it can to get noticed. 
"We really have to make ourselves stand out by having bigger stages, better stages, having them fully equipped with air conditioning, dressing rooms, hair and makeup," Laverty said. "We need to give people a reason to want to come out here."
'A lot of noise for Buffalo' 
The West Side production facility to be built at Niagara and West Ferry streets is slated to open in fall 2021 with a 20,000-square-foot soundstage. It is expected to be followed by a second one of the same size and 70,000-square-feet of office and support space.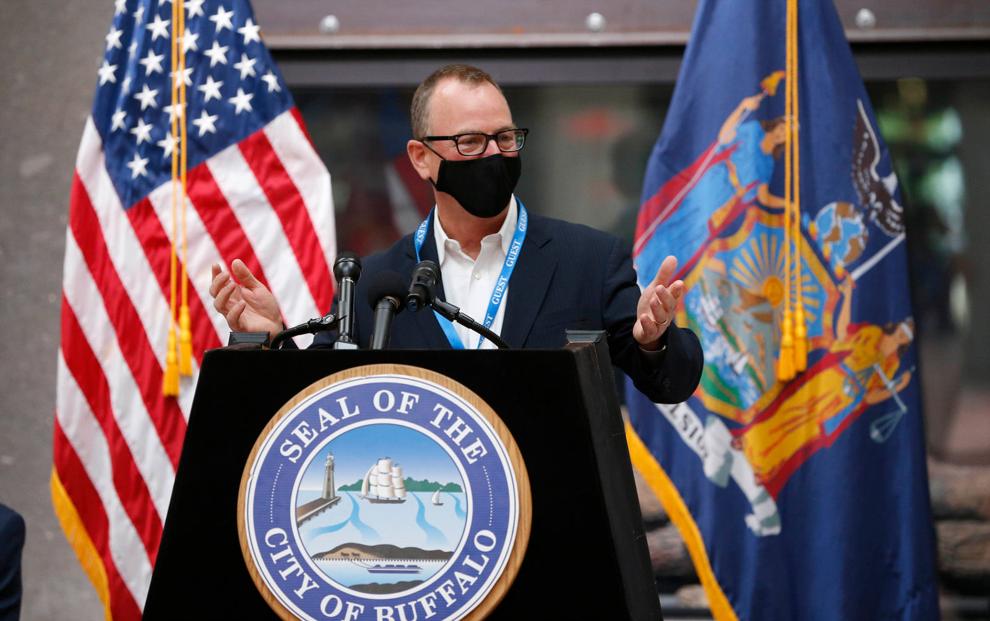 "We will have a couple of anchor tenants long before the building is completed that will be using the stage all the time," Halmi predicted. 
He's banking on television movies by attracting companies that make hundreds of them a year.
The latest in technology is planned, from a video wall and flying cameras to a portable horizon tank filled with water to film underwater scenes.
"It will open up Buffalo to films that would never be there without the studio," Halmi said.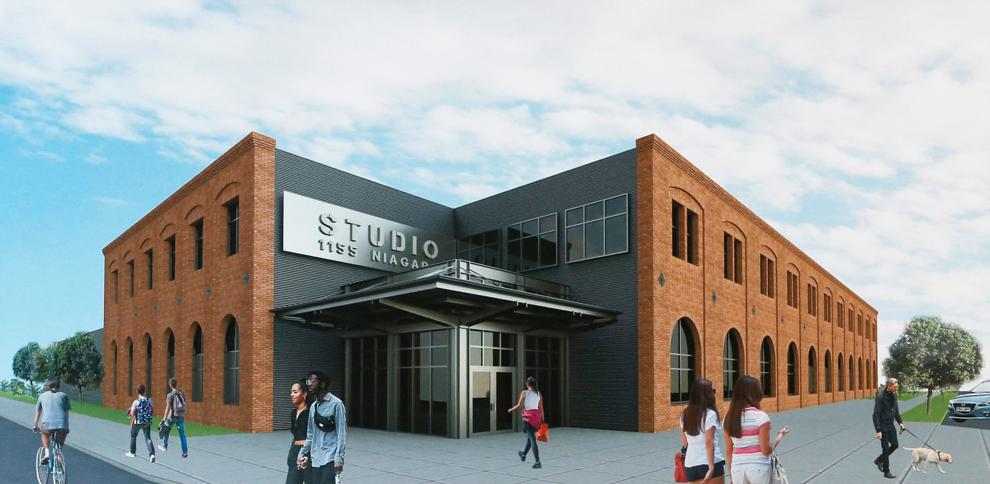 Halmi said he's focused now on a "a giant PR project" to inform large TV producers about "the opportunity of shooting in a purpose-built stage in Buffalo where you can really make anything."
If they come, Halmi said, a third and fourth soundstage could soon follow.
"They don't know how great Buffalo is and that the town itself has turned around and is actually a fun place to hang out. There is great art, great food, great places to stay," Halmi said. "I think this is going to create a lot of noise for Buffalo and more people will show up and make movies."
Mark Sommer covers preservation, development, the waterfront, culture and more. He's also a former arts editor at The News.