The 19th-century brick buildings at the southern end of the Cobblestone District have been in danger of collapsing since their owner was first hauled into Housing Court more than 10 years ago. 
Now they are emerging as a test of City Hall's get-tough policy.
The Canal-era structures are deteriorating as millions have been spent nearby to evoke the past at Canalside.
Mayor Byron Brown in December vowed his administration would "crack down hard" on owners not maintaining their buildings. His warning followed the partial collapse of a neglected Civil War-era building on Ellicott Street.
Preservationists and city officials call the Cobblestone District buildings Exhibit A for intervention.
"When we talked to the mayor about his get-tough policy, we gave him a list and said this is the one we want to go after first," said James Comerford, commissioner of the Department of Permit and Inspection Services. 
"This tiny block of the Cobblestone District represents, really, the last intact part of our waterfront related to the Erie Canal," said Jessie Fisher, executive director of Preservation Buffalo Niagara. "This is our last connection to that part of our heritage."
In Housing Court in March, the Brown administration asked that Darryl Carr, the owner, put $100,000 in escrow to hire a contractor to stabilize a building at 110-114 South Park Avenue if he didn't submit a plan to the city and name a contractor at the next hearing. The hearing was to have been in April, but was postponed due to Covid-19.
The city will look to intervene if Carr doesn't act. But that would require Housing Court Judge Patrick Carney to issue an emergency stabilization order.
Carr asserts parts of the building – with buckled and crumbling walls and weakened mortar – are too far gone and need to be removed to fit into his plan for a 55-story building on the site.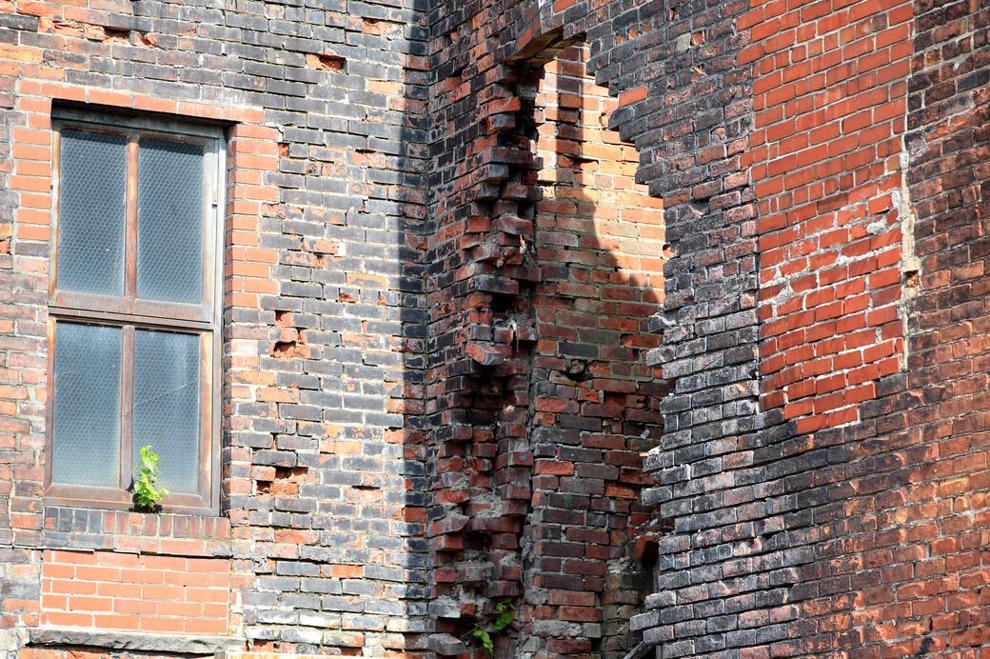 Carr said he has a plan to integrate most of the property into his Unity Tower at Cobblestone Place project. The futuristic design calls for a mix of condos, hotel suites, shops, a rooftop winter garden and panoramic restaurant, along with an addition to the Cobblestone Bar & Grill, all powered by wind-driven turbines, geothermal and solar energy.
"I understand where all the preservationists are coming from, and I never wanted to demolish all the buildings," Carr said. "But when I bought the buildings, I knew the center buildings needed to come down and the two buildings I could save were on South Park to incorporate into this project."
Carr said he could revise his plan to stabilize the building if Housing Court forces him to, but hopes the judge won't. He plans to propose the Unity Tower project to the Buffalo Planning Board in September.
History and Housing Court
The cluster of old brick buildings and stone streets in the small Cobblestone Historic Preservation District, designated by the Common Council in 1994, are bordered by Perry and South Park avenues and Mississippi and Illinois streets.
The landmarking was undertaken by preservationists to prevent owners of the-then new Crossroads Arena, now KeyBank Center, from flattening the buildings for parking. The buildings along the cobblestone streets were filled in the 19th and 20th centuries by metalworking shops, product manufacturers and maritime suppliers when Buffalo emerged as an industrial powerhouse and hub for grain storage.
Several buildings were redeveloped after the small district was saved. Office buildings housing state agencies and businesses, a rock club, a comedy club, a brewery, a distillery and an automobile restorer are located in the district. It's also home to Pegula Sports & Entertainment. The National Park Service in 2014 placed the Cobblestone District on the National Register of Historic Places.
Carr is majority owner of three of the 11 buildings left in the Cobblestone District.
He purchased the Cobblestone Bar & Grill in 2002, and it's mostly open during the arena's sporting events.
The other two buildings, in poor condition to begin with, have been vacant and deteriorating throughout Carr's ownership. 
Carr bought the three-story building at 118-120 South Park in 2003. The 1869 building was originally home to the Brown & McCutcheon Buffalo Brass Foundry. A succession of blacksmiths followed for nearly a century. Carr purchased the building for $150,000 shortly after the death of Edward Rudnicki, whose Buffalo Blacksmithing shop had been a mainstay for nearly 50 years.
The four-story building at 110 South Park – a series of buildings added on over the years that extend nearly halfway down Illinois Street – was purchased by Carr in 2008 for $500,000. The 1852 building, with cast-iron moldings and sills and a cast-iron storefront, was first home to George Mugridge & Son Steam Bakery. The company made hardtack – a type of biscuit – for the Union Army during the Civil War.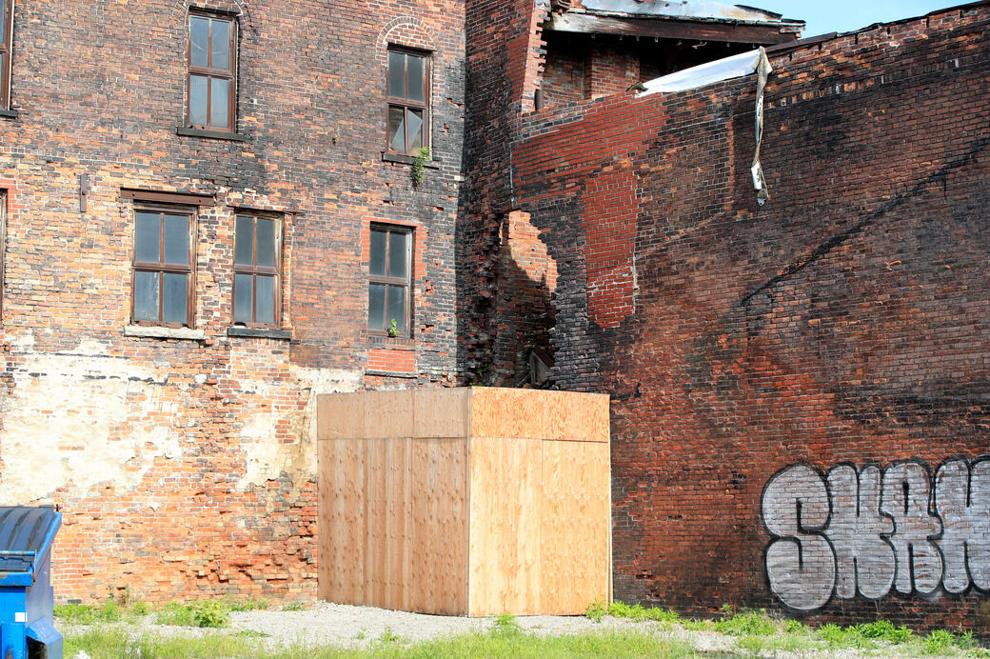 Carr bought the building from the Phoenix Die Casting Company, which closed its decadeslong operation that included a machine shop in the front half of the building and a foundry in the back.
While the buildings have sat idle, Carr has been brought to Housing Court a number of times between 2009 and 2020 for failing to maintain the two vacant buildings.
Seven separate court actions have occurred at 118 South Park – two in 2009 and five in 2015, when Carney ordered Carr to mothball the building by repairing the roof and sealing the building from the elements. Carr said he spent around $30,000 to comply, but two exposed brick walls facing an alley have continued to crumble.    
In 2010, Carr got the city's approval to demolish the "smithy," a corrugated metal and fireproof 1937 addition to the blacksmith shop.  
"That happened with full knowledge of the Brown administration and should never have been approved," said Tim Tielman, executive director of Campaign for Greater Buffalo History, Architecture & Culture. 
Housing Court actions in 2013 and 2015 forced Carr to make masonry repairs and take other stopgap measures at 110 South Park. 
The city says more needs to happen.
"We have to do a stabilization," said Comerford, the permit and inspection commissioner. "It's the only thing that is going to save this building right now."
Fillmore Council Member Mitchell Nowakowski calls it "demolition by neglect."
"Inspections has done its job, written it up appropriately and given all the documentation that is needed by the court," Nowakowski said about 110 South Park. "Housing Court is to blame for this. It is the court to remediate these issues and hold landlords accountable for their properties, and this has been a perennial problem for over a decade."
That sense of frustration is shared by the Cobblestone District Business Group.
"You look around the neighborhood and see what's gone on, starting from the other end of the block to Canalside to Ohio Street, and then you have this in the center of it," said Daniel Young, who works in the district as a planner with CPL: Architecture, Engineering & Planning.
Developer Sam Savarino is concerned about water getting into the building. Falling bricks, he said, have worsened in recent months. 
"As someone who has invested tens of millions of dollars in this neighborhood to preserve other buildings around here, it's disappointing and sad that the most historic buildings in the most historic district have been in disrepair before our eyes and nothing has been done about it," Savarino said.
"We just want the building preserved, hopefully developed and returned to its natural beauty," added Mary Beth Popp, vice president of communications for Labatt USA.
Carr dismisses criticisms
Carr, a self-employed environmental scientist, said he had a vision to build a green energy condominium and hotel when he purchased the building a dozen years ago. 
He doesn't plan on complying with the city's request to put $100,000 into an escrow account to hire a contractor to stabilize the building.
"The bottom line is, everything that is happening is basically all smoke," Carr said. "Because when the smoke clears we are going to go ahead with the project."
Carr concluded part of the building on Illinois Street would have to be demolished when he purchased it. He believes he is being blamed for the failure of past owners to maintain the property. 
"They didn't heat 110 South Park or do anything for over 50 years when I bought them," Carr said.
Carr said the building had a caved-in roof and other damage from the furnaces that smelted aluminum, aluminum alloys and magnesium. 
Jim Hohensee, who for the past 35 years has operated a specialty automotive restoration shop on Illinois, agrees the problems began long before Carr.
"The building was probably neglected long before the current owner, long before the owner before him, and long before that," Hohensee said.
He called the work Carr has done up to now a "Band-Aid."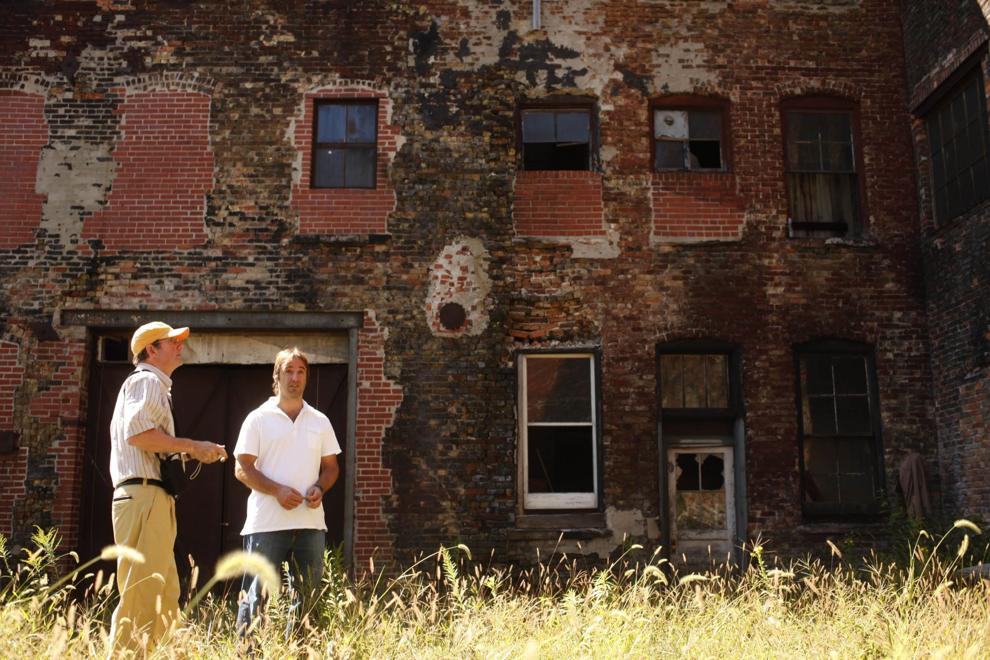 Carr's plans call for retaining the two corner buildings at 108 and 110 South Park. But the frailty of the buildings will require keeping the facade but taking down the rest of the walls so they can be reassembled with fresh mortar, Carr said.
Artistic renderings for Carr's project show the buildings with an enclosed rooftop garden. Two buildings along Illinois would be removed to make way for Unity Tower's entrance.
Carr will need a height variance from the Zoning Board and approvals from the Preservation Board and the Planning Board. He said he's confident about his chances.
Carr, who said he has invested his life savings in the project, knows many will see the skyscraper project as a pie-in-the-sky undertaking.
"Darryl's a dreamer and we certainly need dreamers, but I think he's dreaming a little too beyond what's possible," Hohensee said. "I can't see that fitting into the neighborhood."
Carr, who is not a developer, disagrees. 
"If they want to say I can't do it, well they said that about Elon Musk, too," Carr said. "Elon Musk never built a spaceship or traveled to space. That's someone who followed his dream. If you don't have a dream to follow you're not going to go anywhere."
Tielman doubts the plan will ever be more than sketches on paper. 
"It's laughable, and any developer in Buffalo knows that," Tielman said. "Buffalo would be better served if Housing Court and the Brown administration would compel him to fix that building."
Mark Sommer covers preservation, development, the waterfront, culture and more. He's also a former arts editor at The News.