A state agency's vote today approving $13 million toward an Outer Harbor project means construction and landscape work could soon start, barring any legal setbacks, on converting 8 acres into an events and concert space.
The project by the Erie Canal Harbor Development Corp. calls for a canopied stage to front the former Terminal B building, which will be reduced to its metal frame to create an open-air structure with a view of Lake Erie in the background. The ground in front is also planned as a staging site for cultural festivals, charity runs and special events.
"First and foremost, we're talking about opening up 8 acres of additional waterfront, which I think is really important," said Steven Ranalli, president of Erie Canal Harbor Development Corp. 
The plan also calls for a sloped lawn for viewing the stage. To do that will require a copse of trees to be cut down and the removal of invasive species that overrun the site. Trees and other habitat plantings to provide greater biodiversity will be planted in that vicinity in 2023, one year before the project is expected to open to the public. 
The project drew a court challenge in June from three organizations that want the Outer Harbor dedicated to passive recreation, such as walking and bicycling.
Some of the organizations were willing to accept a bandshell for small music events at that location, but they object to the agency's plan to allow summertime concerts for up to 8,000 people. They're also concerned about the removal of trees. 
The terminal and asphalt in front of it cover 3 of the 8 acres. That part of the project area and 5 acres of land around it are off-limits to the public. There are no trails on the land, and a fence surrounds Terminal B.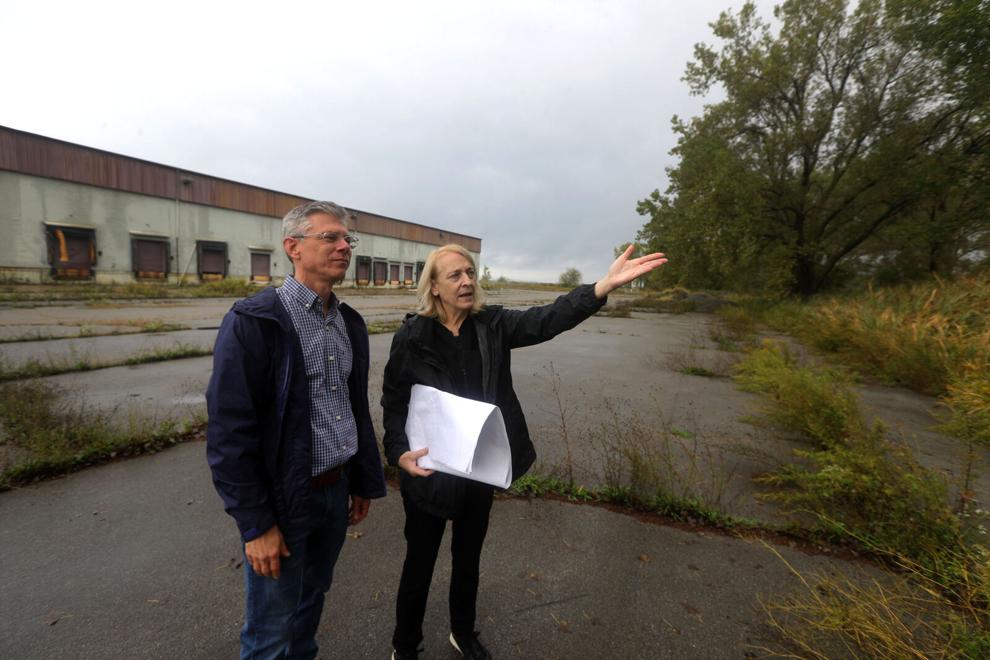 The Outer Harbor rests on a landfill from dumped material dating back over a half century ago. The site has no soil, said Kathryn Wolf, a landscape architect with Fisher Associates in Ithaca, who helped develop the site plan. 
"It's biologically bankrupt," Wolf said. "Everything is stagnated and can't move forward because there are no conditions that allow ecology to move forward on its own."
The trees to be removed are cottonwoods and other poplars, black locusts and the invasive buckthorn. 
"What you get are opportunistic plants coming in," Wolf said. "There are only a few other species, and the conditions are so poor that natural succession isn't even occurring."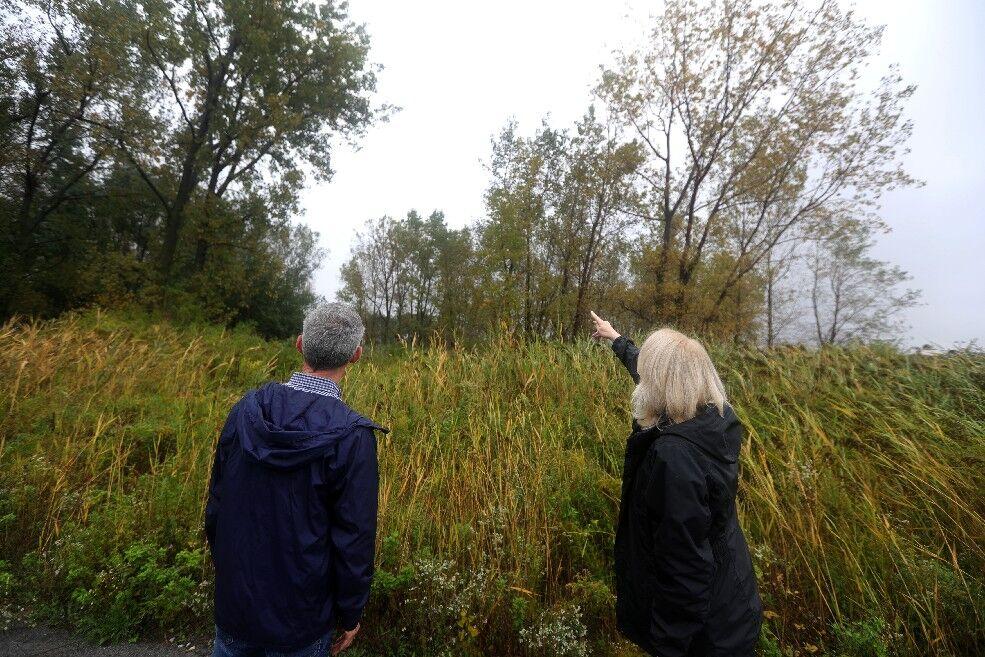 The tall reeds of grass that predominate are phragmites, an invasive species.  
"It's one of the worse invasive species," Wolf said. "It takes over wetlands and destroys them. It is so aggressive, so a part of this project is a program to remove them and then contract to treat them."
Wolf's plan calls for replacing what's removed with more plantings that will, over time, create a seed bed from native plants that with nurturing can spread and allow native ecology to gain a foothold. That's beginning to happen in small, fenced-off habitat areas by the nearby Lakefront Bike Park. Wolf said some of the areas will be "quite developed" in 10 years.
"The plants we are replacing them with are much higher-quality plants," Wolf said.
The native trees to be planted among the 178 planned include oak, maple, basswood, hickory and white pine. The plans also call for 195 shrubs, 365 perennials and meadow mixes, with many providing berries and seeds Wolf said will benefit birds and insects. 
There will also be locally sourced plants put in a couple of deer-exclusion zones, which Wolf calls "hyper-local."
"A red maple that was originally from the Buffalo region, for instance, will have certain characteristics and nuances different from a red maple growing naturally in Pennsylvania or Ohio," Wolf said.
Ranalli knows the removal of mature trees is controversial.
"People don't want to see these large trees removed, but the reality is these are at the end of their life," Ranalli said. "They are starting to fall down, limbs are breaking off and eventually they will become a hazard." 
Ranalli said he often hears that habitats will naturally improve, but he said that hasn't happened. 
"The reality is this area has been here for 60 years, and this is what you get after 60 years," Ranalli said. "There are no conditions that support a healthy habitat."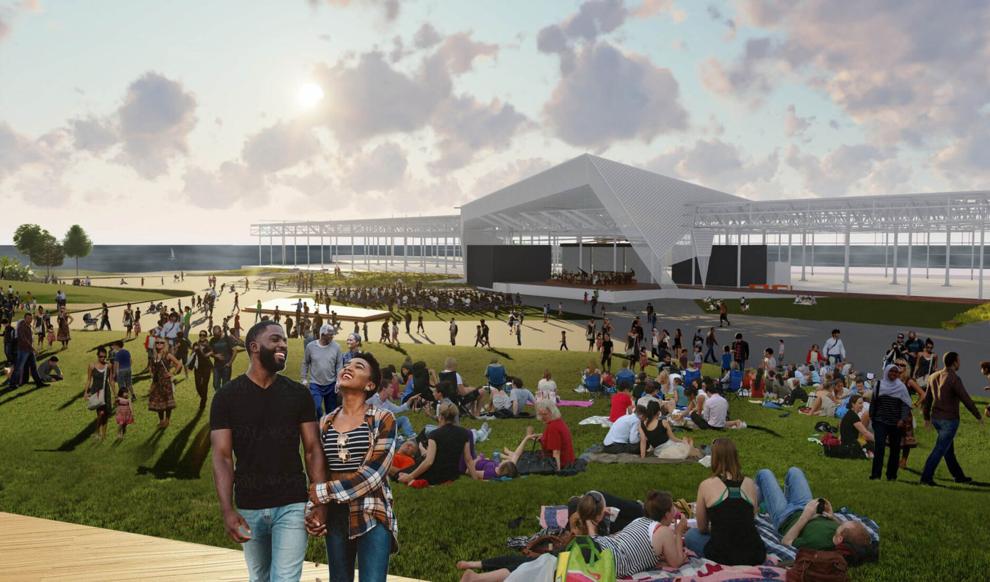 Some members of the Our Outer Harbor Coalition are skeptical about the ecological assessment. 
Jay Burney, who is also chairman of the Friends of Times Beach Nature Preserve, said it's possible the trees are unhealthy and the ecology is too degraded to keep. But he said the waterfront agency hasn't presented evidence to back up those claims or revealed what will be planted. 
"They might be right that it is worthless ecological territory," Burney said. "I don't think so, but if they have a plan it would be worth letting the public have a look and make comments on it," Burney said. "It might accelerate people's concerns or it might tamp down people's concerns." 
Burney also wonders what the impact of construction, demolition and reconstruction will have on birds that fly to the Outer Harbor. The Niagara River Corridor is designated a Globally Significant Important Bird Area. 
Three organizations – the League of Women Voters of Buffalo/Niagara, the 21st Century Park in the Outer Harbor and the Western New York Environmental Alliance – filed a lawsuit in State Supreme Court in June seeking to halt the project. They charged Erie Canal Harbor Development Corp. with failing to do an environmental impact statement before it approved the project plan in November 2020.
The suit also takes the city to task and claims only the State Legislature has the authority to approve a music pavilion. 
Margaret Wooster, a coalition member and the author of the newly released "Meander: Making Room for Rivers," which has a chapter on the Outer Harbor, said putting an amphitheater in the area is the only reason the merits of the site's ecology are being discussed.
"They are bent on a use for a portion of the Outer Harbor for which it is totally unsuited," Wooster said.
"We are opposed to taking down the trees, and a plan that requires people sitting on a lawn that will need pesticide spraying for mosquitoes, which will affect beneficial insects in a lakeshore environment," Wooster said.
The warehouselike Terminal B occupies 97,148 square feet, and it will undergo a major transformation. When the building is reduced to its skeletal frame, the public will be able to walk through and see the lake.
Two small buildings – one for a green room for performers, another for mechanicals – will be built inside the space.
An area that runs the length of the building, several feet from the water's edge, will remain closed until repairs are made to the sea wall. That's expected to be addressed in a later phase, Ranalli said.
That's also the case for a proposed elevated walkway to the roof, which would serve as an overlook, he said.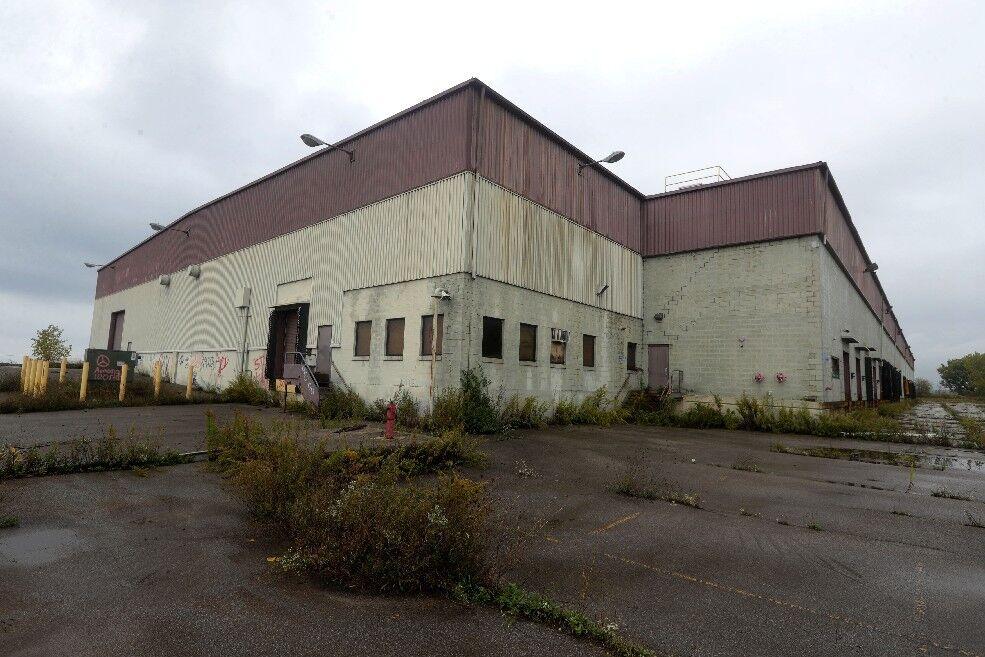 Construction is expected to cost $7.3 million, with an estimated $750,000 to $1 million spent on the stage, Ranalli said.
The material directly in front of the building will be repurposed asphalt with fine granular material to help make the site feel like a plaza, and include a cut-out of green turf, Ranalli said.
The site is contaminated to varying degrees, Wolf said, but tests showed it's not dangerous to the public.
"It's nonhazardous contamination which, with a soil cover, is considered safe for all of the uses being considered," she said.
Mark Sommer covers preservation, development, the waterfront, culture and more. He's also a former arts editor at The News.