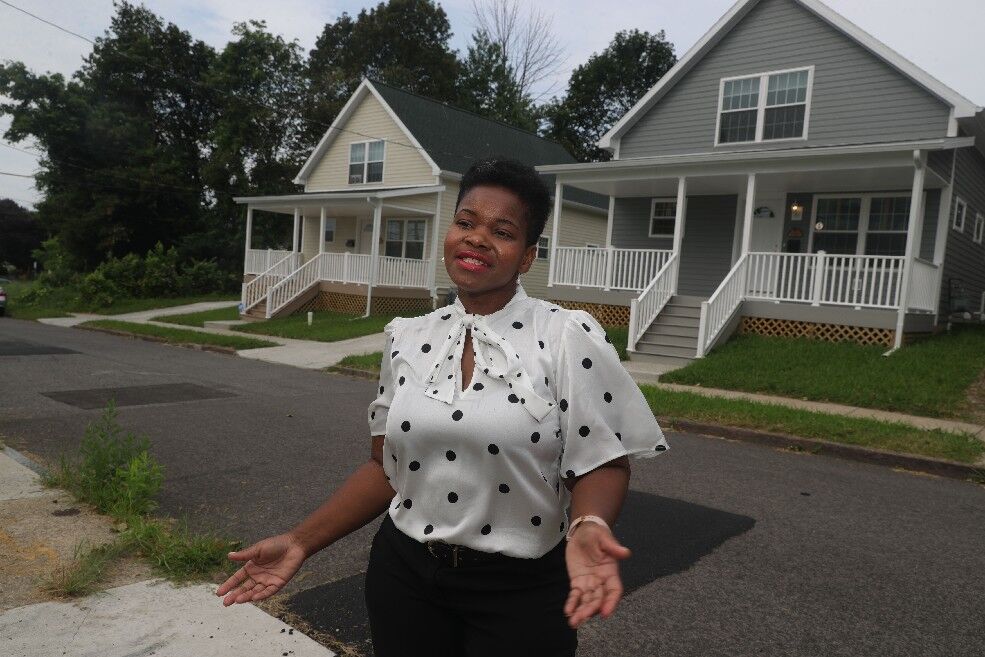 Nearly a decade ago, Fruit Belt residents feared they would be priced out of their longtime homes by the fast-growing Buffalo Niagara Medical Campus.
So they seized on the concept of a community land trust to take control of the neighborhood's future. 
That effort, funded by an $800,000 grant, is now a focus of Buffalo's mayoral campaign, as Democratic nominee India Walton promotes land trusts as a key tenet of what her housing policy would be.
Walton cites her work as founding head of the Fruit Belt Community Land Trust as evidence of her experience, and she sees the organization as a model to protect residents from gentrification in the city's other neighborhoods.
Citing the land trust's motto of "development without displacement," she has called for a citywide federation of such independent entities, as part of a platform focused on workers, lower-income residents and the disadvantaged. And she says that's central to her housing and development strategy.
"I look forward to being able to expand the model to other neighborhoods that are really in need of affordable housing and infill housing," Walton said in an interview.
Her opponent, four-term Buffalo Mayor Byron W. Brown, has questioned the group's accomplishments, noting the land trust's only completed work to date – two new single-family homes on Rose Street – were built by Habitat for Humanity, under a partnership with the trust.
"I'd like her to explain how she was such a successful director of the Fruit Belt Land Trust that built not one single house," Brown said during a recent debate. 
Besides the two Habitat houses, the Fruit Belt land trust also focuses on helping existing homeowners rehab and stay in their homes, while partnering with a Dunkirk-based nonprofit to build 50 units of affordable housing in the neighborhood.  
Walton cites her success with raising money for the Fruit Belt group, although it received most of those dollars from a one-time grant, not community donors.
As executive director – her first time in such a role – Walton was the only full-time, paid employee. She reported to a board of directors but did not have check-signing authority, which was handled by the board president and treasurer. The organization shares office space and relies on work from a couple of AmeriCorps VISTA volunteers. 
"We were always very careful about the way funding was allocated, how it was spent, and who touched the money," Walton said. "This was a job that pretty much consumed my life. I used my personal cellphone, my personal vehicle. There was not a lot I stood to gain personally, aside from starting something."
Formally launched in 2018, and initially led by Walton, the Fruit Belt Community Land Trust seeks to ensure the neighborhood's housing remains affordable for its longtime residents, while allowing new development to occur.
Buffalo mayoral candidate India B. Walton's solution to housing issues in Buffalo doesn't depend on profit-seeking developers. She's not saying they can't be involved, but her policy wouldn't rely on them.
Land trusts are often confused with land banks, such as the Buffalo Erie Niagara Land Improvement Corp. A land bank is a public nonprofit or governmental entity that acquires and converts vacant or abandoned properties back into use.
A community land trust, by contrast, is a private nonprofit that holds property in perpetuity for a specific purpose. It's typically used for affordable housing or other community uses, with local residents controlling the organization and the land.
It works by acquiring properties and offering 99-year ground leases on them, which allows individuals or developers to own the houses or buildings on top, while locking the subsidy into the house instead of a government mortgage.
That way, the house remains discounted for the next buyer and the community retains ultimate authority.
The Fruit Belt trust received initial funding through Common Council President Darius Pridgen for general operating and startup costs, and seed money through PUSH Buffalo to buy land. The John R. Oishei Foundation provided board development and other training, but no funding. And the Catholic Campaign for Human Development provided $75,000 a year for two years.
The bulk of the trust's program dollars came from Enterprise Community Partners, a New York City-based nonprofit, using funds the state Attorney General's Office obtained in a settlement with major banks. Enterprise awarded $800,000 to the local organization in October 2019, as part of a statewide Community Land Trusts Initiative to build up six entities across New York.
Walton worked out of her office at Open Buffalo, a social and economic justice group on Jefferson Avenue where she was already employed as a community organizer. Open Buffalo served as a fiscal sponsor for the land trust – handling back-office administration and paying Walton a $60,000 salary as its employee, before getting reimbursed by the trust. The Service Collaborative of Western New York oversaw the AmeriCorps volunteers.
The land trust's current interim director since Walton left a year ago – Stephanie Simeon – serves in the same role for Heart of the City Neighborhoods, an older nonprofit with an overlapping mission, where she has worked for 14 years.
Develop without displacing
Sitting on the edge of the Medical Campus, the streets of the Fruit Belt are still overwhelmingly residential and owner-occupied. But they are pockmarked with vacant, grassy or debris-strewn lots alongside century-old homes. Those lots and other properties have caught the eye of developers and institutions, driving up property values over the past 20 years.
As Oishei Children's Hospital was built and other developments took place on or near the Medical Campus, "folks felt like they were being trampled over," said Zaid B. Islam, a neighborhood resident who became the founding chair of the land trust.
Residents and representatives of a half-dozen neighborhood groups argued about how to approach the issues, before coalescing around the land trust.
"The land trust was really born out of the thought that the Medical Campus was coming in whether we like it or not," said Walton, who lived in the Fruit Belt at the time. "High-income earners were coming, whether we like it or not. We actually welcome that, but not in the sense that it's going to displace or cause hardship for the people who have already been here."
She and others initially took aim at parking protections to prevent Medical Campus workers from swamping neighborhood streets. Then they restarted discussions about using land as leverage to get community benefits agreements from developers.
Any agreements to help residents would be moot if they couldn't afford to live there. So attention shifted to using the land to keep people in place and create a mixed-income neighborhood.
"That's what we believe creates healthy communities," Walton said.
"We are not opposed to development. We just want to be included, and I don't think it's unreasonable to have that expectation," she added. "Every development that happens in this community should benefit the community in some way."
Using funds from the Enterprise grant, the land trust pursued three programs:
• It partnered with Habitat to build two houses at 162 and 166 Rose St., using four vacant lots. The houses cost $193,000 each to construct, with support from Kaleida Health and M&T Bank Corp., and $50,000 per house from the land trust to lower the purchase price to $150,000. Both have been completed by volunteers and sold to new owners. 
• A new owner-occupied "opt-in" renovation program to offer 10-year forgivable loans of up to $50,000 each for existing homeowners who want to renovate their houses. Residents would still own their homes but the trust would possess the land under 99-year ground leases. Heart of the City helped identify candidates, and the program proved popular, with homeowners on Rose and Lemon streets participating so far.
• A partnership with Dunkirk-based Southern Tier Environments for Living to construct a 33-unit apartment building on High Street, plus five three-bedroom duplexes, one two-bedroom duplex and five single-family homes on four streets. In all, the $20 million project would create 50 housing units on 27 city-owned parcels, for which the trust has already been named designated developer. All will be rentals for now, but the duplexes can be converted to private condo ownership after 15 years.
The grant from Enterprise Community Partners was slated to expire in August but has been been extended to March 2022 because of the Covid-19 pandemic – as with almost all of Enterprise's grants statewide. But the larger nonprofit is pushing its grantees to spend the money quickly, so Simeon is working to get it out the door quickly.
Simeon provided The Buffalo News with a budget for those funds, saying all the money is accounted for. Specifically, $100,000 was allocated for the Habitat houses, $100,000 for salary and administration, and $600,000 for the rehab program – "the fastest way I could" use the grant.
"My job was just to make sure that we spent it accordingly, and to set procedures and frameworks in place so that anybody that comes in, we can show them the charges and accounts," she said. "Everything's been reconciled."
So far, the land trust has drawn and spent $287,746 from the grant – $100,000 for the two houses, $117,746 for the rehab program, $54,375 for salary and benefits and $15,625 for community enrichment and engagement. That leaves more than $500,000 remaining for the trust's programs.
To be sure, not everything has gone smoothly. "It's a learning curve for people on the board who have never been part of the development process," said Islam, the trust's founding chair. "It's a learning process for what's real and what's not."
Elizabeth Zeldin, director of Enterprise's Neighborhood Impact Program, said her agency's project manager checks in with the land trust at least every other week, and monitors quarterly reports and expenses to make sure funds are being used as originally agreed upon.
"They've been performing fine," Zeldin said. "Everything looks like it's on the up and up."
Simeon acknowledged she first had to clean up the young organization's governance, policies, procedures and books – not because of impropriety but to ensure proper fiscal management.
"We had to tighten those things up," said Simeon. "That was the first order of business, to reach out to all the funders, and make sure they have all the reports. Everything's up to date."
Walton and Simeon say they are confident in what they accomplished, and eager for more. The trust is undertaking an affordable housing project with a Dunkirk nonprofit to bring 50 apartments and town homes to the Fruit Belt.
"This organization is about supporting the community that got us started," Simeon said. "Our goal is to make sure we're preserving affordability."
With the Enterprise grant being spent, Simeon is raising additional money and bringing on new staff, in preparation for a new executive director to be hired.
"We've drawn down on the funding significantly and now we're in a position to show what we've been able to do," she said.