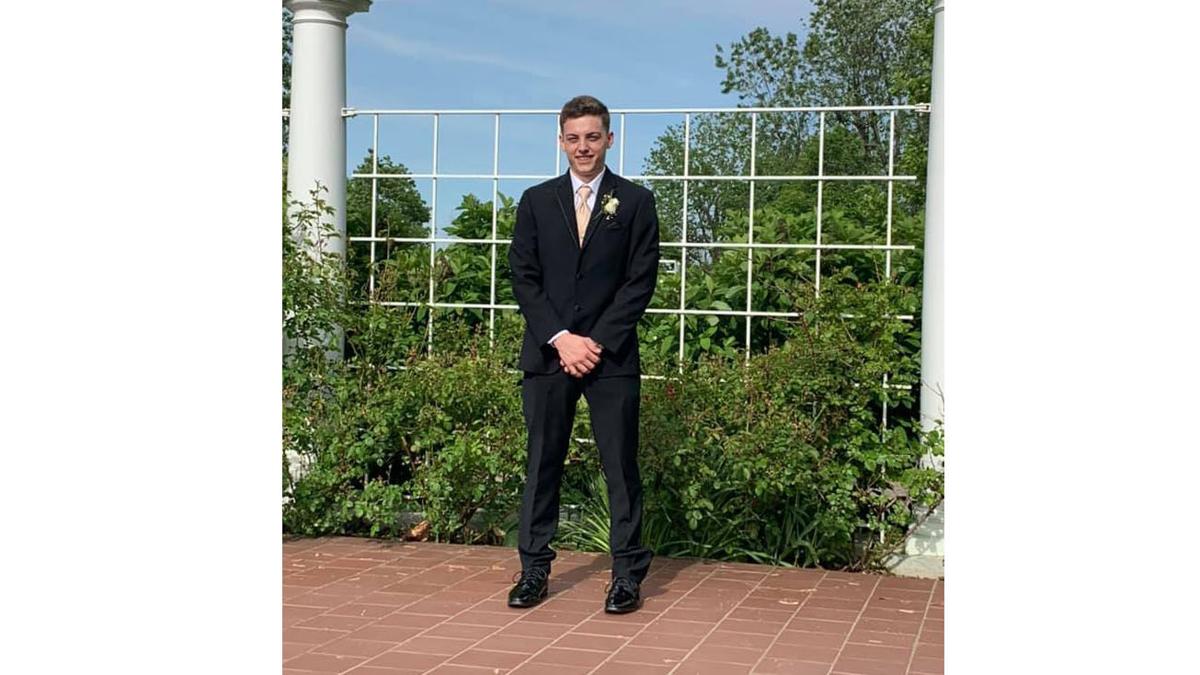 Edward J. Travis IV and Elizabeth Rybarczyk were driving Saturday morning to a fundraiser in memory of a boy who died in a plane crash when Travis was killed and Rybarczyk seriously injured in a two-car collision on Southwestern Boulevard in West Seneca.
Travis agreed to volunteer at the fifth annual James Metz Memorial 5K in Lancaster as part of his community service requirement for a government class at Frontier High School, and Rybarczyk, his girlfriend since early 2018, joined him.
"Eddie and Lizzy were going there to help set up, and they were going to hand out water bottles during the day," said Travis' mother, Lisa. "This had nothing to do with prom."
Metz, who was a 14-year-old freshman at Lancaster High School, died in 2014 when the small plane he was riding in collided in midair with another plane. Metz's family set up a memorial scholarship fund in his name.
Travis, 18, was preparing to graduate and start a full-time job at a local excavation company. Rybarczyk, 18, a 2018 Frontier graduate, recently completed her first year of college. The couple spent Friday night together at the Frontier senior prom in the Hyatt Regency in Buffalo and went bowling with friends afterward.
"We sat at the same table and we had a great time," said Frontier senior Emily Niedbalski, a friend of Travis.
Investigators have not determined a cause of the crash, which was reported around 8 a.m. Saturday near the Southtowns Family YMCA on Southwestern Boulevard.
Travis was driving a 2005 Chevy Impala eastbound, when police said the vehicle crossed into the westbound lane of traffic and was struck by a 2018 Jeep Compass being driven westbound on Southwestern by Russell Desiderio, 62, of Cheektowaga, according to a preliminary investigation. Desiderio and his wife, Kim, 60, were taken to Erie County Medical Center, where they were treated and released.
Rybarczyk was in stable condition in the intensive care unit at ECMC. Travis was ejected from his car and pronounced dead at the scene, police said.
The Travis family declined to comment directly on the accident. They said a fuller accounting of what happened wouldn't be known until investigators were able to speak with Rybarczyk.
Becca Travis said her younger brother was a safe and conscientious driver who always used a seat belt and did not text while driving.
"He never drank. He was never into drugs. He did not smoke," said Becca Travis.
He went to Stevens Driving School to learn how to drive, and there were strict rules in the house against any unsafe driving practices, said Lisa Travis.
Becca Travis said she often trusted her brother to drive with her two young children in the car.
A steady stream of family and friends visited the Hamburg home of Lisa and Edward J. Travis III on Sunday to share memories of their son, who went by "Eddie" and was remembered as a responsible young man with a big heart and a contagious smile.
"Eddie made sure everyone had a smile on their face and everyone was taken care of," said Becca Travis. "He wanted to be friends with everybody."
At Frontier, he was friends with just about every student, said Niedbalski.
"He knew everybody. He touched the heart of everyone. He was an amazing kid," she said.
Travis and his sister were especially close. They received matching tattoos on his 18th birthday. Becca's featured a sun, Eddie's a moon. "I was his sunshine and he was my moonlight," she said.
Eddie Travis regularly babysat his 3-year-old nephew and 2-year-old niece, she said. Earlier this month, he volunteered to come to her home at 5:30 a.m. to care for the kids so she could go to work at a new job, she said.
"Anytime I needed him, he was there," she said.
Eddie Travis worked part-time in the shoe department at Sears in the McKinley Mall. He played ice hockey and baseball for many years.
His father said he was considering attending Erie Community College next fall. He ultimately decided to take a full-time job at an excavation company, while still leaving open the possibility of college down the road.
The job was offered by the construction systems teacher at Frontier, who is a partner in the company and thought highly of Eddie, according to Edward J. Travis III.
Eddie Travis and Rybarczyk were so serious about their relationship that they had been looking for an apartment together.
"They were basically inseparable. They spent all of their time together," said Becca Travis.
The Buffalo News: Good Morning, Buffalo
The smart way to start your day. We sift through all the news to give you a concise, informative look at the top headlines and must-read stories every weekday.