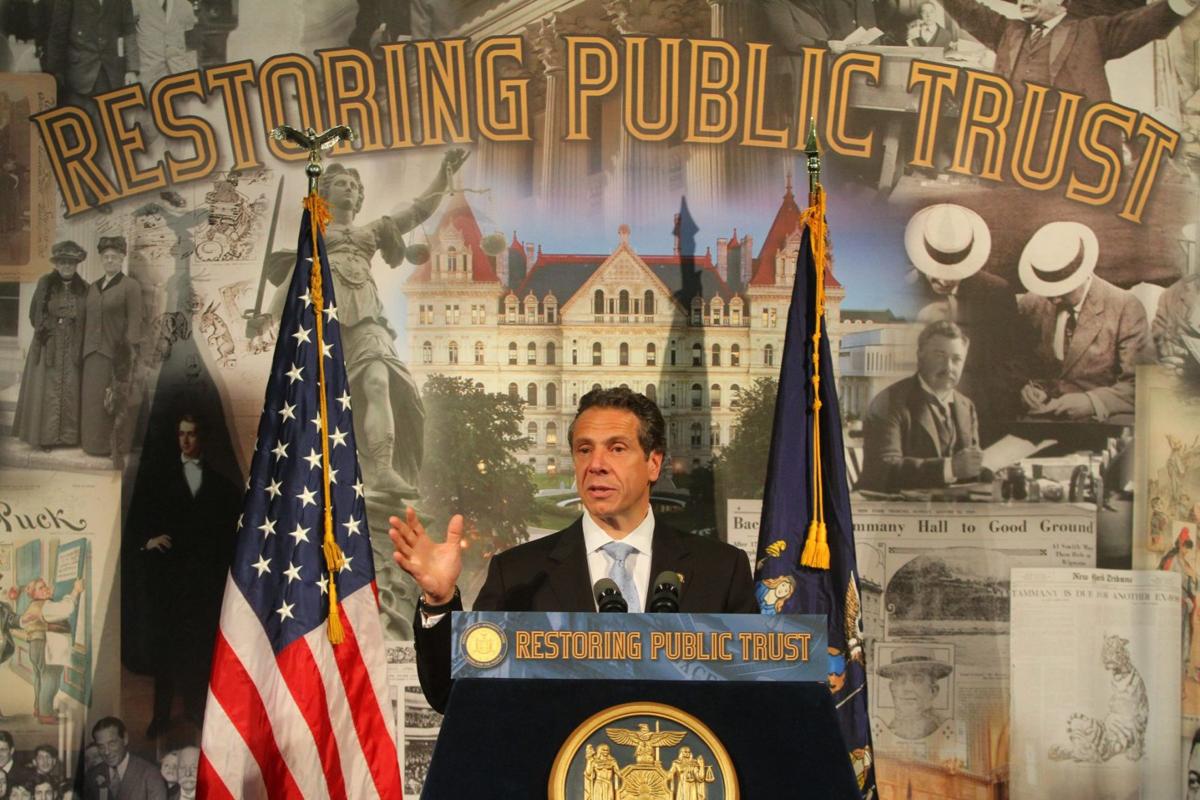 ALBANY — As Gov. Andrew M. Cuomo enters the final phase of his September Democratic primary campaign against challenger Cynthia Nixon, each day people are gathering in places around the state for meetings and conference calls with a singular, determined mission: how to make Cuomo look good.
The salaries and benefits for these people, and the ideas they come up with to promote the Democratic governor, are not paid for by his campaign bank account, but by state taxpayers.
Arguably more aggressively than any modern governor, Cuomo has tapped into the power of his incumbency — notably through the arsenal of the state's budget — to align the mission of parts of the government with his re-election desires.
State agencies have reached out to hundreds of thousands of New Yorkers via taxpayer-funded mailings about various initiatives. Most include the administration's mantra at some point in their outreach: "Under Governor Cuomo's leadership …" That term is used in a various forms in 786 different agency documents posted on one main state government website.
In one such mailing, reported on last week by The Buffalo News, Cuomo's environmental conservation agency tapped into one of its databases of 332,000 New York residents to tout an artificial reef Cuomo is having the state build off Long Island.
In another mailing, the New York Post reported in June, the tax department's notices were including a voter registration card along with a note lauding Cuomo for making it easier to vote in New York.
Cuomo's large state press shop, in remarkable speed, now regularly blasts out emails with the latest remarks or tweets from the governor criticizing President Trump — at the same time the governor has focused his campaign theme against Trump in blue state New York instead of his two leading opponents, Democrat Nixon and Republican Marc Molinaro.
Whisking a governor around
The governor on 13 days during August held public events around New York to hand out state grants, survey summer storm damage or promote some policy he wants achieved. He also has used these events to go into long verbal tours checking off what he believes are the major accomplishments during his eight years as governor. Attending these events: audiences hand-picked by state officials loyal to Cuomo.
Unlike his opponents, who have to do things like find parking spaces when they make appearances, Cuomo travels with teams of state workers and police, often using a state plane or a larger, faster helicopter purchased for his trips since his last race in 2014. His police escort ensures easy-in, easy-out access for the governor.
For campaigns that have to deal with traffic or commercial airlines to get around, the travel advantages for Cuomo give him the ability to get to more events during the sprint of a relatively short primary campaign season. He can fly, for instance, to an upstate event in the morning and be back to his Manhattan office — with a helicopter that lands at a heliport along the East River — by lunch.
Challengers could only dream of such easy transportation methods. "If there's traffic for us, there's traffic," said Lauren Hitt, a Nixon campaign spokeswoman.
With state aircraft to get him there, Cuomo held events on three days in August announcing "first-place winners" for $10 million apiece in funding for downtown development projects in communities in the Adirondacks, Southern Tier and Long Island. In a brief media appearance after one of the events, Cuomo — after none of the reporters asked him about it — launched into a blistering critique about Trump after the guilty plea of the president's former lawyer, Michael Cohen.
At a Brooklyn church recently, Cuomo, at what was billed as a government event, delivered a 2,500-word address that was a mix of Trump bashing — he called him a "slick salesman" — and touting his own record as governor. A transcript, video, and audio were quickly sent out and photographs posted to a social media site by the state.
Some of Cuomo's government events are not so fiery. Last week, he toured a downstate bridge, which he named after his father, where a multibillion dollar construction project is due to wrap up, he said, in mid-September — just in time for election season. The appearance, to which no media were invited – was announced, with photos, later by his office.
'Huge' staff to plan Cuomo events
The work behind Cuomo's official events entails a remarkable amount of government staff time.
The public was given a rare peek into the internal efforts involved in Cuomo's government events in January during the corruption trial of Joseph Percoco, the governor's former campaign manager, government adviser and friend who was later convicted of accepting bribes from private executives with business before the administration.
Called to the witness stand by prosecutors, Linda Lacewell, another longtime and current Cuomo aide, at one point was asked how Cuomo events are put together. Lacewell called the frenzy a "whirling dervish" that involves a "huge staff" of government aides who work at the Capitol, Manhattan and elsewhere around the state.
"It's dozens and dozens of people constantly on the phone, constantly having meetings about what we are doing tomorrow for the governor, what are we doing next week for the governor, planning those events and executing those events,'' Lacewell testified.
Using the example of a ribbon-cutting in Rochester, Lacewell described an operation that involves press aides, speech writers, on-the-ground advance staff and a team of workers to vet "ethics and risk issues around the governor's events." The work goes through everything from the room where a Cuomo event occurs to who gets to share the stage with the governor.
"And then the event might change. We're not going to do Rochester. We're going to do Buffalo. So, you do it all over again,'' Lacewell testified.
Foes complain about Cuomo tactics
The timing of ads, mailings, funding and other campaign season actions by state agencies is enough, two insiders said, to make the Legislature blush. The Assembly and Senate have long been known as Albany's kings of franking privileges — in which thinly disguised campaign-like mailings are paid for by taxpayers. But even the Legislature has internal rules about the timing of such mailings.
After now-convicted former Assembly Speaker Sheldon Silver stepped down in 2015 during a corruption scandal, Cuomo hired three of his top advisers off the Assembly payroll. All three, sources said this week, brought their campaign and communications expertise, including use of mailings to promote elected officials, to Cuomo's shop.
The notion that the state's environmental agency would send out hundreds of thousands of postcards praising Cuomo less than three weeks before primary day was greeted with criticism by Cuomo's critics and watchdog groups. So, too, was a full-page ad taken out two weeks ago in City & State magazine — complete with a Cuomo quote — about climate change.
Meanwhile, the state tax department is getting out earlier than ever annual property tax credit checks to 2 million taxpayers who own homes in New York. The administration says the timing has nothing to do with the elections.
The Molinaro campaign in June filed an ethics complaint — with a Cuomo agency — over the governor's use of students on school grounds at events promoting a gun control measure the governor sought. It also called for investigations after the Percoco corruption trial revealed the former top aide was still given access to his government office in 2014 while at the time he was heading Cuomo's re-election campaign effort that year.
The Nixon campaign, meanwhile, believes Cuomo has crossed the line when it comes to using state resources to advance the governor's political ambitions. "We can't use taxpayer money to advance our campaign. Nor should we. It's gross," said Hitt, the Nixon spokeswoman.
Richard Azzopardi, a Cuomo administration spokesman, dismissed the complaints. "As has been the case for the last eight years, the governor has been and remains focused on using government as a vehicle to improve the lives of New Yorkers. They deserve nothing less. Campaign events are handled by the campaign," he said.
As for the timing of state agency mailings and ads, Azzopardi said no rules have been violated: "The only things the agencies are promoting are policies and initiatives designed to improve the lives of New Yorkers, and we would count expanding access to voting registration, protecting New York's environment and fighting climate change among them."
There are prohibitions against government resources to aid political campaigns, but they are murky, according to Blair Horner, executive director of the New York Public Interest Research Group.
"The governor is employing the vast resources available to him to boost his public image. He's aggressive about it, but he's hardly unique," Horner said.
Still, the practice presents obvious challenges for people running against incumbent governors. An incumbent governor has not lost in New York since 1994 — when the governor's father, Mario Cuomo, was defeated by Republican George Pataki.
"The big deal is that these are part of the incumbency protection acts and when you use public resources to help in a political environment you have an unfair advantage over your opponent," Horner said.