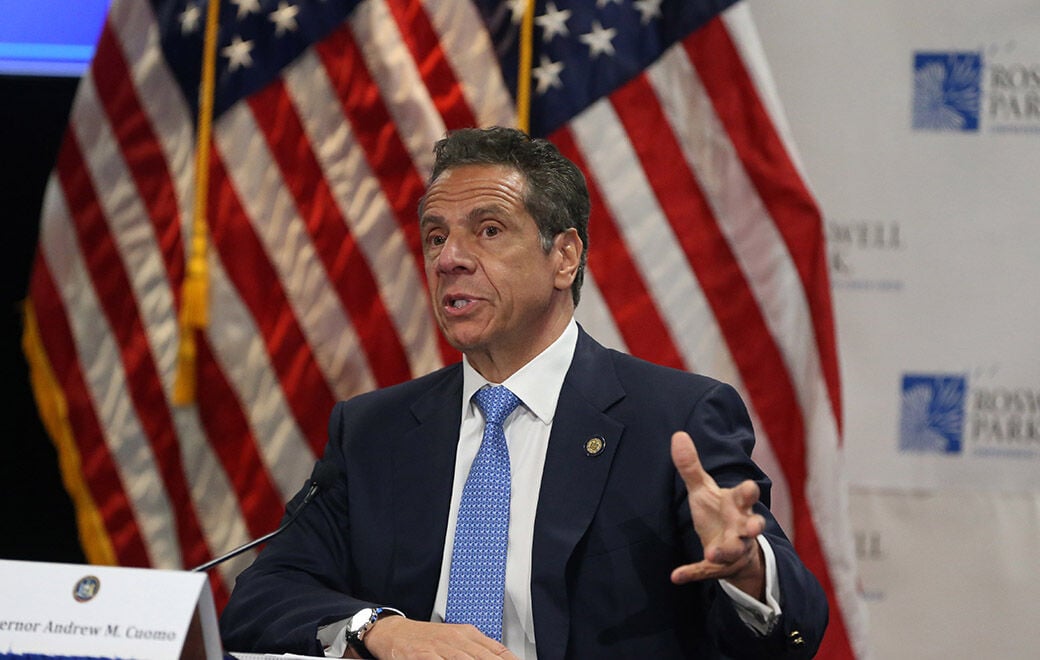 Just Friday, Erie County Executive Mark Poloncarz said it might be June 1 – or even later – before Western New York could begin to reopen from the state's coronavirus shutdown order.
"If these numbers keep on bouncing ... it's going to be tough for the state to say go ahead and open," he said of Covid-19 hospitalizations and deaths. "We don't meet the metrics."
And then on Monday, Gov. Andrew Cuomo announced the region could begin the first phase of reopening.
"All the metrics will be hit, and Western New York will open tomorrow," Cuomo said during his visit to Roswell Park Comprehensive Cancer Center.
• Hospitalizations and deaths fell or remained low the last three days;
• Local officials scrambled to find enough contact tracers;
• And state officials reinterpreted how to consider the hospitalization data.
With the region now meeting the benchmarks for the first phase of reopening, nonessential construction, manufacturing and wholesale trade businesses, along with agriculture, forestry, fishing and hunting, as well as curbside pickup at retail businesses can resume.
Changing the rules
Erie County, whose bigger population influences the entire region's reopening metrics, has had an overall decline in Covid-19 hospitalizations since Mother's Day. Its hospitalized death numbers have also fallen and remained low in recent days.
The state reported the three-day rolling average for hospital deaths was two for Western New York as of Monday. To meet that metric, the county could not have more than four hospital deaths on a three-day rolling average.
But regional hospitalization numbers have stubbornly not shown a "sustained decline" over a 14-day period. The state dashboard shows the region's hospitalization numbers actually rose on Sunday. This key metric had pushed out the reopening timeline for several regions across the state.
Poloncarz said last week that the region may remain shut down "for some time," causing officials in rural Allegany, Cattaraugus and Chautauqua counties to protest being tied to Erie County's struggles.
Until Monday, state officials had said the only other way a region could meet the hospitalization metric was if the daily increase hospitalizations "never" exceeded 15, as measured on a three-day rolling average.
A similar standard applied for hospital deaths, which originally could "never" exceed five.
Erie County officials lost hope of meeting these secondary qualifications weeks ago.
But on Monday, Cuomo and his top aide Melissa DeRosa said the slate for meeting the low-hospitalization threshold was wiped clean as of Friday. Only the average hospitalization number for the last three days matters now.
The state's NY Forward website eliminated the words "never" from its metric definitions for Covid-19 hospitalizations and deaths.
"We've been very clear on that," DeRosa said. "Once we hit May 15, as soon as a region met the benchmarks, they can enter phase one."
Contact tracers scramble
One unanticipated barrier to reopening Western New York was whether the region had hired enough contact tracers to track the potential spread of the virus from residents testing positive.
On Sunday, Cuomo had said the region was still short on the number of people who had completed the training required to become contact tracers.
It turned out the region was even short on the number of people who had signed up to become contact tracers.
The region needed 521 contact tracers and was short by about 100 people, Poloncarz said.
That prompted a scramble late Sunday afternoon by officials throughout the region to find more tracers and get them ready for training.
"In that time period, we were working the phones, and I even called the mayor asking, 'Can the city identify contact tracers so that we could meet the standards?' " Poloncarz said.
Erie County previously identified 291 employees, mostly nonessential county workers on the payroll. County officials believed they would be enough to exceed the state's requirement that each region have 30 tracers for every 100,000 residents.
But the standard also says the number of required contact tracers may be "based on infection rate." In the case of Erie County, the region didn't need 277 contract tracers – it needed 338. And the entire region overall did not meet the contract tracer ratio.
Enough people were identified and are expected to complete the online contact tracer training within a day.
"Our entire health department is taking the contact tracing course by nine o'clock in the morning tomorrow," Poloncarz said. "And if they're doing it on their job, if they have to do it in the evening, they're getting paid overtime from Erie County to do it."
Various county public health and social services employees are being enlisted for the contact tracer jobs across the entire region, said Lt. Gov. Kathy Hochul. In Niagara County, that includes 50 sheriff's deputies, she said.
Cuomo credited local officials for meeting the higher target number for tracers.
"They need 521 tracers. They've identified 525," he said. "Great piece of work that they did over the weekend."
With the county now in line to have all metrics met, Poloncarz said his goal is to ensure the region stays open and continues to stay on track toward the next reopening phases. He pointed out that the Finger Lakes region, where Rochester is located, and the Central New York region, where Syracuse is located, have seen an uptick in Covid-19 hospitalizations since they entered the first phase.
"We're going to work as hard as we can to ensure that hospitalization number rates don't go up," he said. "We're going to inform the public that we need your help. We can't do this on our own."
Nursing home testing
To help nursing homes meet the state requirement to test every staff member twice a week, Cuomo said, the state is distributing 320,000 test kits to nursing homes so they can do the required testing.
The state is partnering with labs to reserve enough diagnostic tests to ensure results can be provided for 35,000 workers a day.
Cuomo acknowledged the "operational pain" placed on nursing home administrators by the testing requirements.
"I understand that," he said. "But I also know that it is necessary."
Staff Reporters Aaron Besecker and Maki Becker contributed to this report.