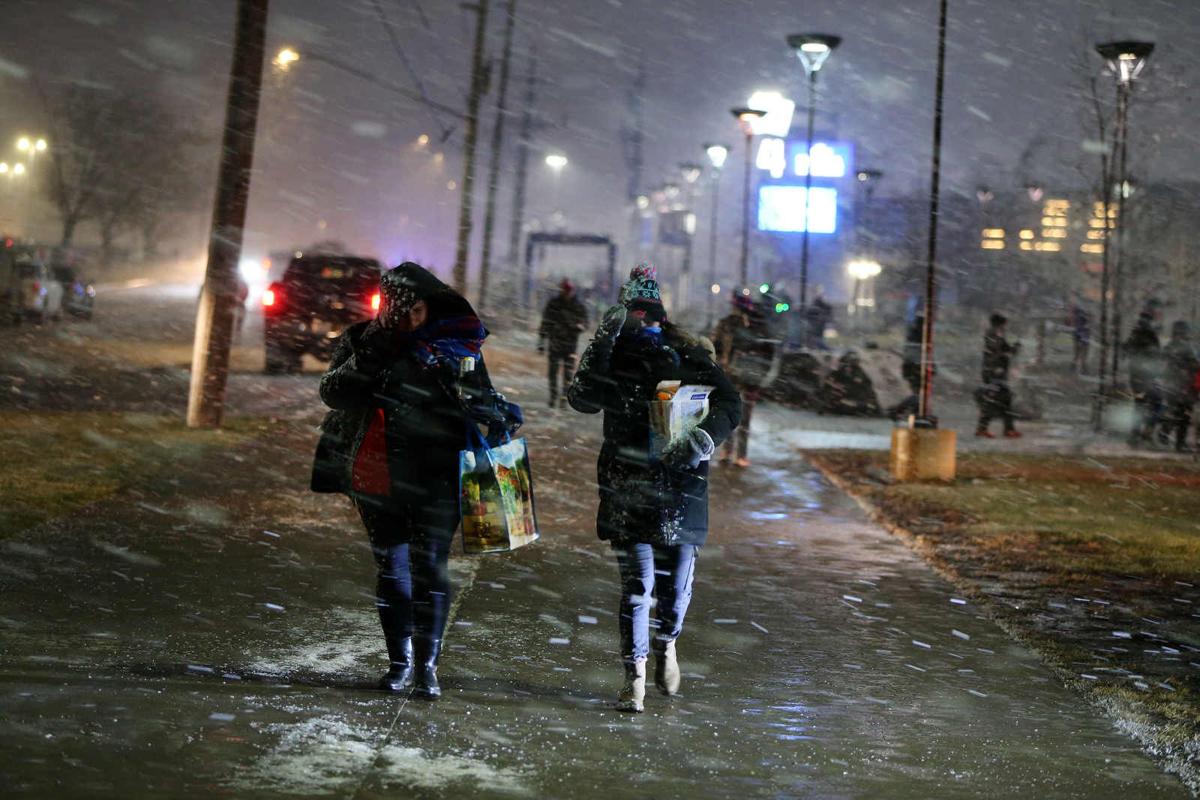 The Buffalo Bills' wild-card game against the New England Patriots is the team's first home playoff game, at full capacity, in 25 years.
It's a Saturday night contest, making it more convenient for fans traveling here from out of town.
And it's against a marquee opponent, the rival New England Patriots.
So why are so many tickets available to buy at such low prices?
Blame the two things everyone is talking about: the weather and the pandemic.
With predicted game-time temperatures approaching 0 degrees, some fans are choosing to watch the game from the warmth and comfort of their homes.
Saturday, game day, will be the coldest of all, though shy of "unprecedented," Don Paul says.
Further, the government policy requiring Canadian visitors to take a Covid-19 test before returning to their home country is putting a chill on interest from the thousands of fans in that country.
And fear of the spread of the Omicron variant, combined with the vaccine mandate for everyone attending the game, also is likely keeping some fans away.
The effect is clear when you look at the ticket resale sites. Mid-afternoon Wednesday, about 5,600 tickets were available for resale on StubHub, almost double the number listed one day earlier.
And the Bills game has, by far, the lowest average ticket price among the six wild-card weekend NFL playoff games, according to SeatGeek.
"They're not great prices for a playoff game," said Nick Giammusso, owner of VIP TIX, a locally based ticket marketplace with three decades of experience in the industry.
Still, tens of thousands will fill Highmark Stadium on a frigid Saturday night, and those who spoke to The Buffalo News said they wouldn't miss this game for anything.
This week's playoff game may turn out to be one of the coldest games the Bills have ever played. Temperatures are expected to be in the single digits at the 8:15 p.m. kickoff Saturday at Highmark Stadium.
This includes Paul Burdon, a fan from Ontario who is part of the close-knit group that tailgates in the Hammer Lot before games. Saturday is his birthday, and he knows what he wants as a gift from the Bills.
"A win, straight up," Burdon said.
While the Bills hosted two playoff games in January 2021, those were played under strict Covid-19 regulations that limited capacity to about 7,000 fans per game.
Saturday's game is the first home playoff contest at full capacity since Dec. 28, 1996, when the Bills lost to the Jacksonville Jaguars in what was Jim Kelly's last appearance at quarterback.
That alone should be enough to drive demand for this wild-card game, not to mention the fact that the Bills are playing the Patriots, their easy-to-hate AFC East division nemesis.
And Giammusso said a Saturday night game is ideal timing, compared to a Sunday or Monday night game, for expat fans coming in from out of town. That's because they can fly or drive in Saturday, stay overnight after the game and take their time getting back home on Sunday.
But there are offsetting factors at play, Giammusso and others said, and the numbers bear them out.
The lowest ticket price was falling throughout Wednesday, down to $38 by the afternoon. In contrast, the cheapest ticket at AT&T Stadium in Arlington, Texas, for the Dallas Cowboys game against the San Francisco 49ers was $177.
SeatGeek reported that tickets for Saturday's game at Highmark were going for an average price of $145 as of Wednesday morning, but this had fallen to $129 by the afternoon.
That's about $90 less than the next lowest average price. The Philadelphia Eagles game against the Tampa Bay Buccaneers in Tampa had the highest average price at $454.
The Bills are usually at or near the bottom of the league when it comes to average ticket price, with Statista putting them fourth lowest in 2021 with an average ticket price of $82.49. But for wild-card weekend, the Cincinnati Bengals, with an average ticket price of $82.05 during the regular season, are seeing playoff tickets go for $315 on average at their Paul Brown Stadium – more than double the price at Highmark.
"You can still get a decent seat in the lower level for $200," Giammusso said Tuesday, where he typically would expect prices to be double that for a game of this magnitude.
Prices had slipped for the final two home games of the Bills season on the resale market, as often happens when the weather turns cold and snowy in December and January. Giammusso said he was seeing tickets dumped online for as low as $6 a piece.
The Bills have had miserable weather for some home games this season, including chilly, gale-force winds for the first Patriots contest of the season.
Saturday's game could be one of the coldest – if not the coldest – Bills home games ever. The high temperature Saturday is predicted to reach 11 degrees. But by the 8:15 p.m. kickoff, the temperature should be in the low single digits, without factoring in the wind chill.
The overnight low is expected to fall to 0 degrees. Giammusso said a number of older season ticket holders are citing the weather as a reason for offloading their tickets, though younger fans don't seem as fazed by the forecast.
There were 500 tickets left for sale as of late Wednesday, a team spokesman said, a figure that does not include the thousands of previously purchased tickets being offered for resale on StubHub, SeatGeek and elsewhere. Capacity at the stadium is 71,600.
"I think they're going to be near a sellout," said Ken "Pinto Ron" Johnson, the Bills super fan who zealously attends home and road games, including the playoffs.
But the weather will limit the most exuberant tailgating in the hours prior to the game, he said, figuring people will get to Orchard Park closer to game time and stick closer to their vehicles to stay warm before heading into Highmark.
Another factor in game attendance is the requirement that all fans must show proof of full vaccination, with fans as young as 5 years old required to show proof of one shot. This rule, in place for most of the season, has kept away the unvaccinated. Now, it combines with the hesitation some people may have to attend a major sporting event at a time of high transmission of the Omicron variant to keep more fans away.
Covid-19 rules have been a season-long point of frustration for Bills fans in Ontario.
For the first part of the season, the U.S. government barred them from crossing over the border. They finally received permission to cross freely, but late last month Canadian officials warned against international travel and imposed a requirement that Canadians returning from international travel would have to show proof of a negative molecular Covid-19 test to re-enter the country.
This requirement scared Wayne Kretz, a tavern owner in Ontario and Bills season ticket holder, from traveling to Saturday's game.
"God forbid I get Omicron, or Covid, and then I infect my staff," Kretz said.
But the rules aren't stopping Burdon, who booked a Covid-19 test appointment for Saturday afternoon and a hotel for Saturday night, and other friends traveling with him from Ontario. His biggest fear isn't the cold, or the virus: it's the craftiness of Patriots head coach Bill Belichick.
"You'd be crazy not to worry about it," Burdon said. "But I think we can handle them."