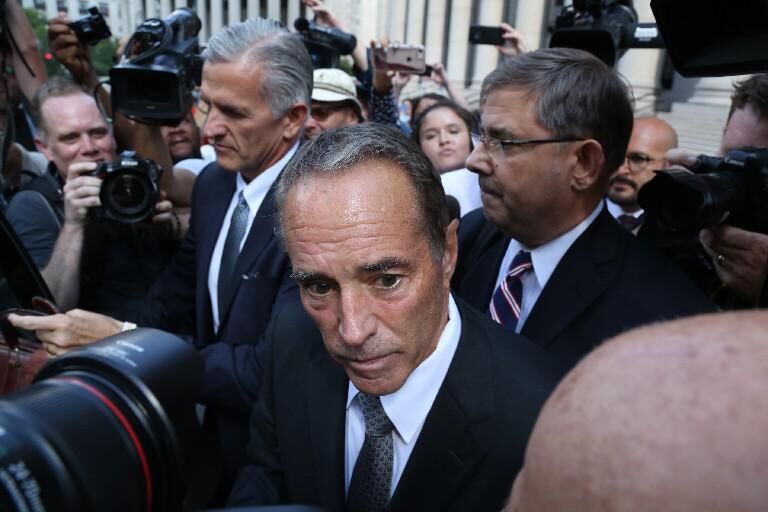 WASHINGTON – Rep. Chris Collins reported to a federal prison camp in Pensacola, Fla., Tuesday, and Cecily Molak of Menden planned to drink to that.
So culminated a saga that began with ethics complaints like the one Molak filed against Collins and that continued with Collins pleading guilty to insider trading charges and getting sentenced to prison.
Collins' lawyers, who had been fighting for the judge in the case to delay Collins' imprisonment or change the sentence to home confinement because of the Covid-19 pandemic, never heard back from U.S. District Court Judge Vernon S. Broderick.
That being the case, Collins lawyers Jonathan Barr and Jonathan New issued a statement at about 3 p.m. Tuesday, saying: "In the absence of a decision on his motion for an extension of the reporting date, Mr. Collins has reported as initially directed to FPC Pensacola. Although he is greatly concerned about the serious risks to his health from Covid 19 by reporting, he looks forward to putting this chapter behind him."
Molak, for one, wasn't quite ready to put the Collins scandal behind her.
"We're all celebrating here," said Molak, a retired lawyer in Monroe County who is a lifelong Republican. "I plan to open a little split of champagne at dinnertime and have a drink on Zoom with a few of my friends."
Molak filed a complaint about Collins with the Office of Congressional Ethics back in early 2017, back when his relationship with an obscure Australian biotech named Innate Immunotherapeutics first burst into the headlines. She thought at the time that it was unseemly that Collins was spreading stock tips about Innate among members of Congress and Buffalo's business elite.
That was months before the stock tip that landed Collins in federal prison.
In June of 2017, Collins, an Innate board member at the time, was at a picnic on the White House lawn. He checked his email and found distressing news from Innate's CEO: clinical trials of the company's only drug, which he hoped could cure a form of multiple sclerosis, had failed. That meant Innate's stock, which Collins and his family had invested heavily in, would soon be worthless.
Collins immediately called his son Cameron, who heard the news and started dumping his Innate shares the next day. Cameron Collins also spread the news to his fiancee's family, and the man who is now Cameron's father-in-law, Stephen Zarsky, started dumping his Innate shares, too.
The next week, Innate announced the bad news. The Buffalo News soon reported that an unusual volume of Innate shares had been sold the previous week – which, stock market experts said, was a possible sign that insiders were dumping the stock before the bad news broke.
A little more than 13 months later, federal prosecutors in New York arrested Collins, his son and Zarsky. All three pleaded guilty to insider trading charges in January, but Collins was the only one sentenced to prison time.
"I do believe there is a need to both show respect for the law and to inflict just punishment," the judge said at the time.
Collins was sentenced to 26 months in prison, but he told The Buffalo News Monday that with good behavior, he expects to be free again in 17 months.
Molak said it's about time Collins paid his debt to society.
"Thank goodness he's finally going to prison," she said. "He broke the law. He admitted he broke the law. He has a very light sentence: 26 months for the harm that he caused, and it is probably only because he was a legislator and had some influence."
For those who knew and worked closely with Collins, though, Tuesday was "a very sad day," said Chris Grant, a Republican political consultant who started working with Collins during his successful 2007 bid for Erie County executive.
"On a personal level, Chris is a friend. Chris was a mentor," Grant said. "You know, you get to know people's families and to get to know them on a very personal level. So it's a very sad day in a couple of ways."
Grant said it's a sad day for Collins' family, especially his wife, Mary. But it's also sad, Grant noted, that Innate's experimental drug failed, given how much Collins believed in it. And it's sad, too, that Collins' political career would end this way.
"You don't get elected to Congress four times without people thinking you did a good job," Grant said.
To those who thought Collins didn't do a good job, though, his imprisonment was a sign of something else: that justice was finally being served. Michelle Schoeneman, who co-founded a group called "Citizens Against Collins" several years ago, said he poorly served his constituents by avoiding them and by winning another term in 2018 while lying and saying he was innocent of the charges against him.
"He really showed over and over again that his district was the very last of his concerns," she said.